Why Your Race, Gender, and Income Mean Something as a Parent
White parents are far more worried about their children's mental health than their personal safety.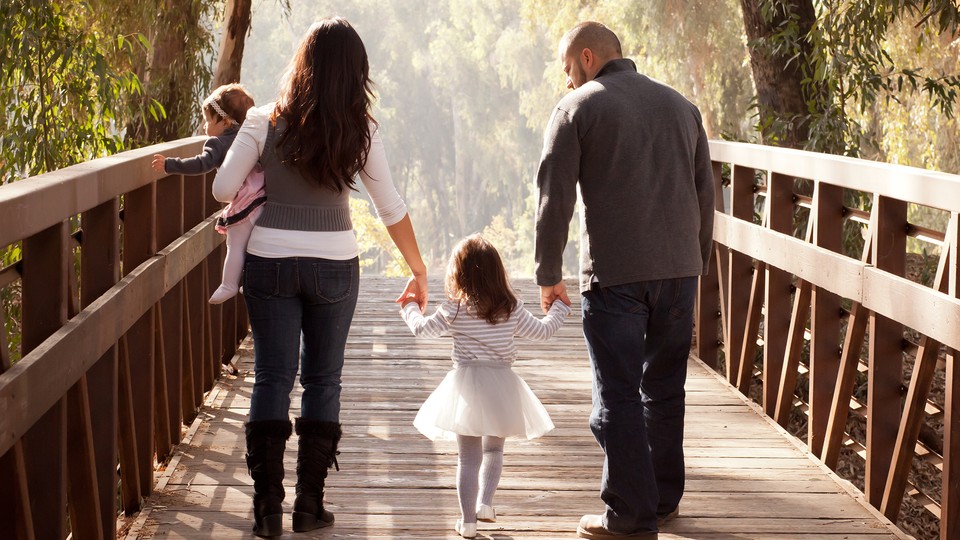 What it means to be a parent today has changed quite a bit since the 1970s. Families are waiting longer to have children, and moms are more educated than ever before. Also, a record number of children are raised by single parents.
But what today's parents worry about and focus on varies depending on their race, gender, age, and income, according to a new Pew Research Center survey of nearly 2,000 parents with children under 18.
For one, affluent families are more likely to worry about bullies and drug abuse than gun violence or a child's safety. And surprisingly, younger parents are more confident about their parenting skills than older generations were.
Here are other interesting findings from the Pew's new survey:
Black and Latino parents are harder on themselves. About 54 percent of black parents and 57 percent of Latino parents say a child's failure is a reflection of their parenting skills. Only 40 percent of white parents feel the same way. They are far more likely to think a child's failure is a reflection of the child's weaknesses.
Most parents don't think college is super important for their kids. Only 46 percent of parents said it is "extremely important" to them. Black and Latino parents were far more likely than white parents to think it's extremely important.
Young parents are more confident in their parenting skills. Millennial moms are especially likely to give themselves a high rating. Nearly six in 10 moms under the age of 35 say they are doing a good job as a parent, compared to the average four in 10 across all age groups.
White parents worry most about their children's mental health. White parents (40 percent) are far more likely than black parents (23 percent) to worry that their kids might struggle with depression, anxiety, or drug abuse. Four out of 10 black parents, on the other hand, worry that their children might get shot, compared to two out of 10 white parents.
Children of color are more likely to be raised by a single parent. Only 31 percent of black children live with two married parents, compared to 55 percent of Latino children, 72 percent of white children, and 82 percent of Asian children.
Moms today are older and more educated. The average age of a new mother has risen to 26 years old from 21 years old in 1970. Back then, only 18 percent of moms with infants had any college education; now 67 percent do.
Parents worry about their role in their children's education. Nearly half (46 percent) wish they were more involved in their children's education. About half (52 percent) say they would be very disappointed if their children were average students.
Women are having fewer children. The share of moms in their early 40s who have only one child has doubled since 1976, from 11 percent then to 22 percent today.