Why It's So Hard to Make a Campaign Donation With Bitcoin
Bitcoins have been making waves in banking, commerce and technology fields for years, yet remain largely absent in campaign finance. Why hasn't it broken through?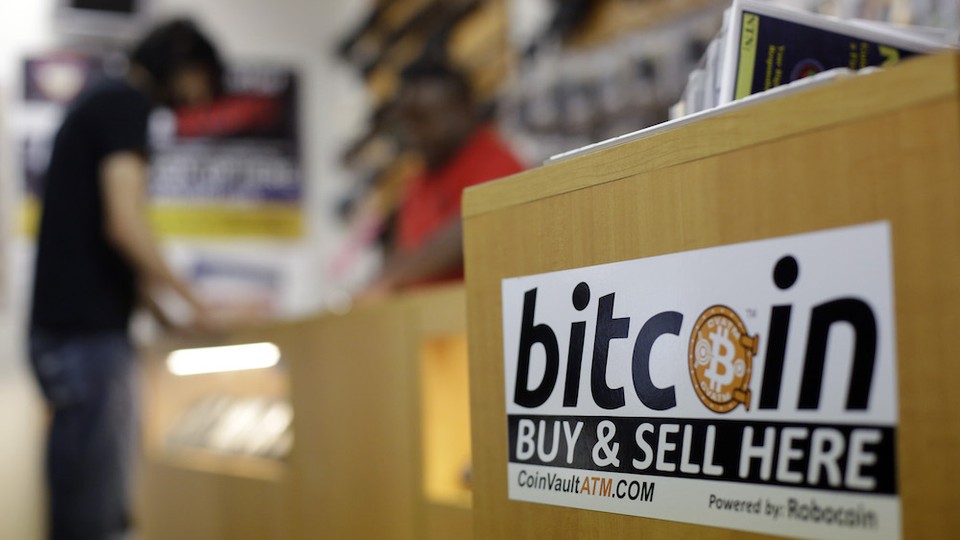 Bitcoin, the decentralized digital currency, is surging in the banking, commerce, and technology worlds. But when you look to Washington elections, growth is anemic. Only one major presidential candidate, Rand Paul, accepts bitcoin donations, and just a handful of congressional candidates are doing the same. So what exactly is holding back the bitcoin wave in campaign finance?
Perhaps unsurprisingly for a digital currency that can trace a lot of its backing to the libertarian community, supporters say it is regulation.
They point to a Federal Election Commission advisory opinion issued last year as a major reason why bitcoin hasn't caught on as a meaningful source of campaign finance for the 2016 election.
In the opinion, the FEC unanimously approved a super PAC's proposal to accept bitcoins as donations. But the commission also capped those contributions at a value of $100 (based on the market value of a bitcoin at the time of donation). It also required the organization accepting the bitcoin to be able to prove that the person donating the digital currency can show that the coins they are giving are legally theirs.
Those looking to expand bitcoin's role in political giving say this hesitancy stems from federal regulators' doubts about the digital currency's role in the modern economy.
"[There's] a perception in the government that bitcoin is used for criminal purposes primarily," said Stan Higgins, a reporter for the digital-currency-news site CoinDesk. "Certainly while there are few cases for using bitcoin as a base currency for online drug marketplaces, the reality is that the landscape of surveillance is very, very different from what it used to be two or three years ago. The attractiveness of bitcoin as a currency for money laundering or criminal purchases is just not the same game it was a couple of years back. But still, that perception is very much in play."
It's not just the stigma that's holding bitcoin back. At a time when a flood of undisclosed super PAC campaign cash is making transparency advocates nervous, the use of bitcoin adds a new dimension to the struggle to track who's giving what.
Bitcoins are designed so that the transactions can be anonymous. Bitcoin transactions are recorded in the currency's "blockchain"—the public, "digital ledger" that serves as the backbone to the entire ecosystem—not under a person's identifying information like name or address but under a bitcoin address, which is a pseudonymous string of letters and numbers that is unique to each user. There's no limit on how many addresses a person can have.
The author of the original white paper that proposed the currency even encouraged bitcoin holders to use a new address for every transaction to protect themselves from having transactions traced back to them. Keeping with the theme, the founder of bitcoin is unknown, with that paper written under a presumed pseudonym, setting off wild chases to try and unmask him or her.
FEC commissioners have expressed their doubts about the currency in campaign finance in the past. Bitcoin "allows for anonymous and untraceable transactions, which would clearly undermine what is the most important, in my mind, purpose of campaign finance laws, and that is transparency and the disclosure of political spending. I am definitely unwilling to go that far," FEC Commissioner Ann Ravel said in 2014.
This unwillingness plays out in the advisory opinion. The $100 is well below the $2,700 limit that donors are allowed to give to a federal campaign per election (typically once in the primary and once in the general). The bitcoin donation cap is more analogous to the $100 limit on cash donations that individual donors have, according to Peter Van Valkenburgh, a lawyer and the director of research at Coin Center, a D.C.-based advocacy center for bitcoin and bitcoin-based technology.
The commission also put limits on what campaigns can do with bitcoin donations—they can't spend them in bitcoin form. Instead, they're required to first flip them for dollars. (Campaigns can, however, hold them as a financial asset and wait to exchange them for currency until the time they find most advantageous to do so.)
That could mean some flexibility. Since the FEC handed down its opinion, the value of one bitcoin has fluctuated wildly, from $668.79 to a low of $177.28, and it currently sits around $360, according to a tracker maintained by CoinDesk.
Despite the limits, bitcoin advocates see a silver lining. The FEC didn't ban the currency entirely, and they're hoping that offers them an avenue to expand the currency's use.
"It's not so much the commission has said there's an affirmative problem with receiving bitcoin greater than $100," said Brian Svoboda, a campaign-finance lawyer and partner at Perkins Coie. "It's simply that they have not yet given the express legal authority that would send a clear signal that you could. I think that's one of the things the commission ought to revisit and look at."
Rep. Jared Polis of Colorado was one of the most prominent politicians to accept bitcoins, but he brought in just under $2,000 in the crypto-currency for both his 2014 reelection and early 2016 fundraising, according to his office. As a point of comparison, his total 2014 fundraising haul was about $1.2 million, showing that the currency may still have a long way to go. Paul's campaign declined to release specific bitcoin fundraising numbers, but it is a very small amount, according to Steve Grubbs, the manager of Paul's campaign store.
"This is the cycle where bitcoin is introduced to the contribution world," said Grubbs. "Next cycle or the following cycle, it will likely become a more significant player in campaign fundraising. … Digital currencies are coming, and they're going to be a big deal in the future of the United States. They're not here yet, but when they arrive, campaigns will be significantly funded through digital currency."
The other option for a bitcoin donation
The other alternative for donors at this point is to use a bitcoin payment processor. Payment processors—the most popular of which is a service called BitPay—allow campaigns (and businesses) to accept bitcoins and have them automatically converted into dollars, without them ever receiving the coins or having a bitcoin wallet.
"The situation with BitPay is a little different. You're not actually, as a candidate, going to receive bitcoin," said Van Valkenburgh. "Somebody could 'pay' their donation in bitcoins to BitPay, who changes them effectively to dollars and then the campaign gets dollars in their donation account that's provided to them by BitPay. In a certain regard, it is rather like taking any credit-card donation at that point."
But there again, there's some ambiguity over what is and isn't in keeping with the FEC's policies—or even whether the $100 limit applies.
Van Valkenburgh says that as long as the payment processor has a "know your customer" protocol for donors—the idea that BitPay and the campaign would collect identifying information like name and address from the donor—it looks much more like a normal donation.
"I would think for those sorts of situations, there would be no need to limit the donation to $100 per person," he said. "Because you do know the person, you could go up to the normal contribution limit for an individual of $2,700."
Campaigns that do accept bitcoin are exercising an abundance of caution, however. Paul's campaign limits bitcoin donations to a value of $100 processed through BitPay.
"There's certainly places where you might put a stake in the ground with the FEC. Bitcoin is not one of those at this point," Grubbs said.
With all the hurdles, why would campaign donors opt for bitcoin over traditional payment methods?
"The medium is also part of the message," Van Valkenburgh said. "It is trying to say, 'I support new financial tools that are more affordable and easier to access for those with poor credit.' It is sort of a nice symbol to give with bitcoin."