Why Frank Guinta May Not Survive a Campaign Finance Violation
The details of the New Hampshire Republican's settlement with the FEC aren't particularly sensational, but some local Republicans say his reelection bid has been derailed entirely.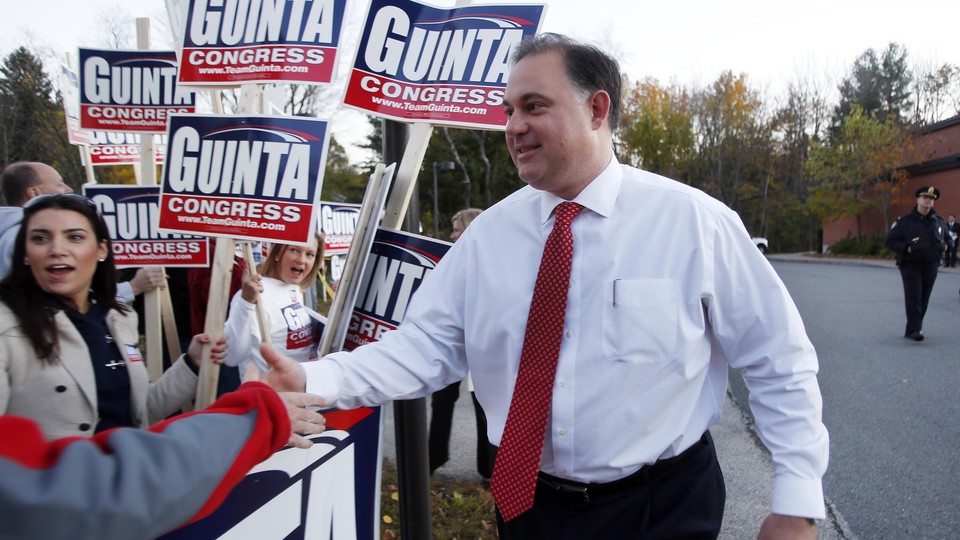 Rep. Frank Guinta of New Hampshire already holds one of the swingiest seats in Congress, but he's made an especially strong case lately for being the most vulnerable incumbent in the country.
Guinta could face three primary challengers after agreeing in May to repay hundreds of thousands of dollars that his campaign had accepted in 2010. Fellow Republicans in the state say Guinta is now a long shot to win the nomination despite the potential for the anti-incumbent vote to be split.
Even if he won the primary, his prospects in the general don't appear any better.
Former state GOP Chairman Fergus Cullen pointed to an October poll by WMUR and the University of New Hampshire that found just 4 percent of the district's likely voters said they will definitely vote for Guinta.
"He's got a 4-percent hard reelect number," Cullen said. "I challenge you to find anyone ever in history as low as what his has been measured at."
Even among Republicans, only 5 percent said they would definitely vote for him, while 33 percent said they would definitely vote for his opponent. Another 33 percent said they would consider voting for Guinta, and 29 percent said they didn't know.
Guinta's 2014 primary opponent, hotelier Dan Innis, has launched a second campaign after taking 41 percent of the primary vote in 2014. Rich Ashooh, who ran unsuccessfully in 2010, told National Journal that he is "seriously considering" running. And state Rep. Pam Tucker has been courted as a potential candidate by a new consulting firm tied to Charles and David Koch, according to Politico.
Primary challenges are often ineffective if multiple candidates enter the field, splintering the anti-incumbent vote. But Guinta's polling numbers, and his qualitative lack of support from the Republican establishment, including Sen. Kelly Ayotte, are so bad that it may not matter.
"I think that Frank's difficulties aren't helped or hurt by a lot of people being in race. Unless you had 60 candidates getting 3 percent and he could win with 5 percent," said Charlie Arlinghaus, exaggerating some to drive home his point. Arlinghaus, the president of the free-market-focused Josiah Bartlett Center for Public Policy, described himself as a friend of Ashooh.
Republicans in the state maintain that Guinta's campaign finance scandal is worse than more sensational controversies that have hindered—but not entirely crippled—other campaigns.
Guinta's situation has been covered extensively since May: His parents wrote him checks for $381,000, and he gave $355,000 to his campaign. The money originally came from a family fund to which Guinta said he had contributed. But the fund was legally controlled by his parents, which means the money counted as a campaign donation far exceeding the contribution limit for individuals.
The congressman maintains that he did nothing wrong, and he hasn't given up on his chances at reelection. While it was hard to get much lower, his numbers in the October WMUR poll were no worse than in its July polls, despite continued coverage and criticism of his campaign finances.
He has continued to make the rounds in the district, attending town-hall events. And he is building a bipartisan body of work, introducing a bill this week with Arizona Democratic Rep. Kyrsten Sinema offering Social Security recipients a payment increase.
"He's focused on delivering for New Hampshire, and focused on policy, not politics," campaign spokesman Jay Ruais said.
Oddly enough, the GOP establishment's calls for Guinta's resignation—including statements from Ayotte and state party Chairwoman Jennifer Horn—may have actually endeared him to antiestablishment conservatives, said Greg Moore, Americans for Prosperity's state director in New Hampshire.
"When the establishment rallies together to attack one member, the other side finds a reason to support them," Moore said.
Scarred or not, Guinta would face a challenging reelection in this swing district, which is notoriously difficult to win in back-to-back elections. Both of his victories came in midterm election cycles and Republican wave years.
But he has greater hurdles than that. Guinta has faced enthusiastic criticism from editorial boards around the state. New Hampshire Union Leader publisher Joseph McQuaid wrote a six-word "editorial" on his finances: "Frank Guinta is a damned liar."
Guinta's prospective opponents have been quiet on the issue, but considering the media coverage, they may not need to mention it. Ashooh told National Journal that he didn't know how much of an advantage Guinta's bad press would give him or any other primary challenger, but said he knows it's on voters' minds.
"It's no secret what his problems are," Ashooh said. "They emerged in his race against me [in 2010]. Don't mistake my not being able to predict what's going to happen with a lack of concern over it. A lot of voters are concerned."
On its face, Guinta's settlement with the Federal Election Commission sounds like an arcane, even ticky-tacky infraction, compared to the sex scandals or corruption charges that often make the news.
In Tennessee, Republican Rep. Scott DesJarlais won his 2014 primary despite revelations that, while working as a doctor, he had an affair with a patient and later pressured her to have an abortion. And this cycle, Democratic Rep. Chaka Fattah of Pennsylvania is running for reelection while under indictment.
But Guinta has faced at least as much damnation from the media and fellow Republicans because of his dishonesty, Arlinghaus said. Before settling with the FEC, Guinta denied that the commission was investigating him and lashed out against those who brought it up, including his Democratic opponent, former Rep. Carol Shea-Porter.
"He called her a liar for saying things that he now admits," Arlinghaus said. "And it's one thing to have a scandal come out and then say, 'I can explain, I'm sorry.' It's different to say it's absolutely false and then attack people for saying it's a lie."
New Hampshire's general lack of political scandals also hurts Guinta, Moore said, adding that the state's small amount of revenue and decentralized power in the legislature discourages corruption and creates the expectation that politicians will play by the rules.
And it doesn't help Guinta's standing in the party that he represents a swing district. In a safe seat, party allies don't have a reason to turn against a scandal-plagued incumbent. But if Guinta won the nomination, Cullen said, "everyone knows he would lose 60-40 [percent] in the general."