Why Did Sheldon Adelson Buy Nevada's Largest Newspaper?
The right-wing billionaire now owns the top source of news in a politically important state—and no one knows what he plans to do with it.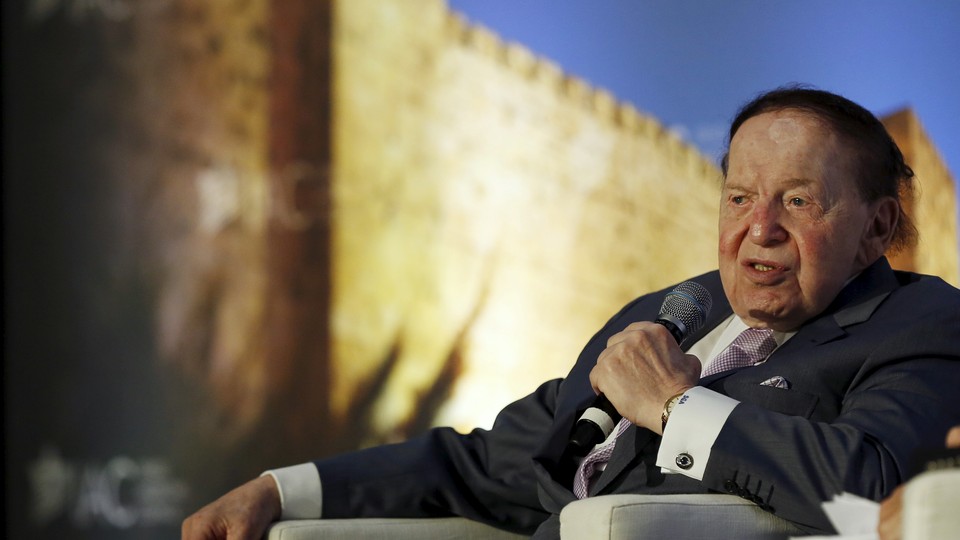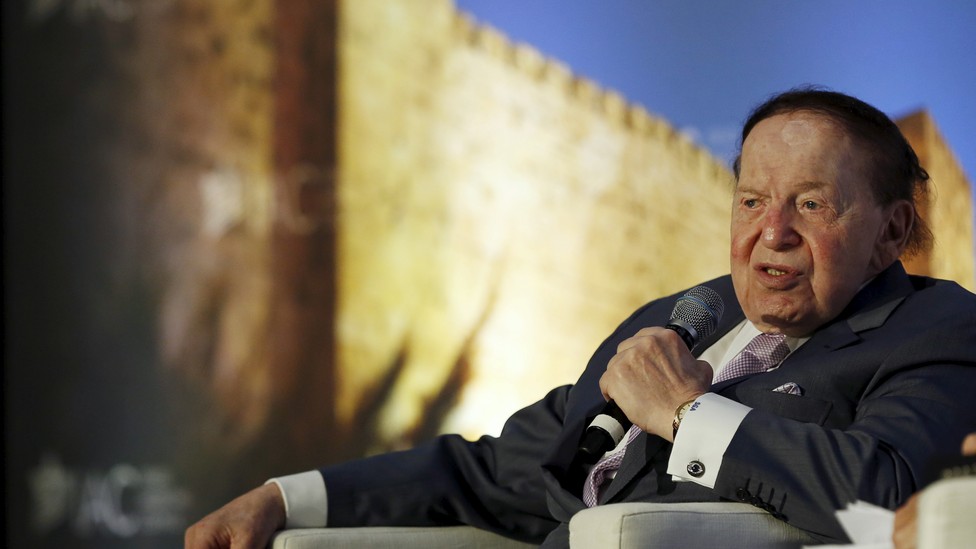 Last Thursday afternoon, the staff of the Las Vegas Review-Journal, Nevada's largest newspaper, was summoned to a meeting with the publisher, Jason Taylor. No topic was specified; employees wondered if the paper's corporate owners, who had purchased the publication in March, might be getting a new headquarters to replace its dingy, windowless, inner-city warehouse.
Instead, they learned that the paper had again been sold—and the buyer was a secret.
The new owner, News + Media Capital Group, was a mysterious entity that had come out of nowhere. Incorporated in Delaware in September, its only public representative was a Connecticut newspaper publisher named Michael Schroeder, who issued a statement and declined to speak further. Whoever the new owners were, they appeared to have dramatically overpaid. In March, the Review-Journal ("the R-J" to locals) had been sold along with seven other daily newspapers and 65 local weeklies in seven states for $102.5 million. News + Media had paid $140 million for the R-J alone.
Who would pay way too much for a random local broadsheet in a financially troubled industry? It would have to be someone whose goal wasn't to make money, but to control a major apparatus of the Las Vegas media. Speculation swirled over the weekend, quickly centering around Sheldon Adelson, the shadowy right-wing billionaire who serves as chairman and CEO of the Las Vegas Sands casino empire. The paper's own reporters publicly decried the lack of transparency, and set to work investigating the matter. (I worked at the R-J for three and a half years, serving as the paper's Vegas-based political writer from 2006 to 2009.)
Finally, on Wednesday, the mystery was solved. In Thursday's paper, the Adelson family published a notice saying they had purchased the paper "through a wholly-owned fund, as both a financial investment as well as an investment in the future of the Las Vegas community," and that it was "always our intention to publicly announce our ownership."
The prospect of Adelson—the world's 18th-richest person, who has given tens of millions of dollars to Republican candidates and causes and enjoys access and influence at the highest levels of GOP as a result—owning a major piece of the media has provoked understandable anxiety among local and national political watchers, particularly on the left. Adelson, who gives few interviews, has a history of hostile relations with the local and national press. In one notable case, he sued a beloved R-J columnist, John L. Smith, driving him into bankruptcy at a time when Smith's young daughter was being treated for brain cancer. Smith kept fighting, and the suit was eventually dismissed. If I were still an R-J reporter, I'd be nervous.
But so far, there are far more questions than answers about how Adelson plans to use his new vehicle.
On the one hand, the R-J's reporting staff has proven its integrity and independence in its campaign for transparency and its tough coverage of the sale, which succeeded in exposing Adelson in a matter of days. The paper has long had one of the country's most libertarian-conservative editorial pages—the opinion writers crusaded against Senate Minority Leader Harry Reid for years, to little apparent effect—and when I worked there it was owned by the Stephens family of Arkansas, which at the time was the largest single donor to the right-wing Club for Growth.
I can honestly say that none of this affected the paper's news coverage of politics in my time there. I wrote the stories I thought were important, and no editor or higher-up ever tried to slant them; I would have quit if they had.
The same can't be said for the Las Vegas Sun, the city's other quasi-daily (and where I also worked, from 2004 to 2006), which is delivered, in a quirky joint-operating agreement, as a section of the R-J. The Sun's owner, Brian Greenspun, is a friend of the Clintons with a long track record of quashing negative coverage of his friends and promoting his political allies. The state's most prominent political writer, Jon Ralston, quit his Sun column in 2012 when Greenspun killed a column he'd written criticizing Reid.
There aren't a lot of alternatives to the R-J when it comes to local news in Nevada. The R-J and Sun are the only dailies in Clark County, which contains Las Vegas, its sprawling suburbs, and nearly three-quarters of the state's population. The only other dailies are the Reno Gazette-Journal, the Carson City-based Nevada Appeal, and the Elko Daily Free Press, all located in the northern part of the state. Like most local newspapers, all the Nevada papers have been gutted by layoffs, buyouts, and furloughs in recent years.
Adelson's ownership therefore provokes understandable fears that he's going to turn a politically important state's most prominent media property into a right-wing propaganda sheet. (Adelson's politics are somewhat quirky: A staunch Israel hawk who strongly opposes unions, he considers himself liberal on social issues.) He has a track record in this regard: In Israel, he founded a free daily named Israel Hayom that has become popular and influential with a combination of a populist-tabloid sensibility and a hard-right political line. It's been called the Fox News of Israel; locals have nicknamed it "Bibiton" for its ardent support of Prime Minister Benjamin Netanyahu. If that's what Adelson wants for Las Vegas, there will be little to stop him—and little other place for locals to turn for their news.
Every paper has an owner, and every newspaper owner takes a different approach. Some are proudly hands-off—this seems to be the case for Amazon founder Jeff Bezos, under whose ownership the Washington Post has flourished editorially without seeming to change direction. Some put their mark on the editorial page but leave the newsroom alone; this is largely the case for the New York Times, Wall Street Journal, and many local newspapers whose owners seek to be prominent figures in their communities. And some seek to turn the publication into a platform for their views from front to back, in subtle or not-so-subtle ways; the Rupert Murdoch-owned New York Post leaps to mind.
What kind of newspaper owner will Sheldon Adelson be? We are about to find out.