Why Christians Need to Laugh at Themselves
Religious humor—when done right—can benefit everyone.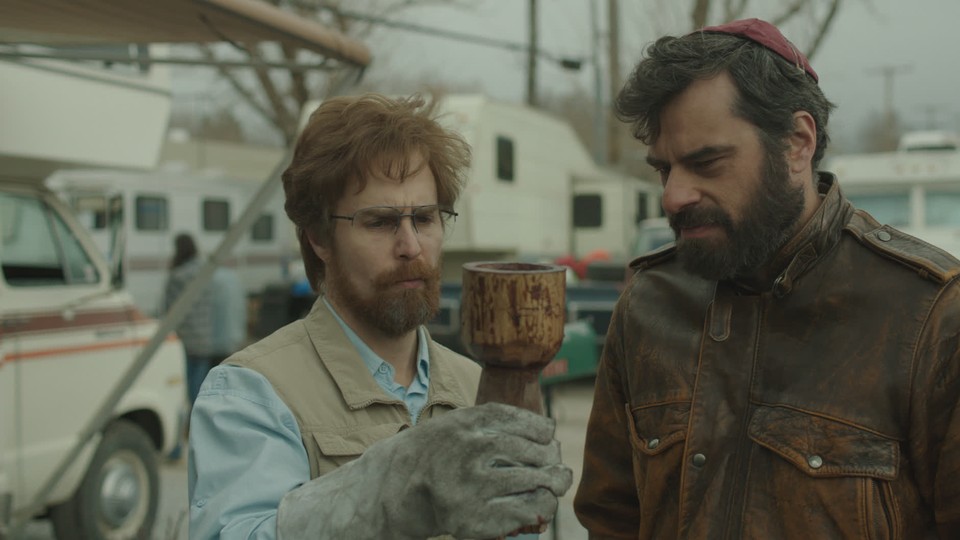 Can American Christians take a joke? The question will be tested by the new film Don Verdean, a satire about a Christian archeologist who tours churches showcasing the "biblical" artifacts he has unearthed—from the shears used to cut Samson's hair to the Goliath's skull. The movie lampoons a Christian subculture that seems to attract more than its share of swindlers, shysters, and hucksters.
But it's difficult to imagine the film recreating the success of its director Jared Hess's 2004 hit, Napoleon Dynamite, because the audience most likely to understand the jokes is the one least likely to find it amusing.
"Don Verdean probably never had a chance. It's a satire set in American church culture, which means it will offend those Christians who don't find that funny," writes Alissa Wilkinson, chief film critic at Christianity Today. "And a lot of its humor relies on the audience's insider knowledge of the obsessions and verbal tics of a subculture to which many of them don't belong."
The line between a giggle and a groan is often thin, and much religious comedy is just ridicule offered in bad taste. But when done right, religious humor in film, television, literature, and stand-up can be a gateway to important conversations and even instill listeners with humility. So Christians need to learn to laugh at themselves.
In a black box Off-Broadway theater barely a stone's throw from Times Square, Susan Isaacs emerges from behind a curtain to perform a one-woman comedy show. She's a seasoned comic—a former member of the Groundlings improv troop who made multiple appearances on Parks and Recreation—but she's also a Christian. This 2015 show is a stage adaptation of her spiritual memoir, Angry Conversations With God, in which Isaacs imagines taking God to marriage counseling: "Did I marry him for his money or what I get out of him, or did I marry him for better or worse?"
The set scores laughs from a more liberal, secular crowd of Manhattanites but the content might upset many conservative Christians in flyover states and the Bible Belt. Isaacs says that when she has performed the show in churches in the South, some people have been offended and walked out.
While the production explains the Christian gospel and even quotes Bible passages from Job to Jeremiah, it is also peppered with profanity and addresses risqué themes such as menstruation and masturbation. The mixing of sacred and profane is pointedly irreverent.
"There's nothing funny in the Bible, except the stuff that's unintentionally funny," Issacs quips. "Like when Joshua climbs a mountain of foreskins."
Is there anything redeemable about a show in which a Christian woman who describes herself as a former "Lutheran slut" pokes fun at faith? Isaacs certainly thinks so.
"Christians seem to have a difficult time with satire because they feel they are ridiculing God himself or they are being sacrilegious," she says. "But satire uses humor to expose fallacies and brokenness and raise important questions."
While Isaac is admittedly edgier than other comics who are Christian, she's not alone in believing religious comedy can serve a higher purpose.
Jon Acuff is a New York Times bestselling author of books on business and leadership, but he first gained prominence with a satirical blog and book titled, "Stuff Christians Like." One of his more popular posts makes light of how some Christians raise their hands in church services. He explores 10 ways worshippers lift their appendages, including "The Ninja," "The Single Hand Salute," and one with "hands tilted at a 47 degree angle as if someone visiting your house warming party is about to hand you a delicious pound cake."
Acuff says, "To use satire to explore religion is to admit that some of it is weird or to admit you're still learning or to admit that you have doubts."
Satire, which he defines as "humor with a purpose," is different than aimless and vicious mockery. The latter is a "short cut to a laugh that removes one's ability to speak the truth in love" and something he says the Bible condemns. Satire also has boundaries, so Acuff says he stays away from jokes about more sensitive theological matters such as communion or Easter. Not every South Park-style joke is beneficial in his view; each person has to negotiate their own personal boundaries.
Acuff and Issacs are joined by Sammy Rhodes, a campus minister at the University of South Carolina whose humorous perspectives, often on faith, have garnered him more than 100,000 Twitter followers. (He recently tweeted, "When God closes a door, he opens a Target.") Rhodes has found that satire is particularly effective in communicating with the students in his ministry.
"My students feel more connected to someone who is using humor than someone who takes themselves way too seriously," he says. "Most of my students get news from The Daily Show and John Oliver. They want to have serious conversations, but humor often has to be a part in order for them to have it."
In his forthcoming book, This is Awkward, he explores "how life's uncomfortable moments open the door to intimacy and connection." Rhodes sprinkles humor throughout the book as he discusses being sexually abused by a peer, overcoming parent-wounds, battling depression, and being addicted to pornography.
"We think about humor as avoiding or escaping our 'stuff,' but I think it can be a way to actually face our 'stuff,'" he says.
Rhodes says the serious topics were not easy for him to address, but satire took the edge off: "Humor is the best way to show humility, that we don't have all the answers. Sure, humor can be a way of dismissing. But there is a way of doing humor that says, 'I take this seriously but I don't take myself that seriously.'"
The Bible itself is actually full of humor, though many miss the punch lines due to chronological and cultural distance. According to the Biblical Archaeological Society, the Christian scriptures are replete with innuendo and irony. One of the funniest people in the Bible was probably Jesus. Many Bible scholars agree that he had "hilarious" sense of humor when discussing spiritual matters, and Elton Trueblood's classic text, The Humor of Christ, counts Jesus making at least 30 wisecracks.
Not all Christians in all periods have honored this tradition of humor. In the third century, Saint Ambrose remarked, "joking should be avoided even in small talk." Saint Basil believed that Christians "ought not to laugh nor even to suffer laugh makers," and Saint Clement of Alexandria discouraged "humorous and unbecoming words."
But many other Christians have recognized humor's value. Saint Thomas Aquinas, a major Christian thinker in the 13th century, advocated what he described as playfulness. In his short book about the supernatural realm, The Screwtape Letters, C.S. Lewis says, "Humour is ... the all-consoling and ... all-excusing grace of life." The Reformed British preacher Charles Spurgeon even encouraged making jokes in sermons, an act which he disturbingly referred to as tickling his oyster.
So while Isaacs, Acuff, and Rhodes are counted among a new crop of modern believers championing the value of religious humor, they are by no means the first. They are carrying on a time-tested family tradition of funny that's as old as the faith itself. More serious believers would do well to follow their lead—because those who can't take a joke, often end up becoming one.
---
Related Video