Who Can Tribal Courts Try?
The U.S. Supreme Court weighs which disputes America's Indian tribal courts can adjudicate.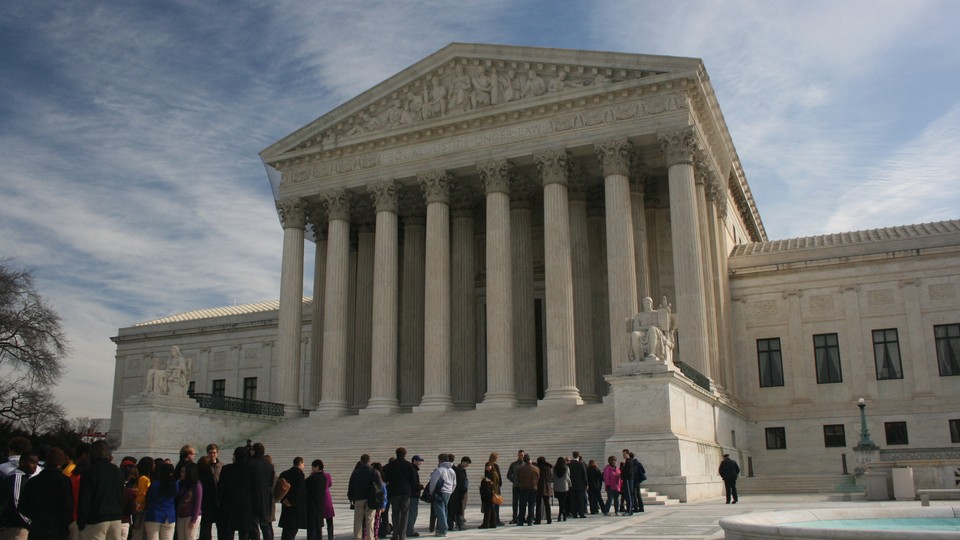 On Monday, the Dollar General Corporation—a huge chain-store enterprise with revenues of nearly $19 billion and more than 100,000 employees—will ask the Supreme Court to hold that none of America's Indian tribal courts—not one of the more than 175 operating in the country—is fit to adjudicate ordinary tort disputes involving non-Indians.
Tribal courts, the company argues, are poorly organized and badly run; lack independence from tribal governments; don't respect constitutional rights; and enforce "tribal law, custom, and traditions" rather than actual law. They aren't really courts at all. As Brendan Johnson, a former U.S. attorney and experienced Indian-law litigator, recently said, "The premise of Dollar General's case is that tribal courts are inherently incompetent and biased against non-members."
The argument struck me as a bit broad. I decided to talk it over with an expert in tribal justice. Someone suggested I call Frank Pommersheim, a professor of law at the University of South Dakota. A New York-born Anglo and a graduate of Colgate, Columbia Law, and Harvard, Pommersheim is a contributor to the standard treatise, Cohen's Handbook of Federal Indian Law and the author of five books on Indian law and reservation justice, most recently Tribal Justice: Twenty-Five Years as a Tribal Appellate Justice.
When I picked up the phone, I didn't know that Pommersheim, as an appellate justice of the Mississippi Band of Choctaw Indians Supreme Court, actually wrote the tribal-court opinion that Dollar General is fighting. That opinion doesn't say that Dollar General is liable for damages; it just says that the tribal court can hear a claim against the company for actions occurring in its store located on tribal land.
Pommersheim, as you can imagine, is nettled by Dollar General's argument, especially because it plays into a tribal-courts-are-untrustworthy narrative the Court has adopted before. "The Supreme Court has fallen victim to negative stereotypes about tribal courts," he told me. "It does not 'trust' them to be competent and fair. That is most unfortunate and quite inaccurate."
Obviously Pommersheim's got a dog in the fight. But note that any appellate bench in America—state, federal, or tribal—would be lucky to have a judge with his credentials. And that tells us at least something about tribal justice in America. For nearly a century, Congress and the executive have been encouraging tribes to build justice systems in the mold of the overall American system—recruiting professional judges, training professional staff, writing tribal codes, and producing a corps of trained lawyers. Indian tribes are trying hard to modernize, and many, including the Mississippi Choctaw, appear to be succeeding.
But in a series of cases beginning in the 1980s, the Supreme Court majority has cut back on tribal jurisdiction. Tribal courts may not try non-Indians for crimes committed on the reservation. (The Court originally decided that tribal courts could not even try Indians who were members of other tribes, but Congress stepped in to reverse that result.) They can no longer adjudicate civil disputes between two non-member parties—an auto accident, say, on a federal highway that crosses the reservation. And in a 1981 case called Montana v. United States, the Court announced that "the inherent sovereign powers of an Indian tribe do not extend to the activities of nonmembers of the tribe"—seemingly regardless of location. Montana allowed two exceptions: cases arising from "consensual relationships with the tribe or its members," and cases where the non-members' on-reservation "conduct threatens or has some direct effect on the political integrity, the economic security, or the health or welfare of the tribe."
This case, the tribe now argues, involves both Montana exceptions. Dollar General owns and operates a store on tribal trust land inside the Choctaw Reservation near Philadelphia, Mississippi. Under the terms of the lease, "[t]his agreement and any related documents shall be construed according to the laws of the Mississippi Band of Choctaw Indians and the state of Mississippi" and "[e]xclusive venue and jurisdiction shall be in the Tribal Court." So there has been at least some consent to tribal jurisdiction.
In 2003, the local store agreed to bring young tribal members to work as interns. Soon after, a 13-year-old Choctaw boy (known in the case as "Richard Roe") alleged that the store's non-Indian manager had repeatedly made sexual advances to him, offered him money for sex, grabbed his crotch area, and subjected him to sexually offensive remarks. Roe and his family filed suit in the tribal court against the manager, and against the corporation for alleged negligence in hiring, training, and supervising him.
If proved, of course, the manager's behavior would be criminal. But tribes can't prosecute non-Indians for criminal offenses, even if they are committed on tribal land. All they can do is ask the federal Justice Department to bring a case—and U.S. Attorneys are not eager to do that.
As for the case against Dollar General, it's a fairly routine tort suit. In any state, the lease and the store's presence would be enough. And sexual misconduct directed at Indian children, one can certainly argue, "threatens ... the health of welfare of the tribe."
When the Choctaw Supreme Court found that the tribe had jurisdiction, Dollar General then went to federal district court seeking an injunction against the suit. The district court dismissed the case against the manager, but it held that the tribal court could hear the case against the company. The Fifth Circuit agreed, over a dissent by a conservative judge, Jerry Smith. Before the Supreme Court, Dollar General argues that its lease agreement is not enough; in the case of a tribal court, its consent must be "unambiguous," rather than implied from its dealings with the tribe. The manager didn't have corporate authorization to join the tribal youth-work program, so there's been no consent by Dollar General to be sued for acts relating to the program.
This case shows the clash of two views about tribal self-government. As Ed Gehres, a tribal descendant of the Eastern Cherokee who is an experienced Washington lawyer in tribal business deals and litigation, pointed out on SCOTUSblog, Dollar General is arguing that Congress long ago stripped tribes of any power to try cases against non-Indians—"even for matters affecting tribal citizens and occurring on Indian land." The tribe and the government argue that unless Congress explicitly takes authority from tribes, "the full reservoir of a tribe's inherent sovereign authority existing before interaction with the United States remains."
The National Congress of American Indians, in its amicus brief, warns that under Dollar General's rule, tribal governments couldn't regulate off-reservation businesses that dump waste on tribal land; lawbreakers don't "unambiguously consent" to being sued. Tribal courts could not hear cases against abusive non-Indian spouses who live on the reservation; tribal courts couldn't evict non-tribal members squatting in tribal housing.
Shannen Coffin, another experienced Indian-law litigator at Steptoe & Johnson, suggests that Dollar General is likely to win less than it is asking for, but all that it needs. "Experience in the last couple of decades shows some pretty serious abuses of authority by tribal courts over non-Indians," he told me. As an example, he cited the 1999 case of Burlington Northern v. Red Wolf, in which a tribal court awarded a $250,000,000 verdict against a railroad for the accidental death of two tribal members on tracks that crossed a reservation. That award was voluntarily reduced by the plaintiffs to $25 million, and finally voided by the Ninth Circuit.
"This case as granted was really only about whether this specific exception to the consent rule covers tort cases," he said. "It's not likely to be a 'sky is falling' case."
If Coffin is right, the Court may protect off-reservation businesses, but not necessarily individuals. The Roberts Court's decisions, whether in the area of arbitration, punitive damages, or class actions, often enthusiastically insulate giant companies from meddlesome plaintiffs and juries. For the past 30 years, the Court has fretted over the idea of tribes having their own courts and laws. But more and more, it seems, it finds that wealthy corporations need a special set of their own.