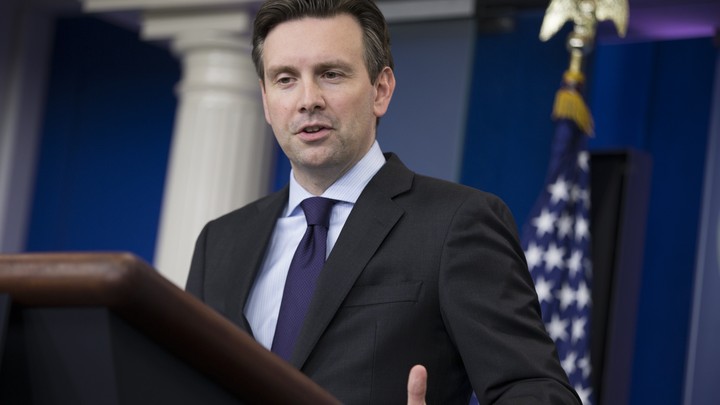 Just one day after Donald Trump unveiled a policy proposal to ban Muslims from entering the United States, the White House on Tuesday laid into the Republican front-runner. And, like the rest of America, Earnest even mocked his hair.
"What Donald Trump said yesterday disqualifies him from serving as president," press secretary Josh Earnest told reporters. "And for Republican candidates for president to stand by their pledge to support Mr. Trump, that in and of itself is disqualifying."
On Monday, Trump said there should be "a total and complete shutdown of Muslims entering the United States until our country's representatives can figure out what is going on" with the terrorist group the Islamic State.
The outcry over Trump's proposal was swift and scathing. Within the GOP, New Jersey governor and fellow presidential candidate Chris Christie derided it as "ridiculous;" Jeb Bush called him "unhinged." And House Speaker Paul Ryan was quick to distance the Republican Party from the comments: "This is not conservatism. What was proposed yesterday is not what this party stands for and, more importantly, it's not what this country stands for."
(Ryan did, however, say he would "sup­port who­ever the Re­pub­lic­an nom­in­ee is.")
Earnest warned that Trump's "offensive and toxic" rhetoric risked affecting the rest of the GOP.
"The Trump campaign, for months now, has had a dustbin-of-history-like quality to it, from the vacuous sloganeering to the outright lies to even the fake hair, the whole carnival-barker routine that we've seen for some time now," Earnest said. "The question now is about the rest of the Republican Party and whether or not they're going to be dragged into the dustbin of history with him. And right now, the current trajectory is not very good."
We want to hear what you think about this article. Submit a letter to the editor or write to letters@theatlantic.com.
Rebecca Nelson
is a staff correspondent for
National Journal
. Her work has appeared in
TIME
,
Chicago
,
Ms.,
and
Washingtonian.