What's Obamacare's Tipping Point?
Republicans are set to make more cuts to the law this week, but they're not going to bring down the law. What would?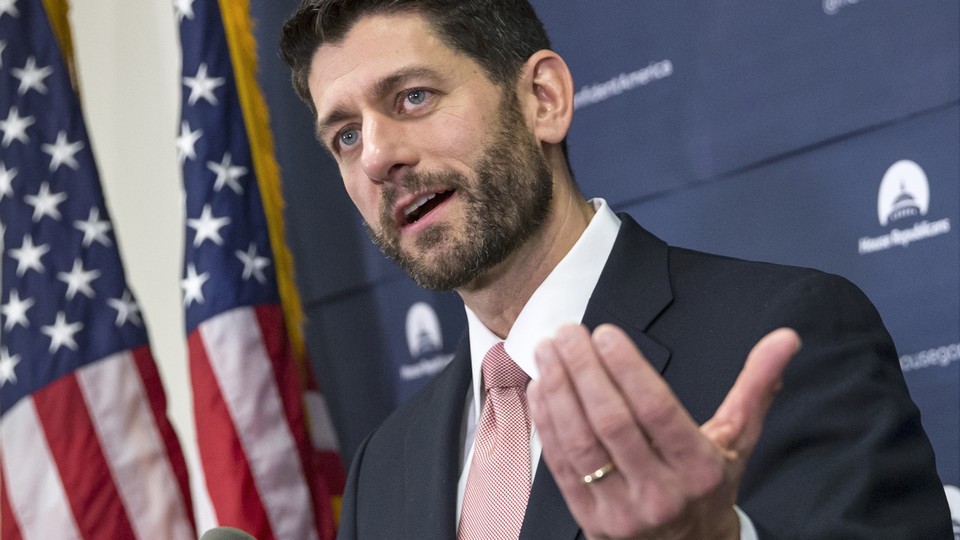 Republicans are a half-decade into their "death by a thousand cuts" effort to nullify Obamacare, and they made progress on a few more incisions Wednesday. Included in the newly unveiled budget-and-tax deal are several measures tweaking the Affordable Care Act.
Among the provisions: a two-year delay, thanks to a wide swath of both Democratic and Republican support, of the Cadillac tax, which was to be levied on pricey employer-sponsored plans starting in 2018; restrictions on the risk-corridors program, a program designed to reduce the financial peril for insurance companies while they venture into the law's new exchanges; a one-year pause on the annual tax on health insurers; and a two-year moratorium on the medical-device tax.
None of these changes reaches the center of Obamacare, but Republicans see them as part of an ongoing attempt to take the measure apart every chance they get. And with more opportunities on the horizon, as well as the possibility of a Republican winning the White House in 2016, the law's friends and foes alike are mulling the law's "tipping point"—a point at which enough of the original law is gone that it no longer really is "Obamacare," nor does it even fully attempt to pursue the law's original goals.
So where is that core? Experts repeatedly cite three features: the individual mandate, Medicaid expansion, and subsidies.
Repealing the individual mandate would threaten the stability of the markets, Commonwealth Fund President David Blumenthal said. A rollback of Medicaid expansion would impact a substantial number of newly insured Americans. And reducing subsidies would make insurance unaffordable for many people in the marketplace.
Additionally, House Republicans are suing Obama, alleging the administration exceeded its authority when funding cost-sharing subsidies (which can reduce the cost of deductibles, co-pays and other out-of-pocket costs for low-income Americans). And if the House GOP wins, "that could really be a problem," said John Holahan, Urban Institute senior fellow.
The Senate-passed reconciliation bill includes some of these provisions aimed at dismantling Obamacare, such as repealing Medicaid expansion and the individual mandate (a House vote on this bill will come in January, according to Mike Long, a spokesman for House Majority Leader Kevin McCarthy.) If a president signed this bill, it would have a profound impact on the law, according to Timothy Jost, a Wash­ing­ton and Lee Uni­versity pro­fess­or emer­it­us who has writ­ten book chapters and art­icles on health care reg­u­la­tion.
But this week's year-end deals included in the soon-to-be-voted-on omnibus and tax-extenders package aren't "body blows to the law," Blumenthal said. "They are more inconveniences. The law will continue to be implemented despite these extensions or delays of taxing authorities."
Others characterize it fairly similarly: "These are the first major changes to the ACA since it was enacted," Larry Levitt, a Kaiser Family Foundation senior vice president, wrote in an email. "They don't affect the law's core aim of expanding health coverage. There was a unique constellation of politics that led to delay in some of the ACA's taxes, though I don't think a similar coalition exists to roll back the coverage expansions."
That would involve a Republican-controlled Congress and a Republican president, and the reconciliation bill that the Senate passed earlier this month serves as a blueprint to what a bill could look like (Obama won't sign such a bill if it comes to his desk).
Yet, "now that millions of people are benefiting from the Medicaid expansion and marketplace subsidies, taking them away will not be easy," Levitt, of the Kaiser Family Foundation, wrote in an email. "The Republican platform will no doubt include repeal of the ACA, but that doesn't mean it will necessarily happen. A new president always has to prioritize among the many issues he or she campaigned on."