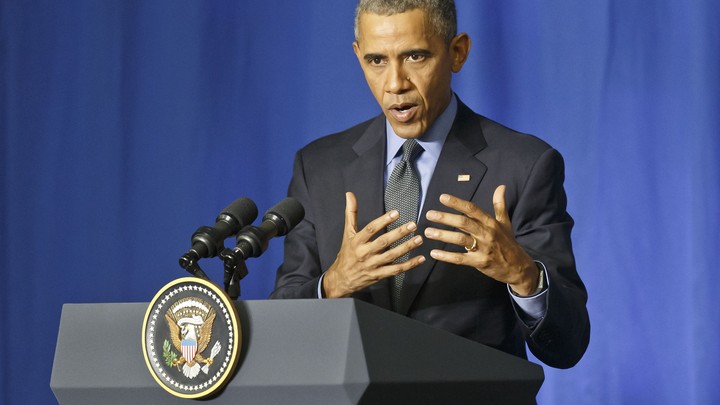 There was something different about President Obama on Tuesday morning at his fourth news conference in 15 days. Gone for the moment was the petulant politician who was so defensive in Turkey, and the high-energy, more eloquent president seen in Malaysia a few days later. The subdued president who met with reporters this time in Paris was one well aware that his days of international summitry and allied leadership are numbered.
More than at any other venue or appearance, on display here was a president coming to grips with the short time left him in office and the fact that much of what is left on his agenda will not be resolved on his watch. He knows, as he tackles the twin threats of terrorism and climate change, that solutions will not come before he leaves the White House. So he used this session to take a look back at progress already made and to send messages both to his successor and to a world uncertain that his commitments mean anything beyond 2016.
This was a lame-duck president about to enter his final year in office, hoping to cement his legacy and assure that his commitments will be honored by the next president and the next Congress. Facing obvious skepticism on that count from the reporters questioning him, Obama countered with repeated professions of optimism and confidence, traits he is sometimes faulted for underplaying. Ten times during the 46-minute session he voiced "confidence;" once, he declared himself an optimist. But that optimism did not extend to getting everything done before the end of his term—five times he warned that these things "take time."
Without being overtly defensive, he acknowledged the critics back home who "have asked why the world would dedicate some of our focus right now to combating climate change even as we work to protect our people and go after terrorist networks." Rather matter-of-factly, he explained, "Great nations can handle a lot at once."
The message—as so much in this press conference—seemed directed at the Republicans running for his job. Though the 54-year-old Obama is younger than all but four of the 14 GOP contenders, he assumed the role of elder statesman. To them, he tried to explain what U.S. leadership has accomplished across the globe. To allies tuning in, he tried to reassure that the next president is unlikely to reverse his commitments, regardless of campaign promises that the president clearly views as irresponsible and reckless.
"Even if somebody from a different party succeeded me, one of the things you find is when you're in this job, you think about it differently than when you're just running for the job," said the man who as a candidate took stands on trade and other issues he had to temper when in office. This happens, he suggested, in part because a president is speaking to the world while a candidate is talking to voters. "American leadership involves not just playing to [an] American constituency back home," he said. "But you now are, in fact, at the center of what happens around the world. And that your credibility and America's ability to influence events depends on taking seriously what other countries care about."
This includes climate change. "The president of the United States is going to need to think this is really important," he said. "And that's why it's important for us to not project what's being said on a campaign trail but to do what's right and make the case." He dismissed much of what's being said by the candidates as "the games Washington plays" and stressed that other countries "should be confident that we'll meet our commitments on this."
He also tweaked the Republican candidates for their rhetoric on abortion, though he stopped short of linking that rhetoric to last week's deadly attack on a Planned Parenthood clinic in Colorado Springs. He said the candidates should be "making sure that we're talking about it factually, accurately, and not demonizing organizations like Planned Parenthood."
With an eye on his legacy and an ear to the campaign attacks on his leadership, the president cast his record as one of diplomatic success abroad and economic success at home. On Ebola, Syria, Iran, climate change, China, and terrorism, he said, "We had to lead the way." He added, "Whether it is organizing the coalition that's fighting ISIL or dealing with climate change, our role is central."
Looking ahead to his final months in office, he pledged to "keep on working" his agenda. But he cautioned against expecting overnight victories in Syria and Russia or on climate change. "It's not going to be easy" to end the fighting in Syria, he said. "It's going to continue to be a serious threat for some time to come."
He concluded by tapping into the one thing he has that none of the Republican challengers can claim: experience in the Oval Office. "We have to push away fear and have confidence that human innovation, our values, our judgment, our solidarity, it will win out," he said, adding pointedly, "I've been at this long enough where I have some cause for confidence."
We want to hear what you think about this article. Submit a letter to the editor or write to letters@theatlantic.com.