What Happened to Miss Independent?
Researchers find that 18- to 34-year-old women aren't moving out on their own. They are remaining at home with family at rates not seen since 1940.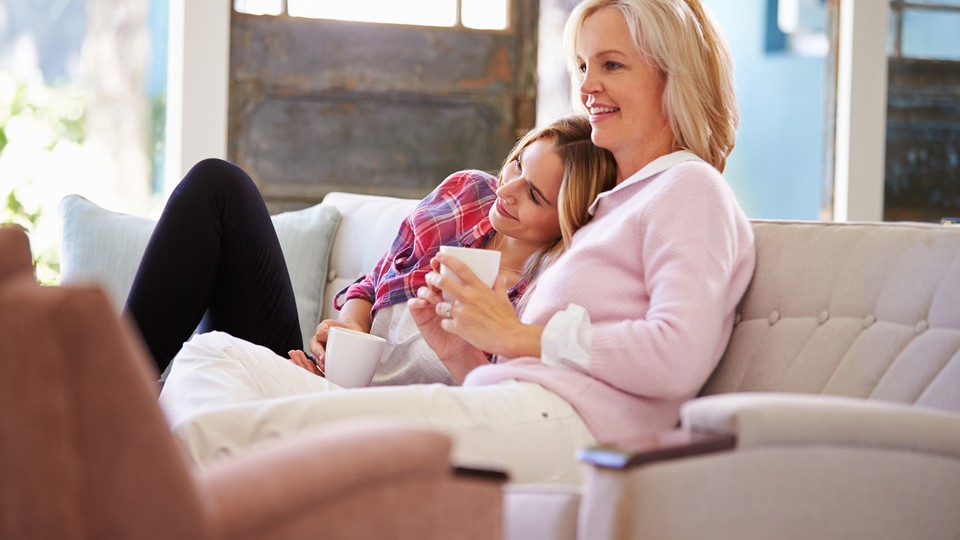 The last time this many young American women lived at home with parents or relatives, John Steinbeck had just won the Pulitzer Prize and CBS had just demonstrated a fantastic invention called color television. 
"You'd have to go back 74 years to observe similar living arrangements," writes researcher Richard Fry in his new report for the Pew Research Center, of the increasing number of women 18-34 who live at home.
Moving out of your parents' place is a sign of independence and stability. It means a young woman is likely married or in college, or has a job good enough to live on her own. And not since 1940 have so many young women remained at home, a rate that today has reached 36.4 percent.
In 1940, 36.2 percent of young women lived with family. It was likely a result of the Great Depression, and the looming U.S. entrance into World War II. Back then, women typically lived with their parents until they married—the average age being 21.5, about six years younger than it is today. With the threat of global war and a wrecked American economy, moving away from home soon just wasn't a reality.
In the next few decades, as men returned from wars and the economy boomed, women married at higher rates once more and, increasingly, joined the workforce. The most independent time for young women was 1960 (as far as living with family goes), when only 24 percent of young women were living at home.
Since then, the number of young women who lived at home has remained relatively flat (see graph below), but suddenly in 2000 it began to rise. The answers as to why are reflections upon the state of women in the economy, and the poor economy itself.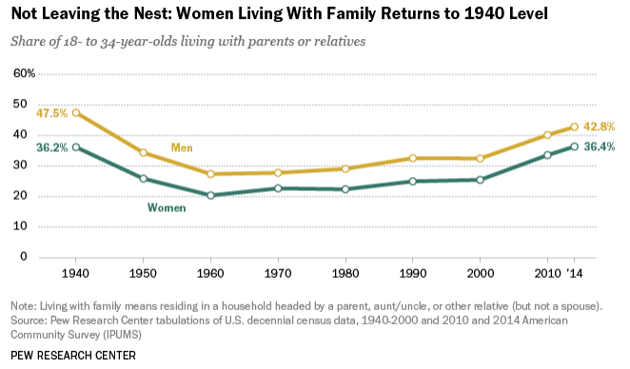 College
College students—men and women—are more likely to live at home with family. In 1960, when the rate of young women living at home was at its lowest, only 5 percent of women attended college, a number that has grown to nearly 30 percent today. So as more young women enroll in university, more women will decide to live at home. In fact, in 2014, 45 percent of women in college lived with mom and dad or a relative.
Marriage
Today, young women are half as likely to marry as women in 1940. Though marriage may lead to independence from family, college certainly leads to financial independence, so as more women attend college, they may decide to delay marriage and live at home, just as men do.
The Economy
In 1940, the Great Depression had ruined a lot of job prospects for young men. That led to what Fry calls a "high level of male co-residence with family." So because most women moved out when they married, more jobless men meant more men living at home, which meant fewer marriages, thus more women living at home.
In 2008, because there were more women in the job market, the recession had a more impact on young women. Further, of the country's 8 million unemployed people, half are between 16 and 34 years old.
Taking that into consideration, the U-shaped graph above shows how both depression and recession have hindered young people's prospects for finding their own place.
The answer, then, is that more women live at home because more women are going to college, fewer are getting married, plus an economy that's isn't great for young adults.