What Florida's New Congressional Map Means for 2016
The state Supreme Court accepted a new congressional map after nearly four years of legal battles. That leaves several incumbents with tough reelection bids.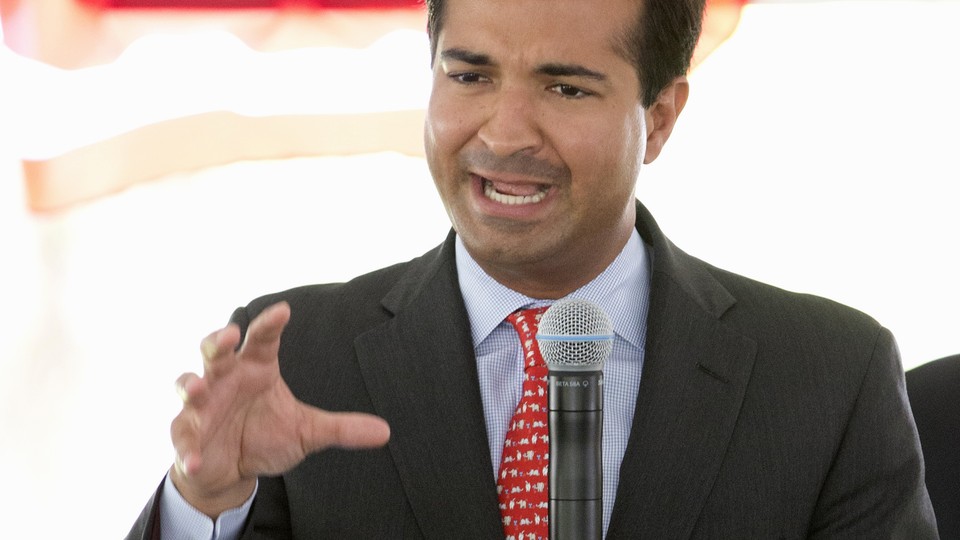 Florida finally has a congressional map in place for the 2016 cycle after months of uncertainty and nearly four years of legal battles over the old district lines.
The state Supreme Court on Wednesday afternoon accepted a map proposed in October by Circuit Court Judge Terry Lewis that will likely nudge a couple of the state's House seats in Democrats' favor. The 5-2 ruling didn't surprise the state's political observers, but it offered clarity for a spate of lawmakers wondering whether they would face a more hostile political environment in their new districts.
Now that the dust has settled, several incumbents will face uphill battles for reelection—unless they jump into a nearby district more favorable to their party.
One of the lawmakers most affected by the new lines is Democratic Rep. Gwen Graham, who finds herself in a district that Mitt Romney would have won with 65 percent of the vote in 2012. The freshman was one of two Democrats nationwide who defeated a House Republican incumbent in 2014, but she now faces a pivotal decision as someone viewed as a future statewide candidate.
On the Republican side, Rep. Daniel Webster, whose new district would have been carried by President Obama with 61 percent in 2012, has said he'll consider running in the nearby Republican-leaning district being vacated by retiring Rep. Richard Nugent. Rep. Carlos Curbelo will have to run in a 53-percent Obama district, while the partisan numbers on Rep. John Mica's district are virtually even.
By running for Senate, Rep. David Jolly escaped what is now a 55-percent Obama district.
Curbelo's Miami-area district was a major sticking point in the debate over a new map. In the summer, Republicans submitted maps that followed the court's instructions to avoid splitting up the small city of Homestead, but the maps also pulled a cluster of heavily Democratic, African-American communities out of Curbelo's district.
Justice Barbara Pariente's opinion accuses Republicans of trying to pull a fast one, saying "the Legislature's proposed configuration … was even more favorable to the Republican Party than the enacted district, which was invalidated partly for being drawn with the intent to favor the Republican Party."
The new map will shake up each party's primaries, too. If Webster runs in Nugent's district, he'll face Justin Grabelle, Nugent's chief of staff, in the Republican primary. Palm Beach-area Democratic Reps. Lois Frankel and Ted Deutch will also fall into the same district. The two are friends and have promised not to run against each other, but if either decides to run in the open district in nearby Fort Lauderdale, they could face local attorney Stephanie Toothaker, who has said she's considering a bid.
The Deutch and Frankel pairing is so inconvenient for the two that Pariente cited it as evidence that the new map was not drawn by "Democratic operatives," as state Republicans have alleged.
Pariente wrote in the court's opinion that the ruling "should bring much-needed finality," years after the plaintiffs, led by the Florida League of Women Voters, alleged that the old map violated a state ban on partisan gerrymandering.
The dissent echoed complaints by Republicans throughout the lawsuit: that the court struck down a Republican-drawn map, then chose lines that Democrats support, thus helping the minority party rather than truly overcoming partisanship.
Pariente also conceded in her opinion that the redistricting process was messier than expected, writing that the justices "did not anticipate … that the Legislature would be unable to agree on a final remedial redistricting plan" after the court directed legislators in July to submit a new map. When the state House and Senate failed to pass the same map, the justices called on Lewis to select one.
Even though the state Supreme Court's ruling essentially sets the new map in stone, there is at least one legal battle remaining. Democratic Rep. Corrine Brown filed a federal lawsuit in August alleging that the state court violated the Voting Rights Act when it specifically directed the court to redraw her district.
Brown represents a well-known visual example of gerrymandering. Her old district twisted from Jacksonville to Gainesville to Orlando, looping in a strong majority of Democrats, and a slight majority of African-Americans.
Her new district, covering Jacksonville and Tallahassee, will still be safe Democratic territory and only be a few percentage points short of an African-American majority. But the decrease in the number of Democrats and African-Americans prompted Brown in October to call the new map "a blatant attempt by the plaintiffs and Florida State Supreme Court to disenfranchise minority voters" in her district.
Aside from Brown's lawsuit, one other redistricting battle remains. Legislators in both parties are dissatisfied with the current redistricting system, which outlaws partisan gerrymandering but leaves the process in the hands of partisan legislators. Democratic state Rep. Dwight Dudley has sponsored a bill that would create an independent commission, and some Republican legislators have tentatively expressed support for the idea.
Republicans could also put the state's ban on partisan gerrymandering back on the statewide ballot in 2018, using a rare Constitution Revision Commission meeting in 2017 that will likely be dominated by the GOP.