The Disgraced Preacher and the Songwriter
The man who wrote one of the most popular worship songs is linked to the leader of an organization hit with allegations of sexual abuse.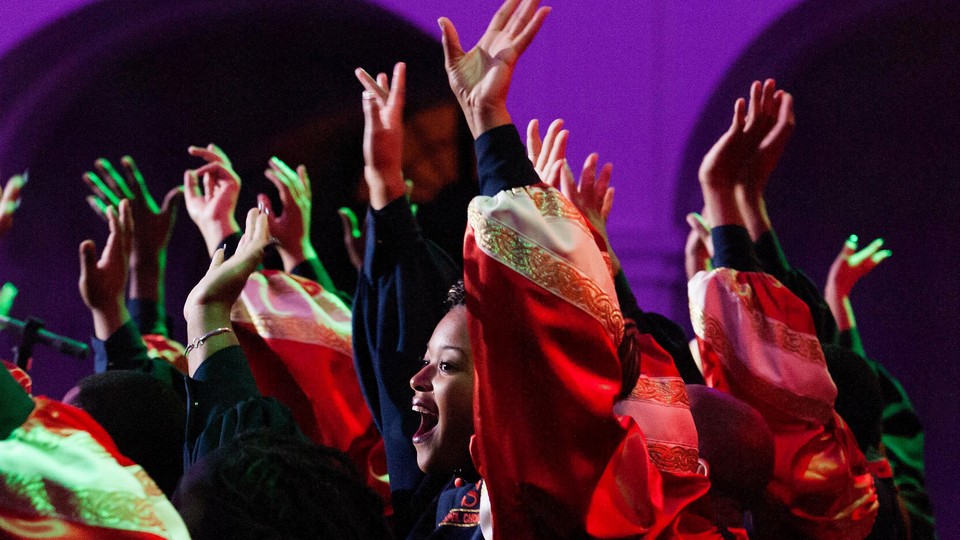 Earlier this week, the influential evangelical magazine Christianity Today published a 5,700-word exposé of the Gathering, a cult-like Christian ministry in Tennessee. Wayne "Pops" Jolley is a prosperity gospel preacher who exerts a powerful grip over his followers, pressuring them for extravagant donations and demanding total loyalty. Bob Smietana, a reporter, dug up appalling accusations of sexual abuse, and talked to ex-members who say Jolley pits family members against each other, even encouraging one follower's separation from his more skeptical wife. Jolley says his critics are controlled by demons.
The story had it all: a demon named Jezebel, a phantom radio show, men named "Pops" and "Steady," and a leader who preaches to his devotees from a recliner in the basement of his million-dollar home, to name just a few wild details. (Read the whole thing!) But for many of the magazine's readers, the story was not just shocking. It was personal, if only tangentially.
As it turned out, one of Jolley's devoted followers is Ed Cash, a successful songwriter who co-wrote one of the biggest worship songs of the last decade. Cash is a co-writer of "How Great Is Our God," an anthem instantly recognizable to any member of the kind of church that relies on "worship leaders" rather than organists for Sunday-morning music. More than 10 years after its release, the song is still #8 on the list of top worship songs, according to Christian Copyright Licensing International.
Cash won a Dove Award—the Christian music industry's version of a Grammy— in 2004 as producer of the year for "How Great Is Our God," and has gone on to win the award six more times. And his success has trickled down to Jolley. Ex-members of Jolley's group told Smietana that Cash has said he gives Jolley 10 percent of his personal income and 10 percent of his business income. In 2010, the Cash Family Foundation gave Jolley more than $200,000. And recently, Smietana reports, Cash has been sharing his songwriting credits—and therefore profits—with Jolley. (Chris Tomlin, the well-known worship leader who performs "How Great Is Our God" and works frequently with Cash, says he has never met Jolley.)
The larger market for the genre known as Contemporary Christian Music, which often consists of knock-offs of top-40 styles, has collapsed in recent years. Worship music, though it draws from contemporary pop music, is its own thing, with no secular parallel—and sales are booming. Even as it remains almost invisible to those outside the (admittedly large) bubble of American evangelicalism, it has turned into a major industry.
Worship songs are songs to be sung in church. Though they perform a similar role as hymns do in a church service, there are significant differences between hymns and worship songs. Many hymns are theologically complex and somewhat formal in tone, while worship songs rely on repetition, informality, emotion, and simplicity. Hymns tend to be sung from books, while the lyrics to worship songs are projected onto big screens. Many hymns date to the 19th century or before, while worship music as a genre arose in the 1960s and took off in the 1990s. Hymns are usually accompanied by an organ or a piano, while worship songs are played by a full band, including guitars and drums. Hymn-singing is a collective endeavor, while worship bands play so loudly that the congregation is doing something more like singing along at a concert. (Naturally, there are exceptions to all these generalizations.) Classics of the young genre include "Lord, I Lift Your Name on High" and "Shout to the Lord."
These days worship songs are not just sung in church, but bundled onto albums for inspirational home listening. Tomlin, who sings "How Great Is Our God," is a giant in the genre. His album of Christmas worship songs currently sits atop Billboard's list of top Christian albums; Cash has a co-writer credit on five of the album's 11 songs. A few years ago CNN declared Tomlin "the most-sung artist on the planet," noting that in 2012, Katy Perry songs had been played 1.4 million times on the radio, while Tomlin's songs were played more than 3 million times in churches.
For the many worship-music fans who were appalled by the Christianity Today exposé, that means that purchasing an Ed Cash-written song means funneling money to Jolley and his cult-like ministry. It's a prospect that some now find disturbing.
One final note. Toward the end of the story, Smietana tosses in this detail:
Cash, and his brother Scott, both agreed to be interviewed by CT, then canceled their interview. Cash later wrote and recorded a song to CT, explaining why he backed out.
This may be the first time in journalistic history that an original song has been submitted in lieu of an interview. Smietana let me listen to the song, which has not been made public. Here are the lyrics in part:
Dear Bob, I pray a blessing over your family, your beloved ones

Dear Bob, know that I love you even though I don't know you, just because.

Whether you're to blame or someone told you lies,

All I have is grace, and I see you through his eyes. ...

Dear Bob, let's get together and talk about Jesus and how to bless his church.

Dear Bob, children are starving, people are dying without knowing God.

We cannot believe everything we hear, but one things stands true.

Hear it loud and clear, loud and clear.

Oh, you are a child of God

And he loves you the way you are.

You've already won his heart, dear Bob. …

Dear Bob, I've run after the story, all for my glory. It left me wanting more.

Dear Bob, could it be that Jesus is really the story that we're looking for?

Dear Bob.
If it weren't written for the express purpose of avoiding tough questions about a spiritual charlatan, it would fit right in at a contemporary church service. In its own disturbing way, it's a masterpiece.