Vitter Loss Fallout Spilling Into Louisiana Senate Race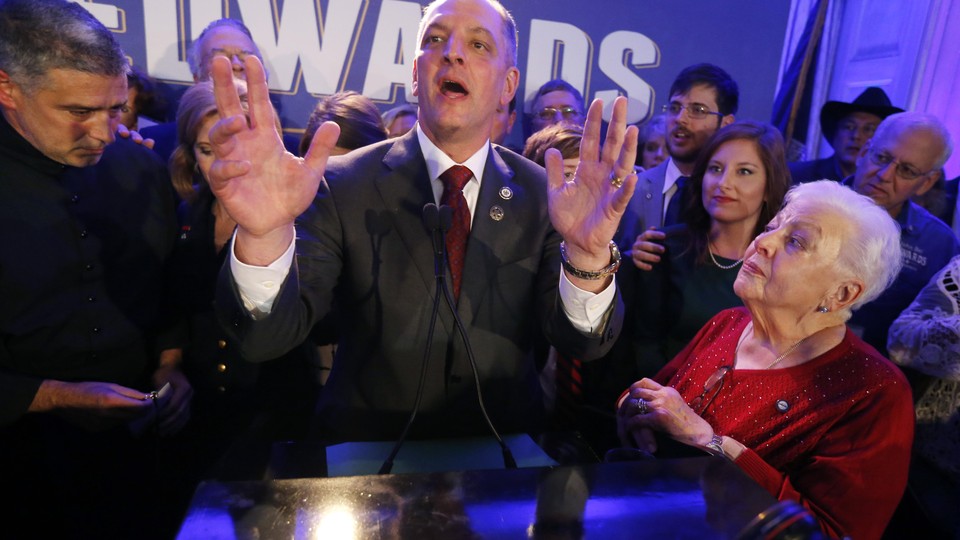 Despite the election turning on a years-old sex scandal, the aftershock of David Vitter's stunning loss in the Louisiana governor's race is nonetheless rumbling through the contest to replace him in the Senate.
Thanks to the unlikely victory of little-known Democrat John Bel Edwards, candidates from across the political spectrum are now weighing their chances at underdog Senate campaigns, including at least one independent candidate.
The state's unusual primary system allows candidates from all parties to compete on a single ballot, and the influx of interest is blurring the already narrow lanes for front-runners, who've spent months preparing for the race—but with the expectation that Vitter would be elected governor.
"Things are pretty volatile down here," said Robert Mann, a Louisiana political analyst and one-time aide to former Democratic Gov. Kathleen Blanco. "We just elected a Democratic governor, which, weeks ago, no one thought was possible. ... People have caught on who were given no chance by me or other people."
Senate hopefuls were quietly prepping campaigns during the gubernatorial race, with the possibility that a successful Vitter would appoint a placeholder for his seat who would not run to keep it. More money, campaign hires, and super PACs have been assembled for this fledgling contest than almost any other Senate race in the country.
Republican Reps. Charles Boustany and John Fleming each posted personal-best fundraising hauls this year, including a sizable personal loan to his campaign by Fleming. In the spring, Boustany brought on a high-profile Senate campaign manager, Justin Brasell, whose resume boasts running Senate campaigns for Mitch McConnell and Tom Cotton.
Two other candidates eyeing the race, state Treasurer John Kennedy and 2014 Senate candidate Rob Maness, each have super PACs available to support their potential candidacies.
Kennedy, who ran $1 million in positive TV ads for his non-competitive reelection last month, could transfer nearly $3 million from his state account to a federal PAC started by his former aide over the summer. Maness, who has been raising money for his Gator PAC, brought on Pennsylvania-based consulting firm Jamestown Associates to assist with the PAC should he need to relinquish control to become a candidate.
Still, no amount of preparation guarantees a decisive advantage in a jungle primary, where the fault lines of support among a wide field can lead to surprising results. While the likelihood of another unknown candidate repeating Edwards's success is slim, the impact one could have on the race is significant.
"The more people who get in it, the more encouraged I am to run," said Troy Hebert, a registered independent, ­­­­who serves as the state's Alcohol and Tobacco Control commissioner.
Hebert told National Journal this week that he's received encouragement to run from a number of sources and will make a decision soon after his term ends on Jan. 10.
While Hebert doesn't align politically with the new Democratic governor (Hebert served as a Democrat in the state Senate, but leans toward supporting Donald Trump in the presidential contest), he said the surprise outcome of the governor's race was "proof of what a crowded race could do" in the state's top-two primary system.
"I believe you have a growing number of people who are frustrated with both parties," he said. "I think there's some room in this race for an independent that we may not have had before."
If he runs, Hebert says he has no plans to compete with the staff and super PACs of the other candidates. He'll rely on small-dollar donations and a team of advisers, which won't make his uphill battle any easier against campaigns already well underway.
A fifth potential candidate, Public Service Commissioner Scott Angelle, who finished narrowly behind Vitter in the governor's-race primary, said through a spokesman that he is considering the Senate race. His candidacy would create a geographic conundrum for Boustany, as both men call the state's wealthy Acadiana region home. Angelle could also opt to run for Boustany's open House seat.
For Fleming, a founding member of the conservative House Freedom Caucus, sharing the field with Maness could split the Far Right's support. Maness took about 14 percent in the 2014 primary and has maintained close relationships with the outside groups that backed him in that race, which are also natural allies for Fleming.
Hebert's best shot at the race would be to rally Democratic support for his independent bid. That is something state Democrats might have been open to given sparse candidate interest in recent races, but, after the gubernatorial win, there is now some semblance of hope in the more favorable presidential year.
Some Democrats even remain cautiously optimistic that New Orleans Mayor Mitch Landrieu could run, something the brother of former Sen. Mary Landrieu declined to rule out when asked by National Journal last month.