Trump's GOP Rivals Pounce on His Anti-Muslim Comments
The Republican front-runner's call for 'total and complete shutdown' of Muslims entering the country drew swift rebukes.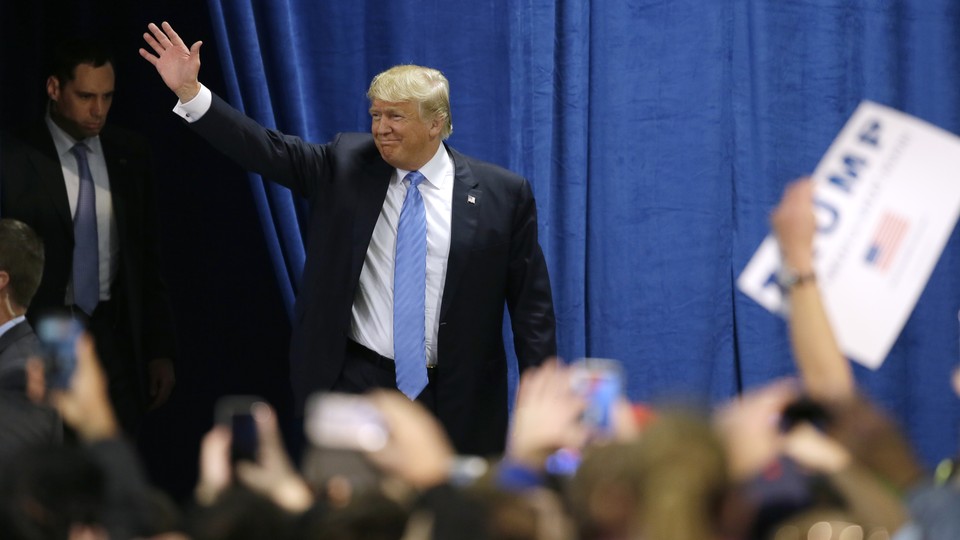 White House candidates from both parties quickly tore into Donald Trump Monday after the GOP front-runner said there should be a "total and com­plete shut­down of Muslims en­ter­ing the United States un­til our coun­try's rep­res­ent­at­ives can fig­ure out what is go­ing on."
But it remains unclear if Trump's nakedly anti-Muslim comments will become a political liability in the race for the GOP nod, which has previously seen Trump thrive after making remarks targeting Mexicans and other controversies.
Ben Carson distanced himself from Trump but endorsed domestic surveillance of visitors to the U.S. "Everyone visiting our country should register and be monitored during their stay, as is done in many countries. I do not and would not advocate being selective on one's religion," Carson said through a spokeswoman.
Marco Rubio bashed Trump for proposing to bar Muslims from entering the country. "His habit of making offensive and outlandish statements will not bring Americans together," the senator from Florida said on Twitter.
Jeb Bush said on Twitter that Trump is "unhinged" and that "[h]is 'policy' proposals are not serious." A spokesman for Ohio Gov. John Kasich was somewhat more expansive, telling National Journal: "This is just more of the outrageous divisiveness that characterizes his every breath and another reason why he is entirely unsuited to lead the United States." According to widespread reports on Twitter, New Jersey Gov. Chris Christie told talk-radio host Michael Medved that it's a "ridiculous position."
The campaign of Ted Cruz declined to directly criticize Trump. Instead, a spokesman pointed to Cruz's proposal to block entry of refugees from nations, including Syria and Iraq, that have "terrorist-controlled" territory. However, in a snippet of a taped NBC interview provided by the Cruz campaign, the senator from Texas said that barring Muslims "is not my policy."
Cruz, who a new poll shows ahead of Trump in Iowa, said the focus should be on "radical Islamic terrorism, and we need to be directly focused on threats to the United States." Sen. Lindsey Graham, in contrast, took on Trump directly, saying on Twitter, "Every candidate for president needs to do the right thing and condemn" the comments.
Trump, as part of a longer statement issued Monday, said there's "hatred toward Americans by large segments of the Muslim population.
"Un­til we are able to de­term­ine and un­der­stand this prob­lem and the dan­ger­ous threat it poses, our coun­try can­not be the vic­tims of hor­rendous at­tacks by people that be­lieve only in Ji­had, and have no sense of reas­on or re­spect for hu­man life," he said.
The comment came on the same day that an FBI official said the husband and wife who killed 14 people in San Bernardino, California last week were "radicalized and have been for quite some time." However, Trump's statement did not make direct reference to the massacre or the perpetrators: Illinois-born Syed Rizwan Farook or his wife, Tashfeen Malik, who is from Pakistan.
Hillary Clinton said via Twitter that Trump's statement was "reprehensible, prejudiced and divisive," adding, "you don't get it. This makes us less safe."
Democratic White House hopefuls Bernie Sanders and Martin O'Malley both attacked Trump's comments too. "The U.S. is a strong nation when we stand together. We are weak when we allow racism and xenophobia to divide us," Sanders said on Twitter, while O'Malley took more direct aim at Trump, tweeting that he is running for president as a "fascist demagogue."
Republican senators returning to Washington were greeted with immediate questions about the comments by Trump as he vies to lead their party.
Majority Whip John Cornyn pushed back against Trump. "I just think it's wrong to stereotype people," Cornyn told reporters in the Capitol. Sen. John McCain called the statement "foolish." Asked if it would hurt Trump's presidential prospects, McCain replied, "I have no idea. I thought long ago that the things that he said would hurt his prospects, and he continues to go up."
McCain should know. Trump said in July that McCain, who was shot down and held prisoner for years during the Vietnam War, was not a war hero. The comment was viewed in the moment as a major threat to his campaign, but he only kept rising in the polls.
Trump's comment drew strong condemnation from the Council on American-Islamic Relations.
"What is truly frightening is that he issued this considered statement, not an offhand comment caught on an open mic, knowing that he will gain support from it. You don't issue statements unless you think you are going to get support," said Ibrahim Hooper, a spokesman for the group. Hooper, who noted that Trump is the leading GOP candidate, said that "fringe" views and "extremism" are "now in the mainstream" in the Republican Party.
Sarah Mimms and Rachel Roubein contributed.