Trump Draws Boos, Laughs at Republican Jewish Coalition Event
The poll-topper wouldn't recognize Jerusalem as the capital of Israel.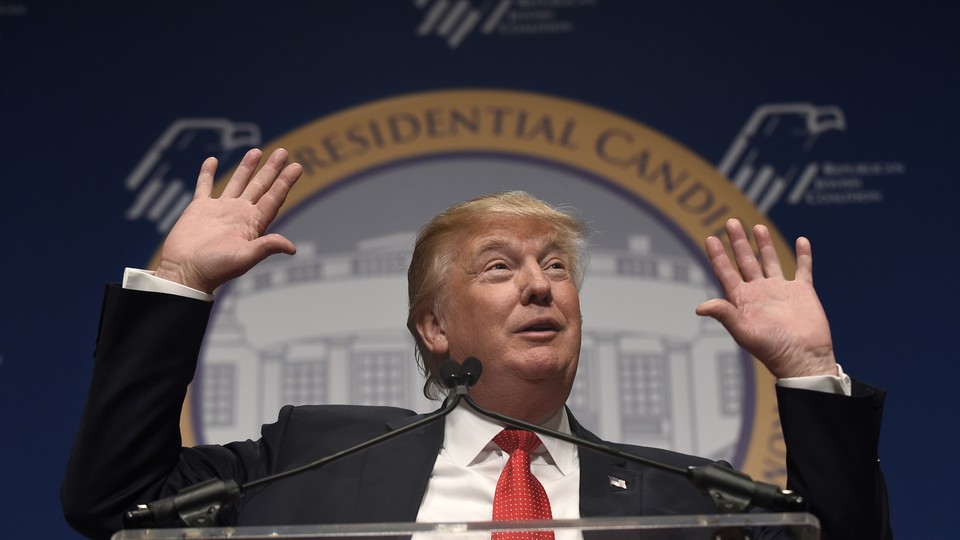 Donald Trump was probably never going to be the first choice for president among most of the Republican Jewish Coalition members and donors, but he still didn't do himself any favors Thursday.
At the group's presidential forum, Trump wouldn't say whether Jerusalem is the undivided capital of Israel, drawing boos and heckles from the crowd gathered in downtown Washington. Trump responded by briefly engaging with one of the audience members seated in the front row.
"Who's the wise guy?" asked Trump, who said he plans to travel to Israel this month to meet with Prime Minister Benjamin Netanyahu. "Do me a favor, just relax."
Some RJC members were also puzzled when Trump said their group wouldn't support him because he won't take their money. Trump repeated his untrue claim that he is completely self-funding his own campaign and doesn't accept any campaign contributions.
"You're not going to support me even though I'll be the best guy for the state of Israel," Trump said. "You're not going to support me because I don't want your money."
"What the hell does that mean?" Ari Fleischer, a former White House press secretary and RJC board member, responded on Twitter.
The rest of Trump's address, however, went over much better and had the feel of a stand-up comedy show rather than a campaign stump speech. He opened by joking that the crowd gave him a warm reception only because his daughter is Jewish, and claimed that he's received "many, many awards" from pro-Israel groups.
As has become a standard part of any Trump event, the real estate mogul touted the latest polls showing him in the lead and the size of his campaign rallies.
"My crowd beat Elton's," Trump claimed, referring to singer Elton John, inviting laughter from the RJC audience. "I'm no longer competing with politicians. I'm competing with musical talent."
But Trump received a mixed response when he, on several separate occasions, quipped about the group's negotiating skills, which some read as playing on old stereotypes.
"Is there anybody that doesn't renegotiate deals in this room?" Trump asked. "Perhaps more than any other room I've ever spoken in."
Trump also briefly addressed Wednesday's shootings in San Bernardino, California, saying "it probably was related" to radical Islamic terrorism. He then criticized President Obama for refusing to use the term. "There's something going on with him that we don't know about," Trump said.
Earlier in the day, Ted Cruz told the crowd in reference to the shooting, "We are deeply concerned that this is yet another manifestation of terrorism, radical Islamic terrorism."
Trump mostly avoided criticizing his GOP opponents, though he couldn't resist again casting Jeb Bush as "low energy."
"I came up with that term," Trump said. "It's so defining, it's like it's on his forehead. It's sad!"