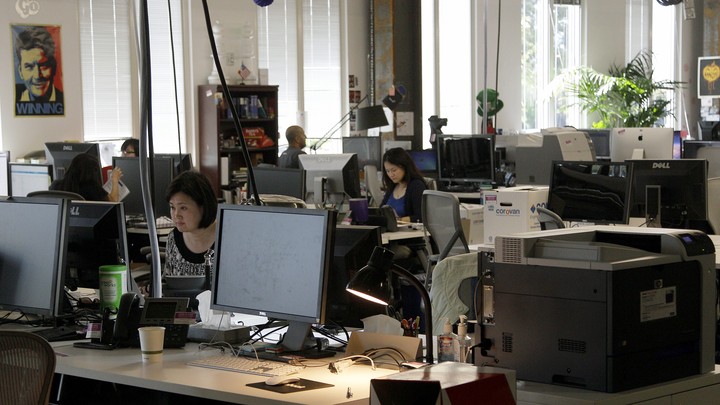 Asians in the Trenton, New Jersey, metropolitan area on average make the most money among people of color in the country.
That's according to data from the National Equity Atlas, which crunches Census and other government data to highlight income and education gaps between races. Next America analyzed this data compiled by Poli­cyLink and the Uni­versity of South­ern Cali­for­nia's Pro­gram for En­vir­on­ment­al and Re­gion­al Equity, comparing the 150 largest metropolitan areas in the country by race and educational attainment.
Overall, whites on average have a higher hourly income than people of color in every single metropolitan area in the country. This follows a similar trend among education groups, where whites with a bachelor's degree or higher are paid on average more than people of color with a bachelor's degree in nearly every metropolitan area in the country.
When education is not considered, Bridgeport, Connecticut, is the most unequal metropolitan area for hourly wage in the country, where people of color earn $12.94 less than white workers. Rounding out the top 10 metros for the widest gaps in hourly wages between people of color and whites are Santa Barbara, California; Los Angeles; Washington; Oxnard, California; San Francisco; San Jose, California; New York; Trenton, New Jersey; and Bakersfield, California, where the gap is above $9.
So are there any places where people of color do best?
Asian Workers
According to the National Equity Atlas, it's the Trenton metropolitan area, where Asians on average earn $34.78 an hour. This is slightly more than Asians in tech hub San Jose, who make $34.25 an hour.
This came as a surprise to staff at both the New Jersey Chamber of Commerce and the MIDJersey Chamber of Commerce when Next America reached out to them about the data. A closer look at the region, however, offers some clues. Nearly 85 percent of Asians in that metro area have a bachelor's degree or higher. Further, the area is a commuting hub for both Philadelphia and New York, two major cities for corporate headquarters. Princeton University is also in the metro area.
Education plays a major role in why some Asian communities have such high income. In the 10 metropolitan areas where Asians make the most in the country—Trenton; San Jose; Peoria, Illinois; Bridgeport; Poughkeepsie, New York; Detroit; Washington; Oxnard; Raleigh, North Carolina; and Hartford, Connecticut—over 70 percent of Asians hold a bachelor's degree or more.
Education is one of the main reasons Asians in those metropolitan areas make more than $24 an hour, well above the national average of $16 for people of color, and higher than the average hourly pay in top metropolitan areas for both Latino and black workers. It seems like the defining factor is the type of education Asians are more likely to seek, says Anthony Carnevale, the director of the Georgetown University Center on Education and the Workforce (CEW).
"In general, Asians get a lot out of their education," he says. "They get every ounce of value out of their test scores. They're always going to colleges that are just out of their reach. Their grades, relative to their test scores, are always higher. When you look at them after they go to college, they're always in the most high-paying majors."
To illustrate the point, Carnevale points to the difference between Latino and Asian students in some high-paying fields. According to CEW research, in life sciences Asians make up 11 percent of students and Latinos make up 6 percent; in computers and math, Asians make up 16 percent and Latinos make up 7 percent; in engineering, Asians make up 14 percent and Latinos make up 9 percent; and in health, Asians make up 13 percent and Latinos make up 5 percent of students.
While Asians follow a highly concentrated set of majors, there's also a difference in the amount of education attained between people of color and whites that directly affects the median hourly income of Latino and black workers.
Latino Workers
In metropolitan areas where Latinos earn the highest median hourly income, the number of Latinos with a bachelor's degree or higher is significantly less than in areas with top Asian earners. Latinos in the Vallejo, California, metropolitan area on average make the most. But at just $18.08 an hour, it's only $2 above the national average for people of color. One factor may be that only 13.7 percent of Latinos in that metro have a bachelor's degree.
The 10 metropolitan areas where Latinos earn most range from just $16 to $18 an hour. Even in Ann Arbor, Michigan, and Pittsburgh, where around 45 percent of Latinos have bachelor's degrees, those small Latino communities (encompassing 3.5 percent and .9 percent of the metro population) have a median hourly income of just $17. Those metros' averages are likely lowered by low-income earners who make up the other half of area Latinos. Combined, the average bachelor's degree attainment rate of those 10 metropolitan areas is 28 percent.
While Latinos make the third- and fifth-highest wages in San Jose and San Francisco, the pay gaps between white and Latinos are considerable, at $17.83 and $15.46 per hour, respectively, likely due to the white-dominated tech industry in those areas.
The gap between white and Latino workers is between between $4 and $6 in 25 percent of metros. The gap is between $6 and $8 in 34 percent of metropolitan areas, and between $8 and $10 in an additional 18 percent of areas.
Even in metros that have large Latino populations, median hourly income is below the national averages for people of color. The McAllen, Texas, metropolitan area is 90 percent Latino but median hourly wage is just $11.90. In two other Texas metros, Brownsville and El Paso, which are 82 percent and 87 Latino, respectively, wages are around $12.
The wage and education advantage for Asians is not cultural, says Carnevale, contrary to popular theories. It's about their history with education.
"If you look at them intergenerationally, they come from high education backgrounds," he says "Latinos are quite the opposite. They come from low education, low earnings backgrounds. They're climbing up. Asians in a way start on a higher rung, at least in one sense. That creates different expectations that aren't cultural. It's really about how the economic ladder works."
Carnevale further explains that generations of students who are the first in their families to go college tend to start out in less rigorous majors. Over time that phenomenon shifts as the group moves into subsequent generations, seeking majors like life sciences, computers and math, and engineering. That shift is expected for Latinos, but it's long overdue for blacks, he says.
The delay is most likely is due to housing and economic discrimination. Black workers earn between $20 and $24 an hour in the top 10 metropolitan areas for median income. Those wages are higher than for Latinos, but far lower than for Asians.
Metros with top black earners see their averages lowered by educational attainment. The best metropolitan area for median income is Oxnard, where black workers earn on average $24.11 per hour, boosted by the almost 41 percent of blacks who have bachelor's degrees or higher. However, no other top 10 metro for black workers has that level of educational attainment, together averaging 31 percent.
The Portrait of California study by Measure of America, a project of the Social Science Research Council, may point to a related reason why black workers earn more in Oxnard than in other areas in the country. The number of disconnected youth—people 16 to 24 who are neither in school nor working—is at 10.4 percent, the lowest among the 10 most populous areas in California.
While wages may be higher for black workers in these metropolitan areas, in each region white workers earn more on average. However, the wealth gap between black and white workers is most pronounced in two of those metros: Washington and San Jose. While blacks may earn $22.89 and $21.98 in those two cities, respectively, whites earn a staggering $9.68 and $13.32 more per hour there. Both of these metros have high levels of white attainment in bachelor's degrees at 67 percent and 64 percent.
Overall, the wage gap between whites and blacks is between $4 and $6 in half of all metropolitan areas. The gap is between $2 and $4 in another quarter of metropolitan areas.
Similarly to Latinos' situation, metro areas that have the highest percentage of blacks tend to have relatively low median hourly incomes. In the five Southern metros of Jackson, Mississippi; Memphis, Tennessee; Savannah, Georgia; Montgomery, Alabama; and Shreveport, Louisiana—where the black population ranges from 44 percent to 36 percent—black workers earn less than the national $16 average for people of color at around $13 combined average.
As long as segregation in education exists, so too will gaps in wages. "When housing becomes less segregated, the schooling changes, then the majors change, then the earnings change," says Carnevale. "That's a healthy cycle that starts all over again and gets stronger. The general assumption, largely because of the experience of white ethnics since 1946, is that that's the pattern. But it's not proving as strong with African Americans."
A look at this national data shows that Asians have done better because more of them have earned bachelor's degrees and are seeking careers in higher paying fields. Education is directly tied to wages. However, that is just one factor in the massive wealth gap that exists between whites and nonwhites in this country.
This story is part of our Next America: Workforce project, which is supported by a grant from the Annie E. Casey Foundation.
We want to hear what you think about this article. Submit a letter to the editor or write to letters@theatlantic.com.