Top 5 Ways Hillary Clinton Says She Would Address Immigration as President
The Democratic candidate promises to go farther than Obama in helping undocumented and documented immigrants.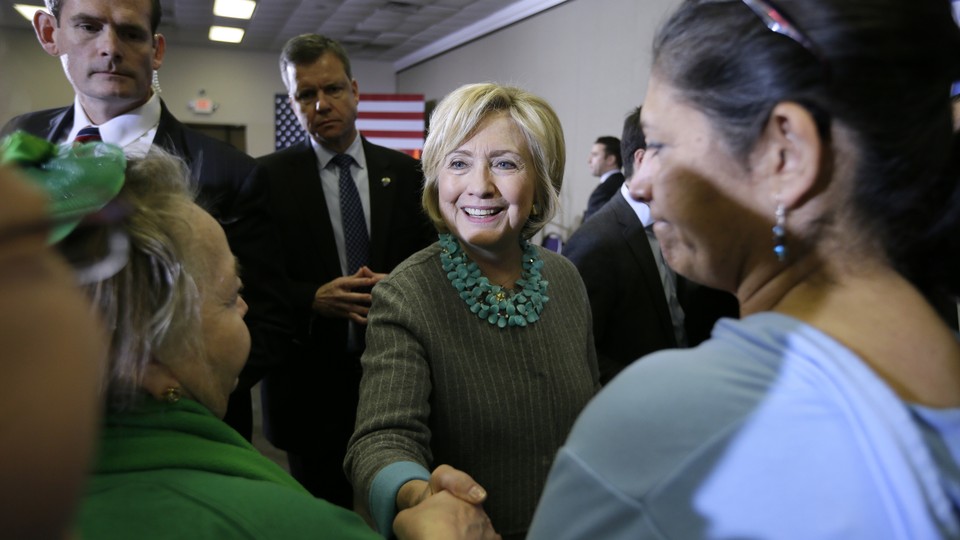 Everyone knows what Donald Trump would do about immigration if he became president: Build a wall and close the border, pretty much. Hillary Clinton has now weighed in with her own ideas on the issue.
During a speech this week at the National Immigrant Integration Conference in Brooklyn, Hillary Clinton outlined what she would do about immigration if she became president. If she keeps her promises, she would go beyond President Obama's actions in making the system easier for both undocumented and documented immigrants in the United States.
Here are the main takeaways from her speech:
1. Extend President Obama's deportation relief programs, known as DACA and DAPA
"We can't wait for Congress," she said. "Too many families' futures hang in the balance."
Background: The president's deportation-relief program is on hold after a federal appeals court in Louisiana upheld a lower court's blocking of the program, which would affect 5 million undocumented children and their parents. The Obama administration is asking the Supreme Court to review the case, and the next president could end the entire program by not extending the executive order.
2. Close private immigration-detention centers.
"This is a critical government responsibility and we should not be outsourcing it to anyone else."
Background: About 62 percent of all beds at American immigration detention centers are now run by for-profit prison corporations, according to U.S. Immigration and Customs Enforcement data. That's an increase from 49 percent in 2009. Immigrant advocates have complained that these places are essentially prisons that treat immigrants like convicted criminals, with solitary confinement and no right to legal representation.
3. End family immigration detention.
"We have good alternatives and we should use them."
Background: President Obama had closed all but one of the government's family immigration-detention centers, which civil-rights lawyers likened to prisons for children seeking refuge and asylum in the United States. But after a wave of children fleeing violence in Central America last year, the Homeland Security Department has opened three more facilities in New Mexico and Texas.
4. Provide a path to citizenship for undocumented immigrants.
"If you work hard, if you love this country, if you contribute to it, and want nothing more than to build a good future for yourselves and your children, we should give you a way to come forward and become a citizen."
Background: Clinton supports measures from the 2013 failed Senate bill that would have granted a path to citizenship for most of the estimated 11 million undocumented immigrants in the country. Many Republican lawmakers refuse to support a path to citizenship, known as "amnesty." Some do support a pathway to some sort of legal status.
5. Make it easier for legal immigrants to become American citizens.
"To be able to vote in our elections, to have a voice in our future, I want to take down the barriers that are holding people back."
Background: It costs legal residents about $700 to apply for U.S. citizenship, which many have reported as a barrier to taking the step. Clinton promises to create more fee waivers so more people can afford it. She also said she would increase access to English classes to boost their language skills, and to increase outreach and education programs that guide people through the naturalization process. There are currently about 8 million immigrants in the United States who are eligible to become citizens.