This Is What Carson-Care Would Look Like
The GOP candidate laid out his vision for repealing Obamacare and starting a new national health care policy.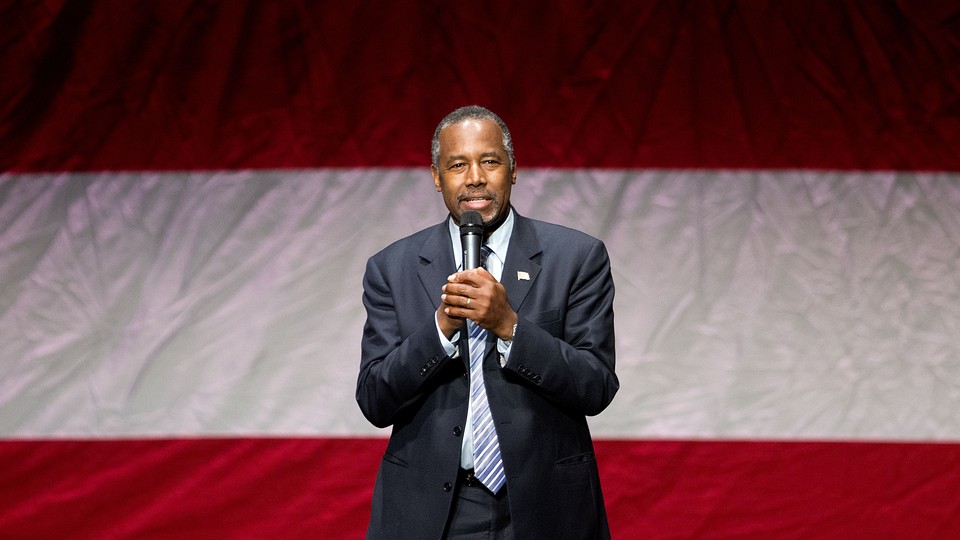 Ben Carson is trying again. After floating a plan that would reportedly have scrapped Medicare and Medicaid, he took another shot Wednesday when he unveiled a new health care proposal.
The neurosurgeon-turned-presidential-candidate's latest iteration touts "more freedom and less government" and aims to empower the doctor-patient relationship. It repeals Obamacare and makes changes to both Medicare and Medicaid, yet doesn't abolish the programs.
"The needs of each patient are as unique as their individual fingerprints, and any action on the part of government—however well intentioned—is likely to set in motion a cascade of effects that reduces the quality of care patients receive," Carson states in the plan's introduction. "The best, most effective health care decisions are made at the granular level, between individual patients and doctors."
The candidate has recently lost ground in national polls—which he attributed on Good Morning America to his lack of foreign policy experience—but on Wednesday, Carson turned attention back to health care. His plan hinges on tax-protected Health Empowerment Accounts that will automatically be opened for every American at birth. Money can be spent before first needing to meet deductibles as well as transferred between family members and across states lines.
The plan emphasizes that "we must reform, NOT eliminate, Medicare," an idea that had previously come under fire. A reported plan of Carson's to replace Medicare and Medicaid with health savings accounts drew scrutiny from his Republican presidential opponents and health policy experts, such as Tom Scully, the man who ran the Centers for Medicare and Medicaid Services from 2001 to 2003 under George W. Bush, Politico reported.
But on Fox News Sunday in late October, the candidate called the idea that he would abolish Medicare "completely false" and a "narrative people are putting out there to scare people." Rather, Americans would have health savings accounts starting from birth, and this would largely divert the need for Medicare to be used as often—though Medicare and Medicaid would still be around for those who prefer these government-run programs. When pressed on whether all Americans would receive $2,000 a year for health savings accounts, Carson then said, "That's the old plan; that's been gone for several months now."
The new plan essentially keeps the health savings accounts, calling them Health Empowerment Accounts. But it also keeps Medicare and Medicaid.
Under the new plan, Medicare beneficiaries will receive a fixed contribution to purchase health insurance. In addition, the plan raises the current eligibility age of 65 by two months each year until reaching age 70.
As for Medicaid, states will receive fixed-dollar support that they in turn are required to use for premium payments and HEAs for beneficiaries.
Carson isn't the first of the GOP candidates to unveil a health care plan. For instance, former Florida Gov. Jeb Bush released a plan in October that detailed something quite like the "Cadillac tax," a fee to be levied on pricey employer-sponsored health plans. And when Bobby Jindal was running for president, he touted himself as "the only candidate with a plan."