These States Could Pick the GOP Nominee, Each for Different Reasons
More than ever before, the Republican race hinges on geography and demography.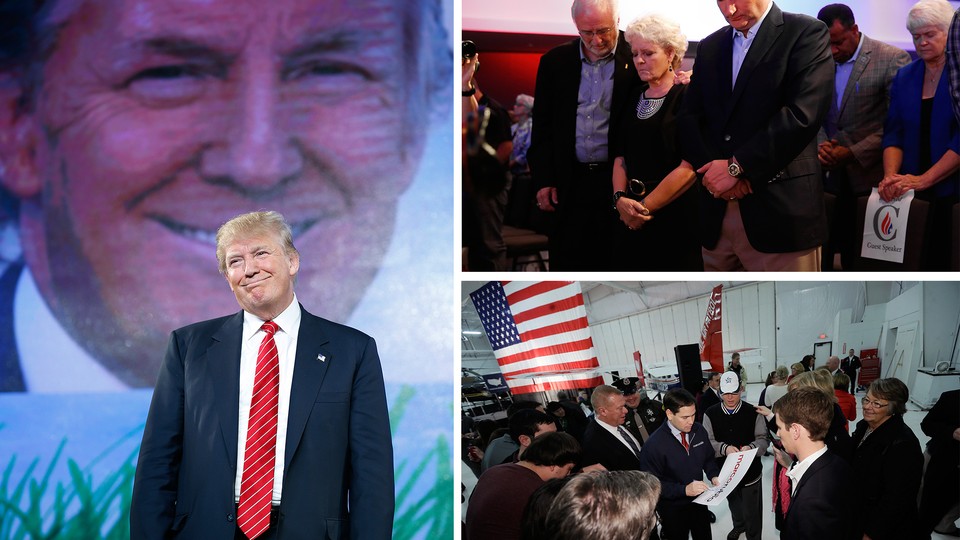 Those looking for the turning points in the tumultuous GOP presidential race may want to circle on their calendars the contests next year in Michigan, Ohio, and Illinois in the Midwest, and South Carolina, Virginia, Georgia, and Florida in the Southeast.
As Republicans gathered for their latest debate in Las Vegas this week, more GOP strategists believe their presidential marathon is evolving toward a three-way contest that could divide the party along sharp demographic and geographic lines well into 2016.
And given the patterns of support behind the top contenders, those states look primed for battle-of-the-bulge confrontations: the places where the contrasting components of the modern Republican coalition are most evenly matched.
Recent polls, both nationally and in the key early states, have consistently found four candidates separating from the large field: front-runner Donald Trump, Sens. Marco Rubio and Ted Cruz, and neurosurgeon Ben Carson. And among those four, Carson has been slipping in most surveys, while the others are most often gaining ground to form what many see as the race's big three.
"There's no question a top tier has emerged," says longtime GOP pollster Glen Bolger, who is neutral about the race. "It's hard to see how that changes without some major event."
Although they overlap in some areas, Trump, Cruz, and Rubio have each demonstrated their greatest potential appeal to distinct groups of voters within the Republican electorate.
Partly because of changes in the nominating rules, but largely because of those contrasting patterns of support, more GOP analysts believe the process might not produce a nominee until the final primaries in June—or even the convention in Cleveland in July.
"I think you can have three candidates—Cruz, Trump, and Rubio—go all the way to California [which votes on June 7]," says Republican strategist Scott Reed, the campaign manager for Bob Dole in 1996. "Because of the way the calendar is designed, with so many delegates being proportional up until March 15, then winner-take-all, it's going to be very hard for someone to get to the magic number [needed for the nomination] until later than ever. California may really matter this time."
The divergent strengths of Trump, Cruz, and Rubio (or whoever else emerges as the champion of the party's white-collar "managerial" voters) could trigger a GOP race defined by distinct regional advantages—and sequential regional showdowns.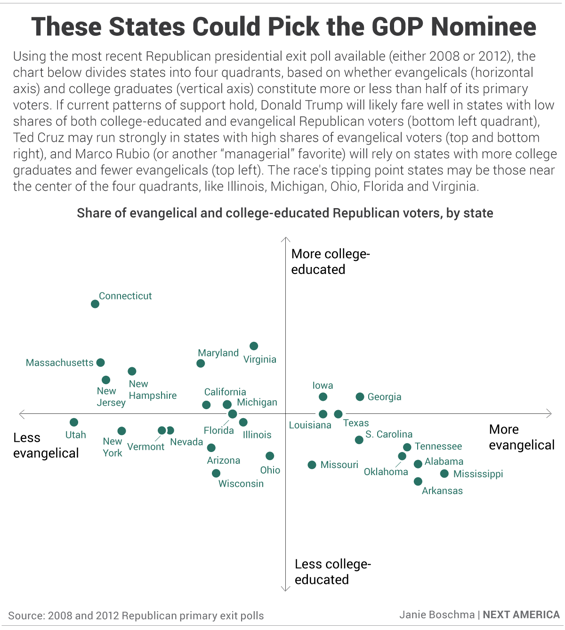 Ted Cruz
Cruz's core strength has become his growing appeal to evangelical Christians and other Republicans who identify with the tea party or describe themselves as very conservative. Cruz has accumulated several recent endorsements from prominent social conservatives in Iowa, whose caucuses will kick off the GOP race February 1. The Des Moines Register/Bloomberg Politics survey released Saturday night showed Cruz surging to 45 percent among self-identified evangelicals, more than double the support for the next closest candidate (Carson). Overall, Cruz had opened a 10 percentage point advantage against Trump in the state.
In the past two GOP nominating races, most evangelicals in later states rallied around the candidate who carried those voters in Iowa—Mike Huckabee in 2008 and Rick Santorum in 2012. If Cruz can seize the evangelical mantle in Iowa, he would be well-positioned to win the later states with the heaviest concentrations of evangelical voters. According to exit polls, evangelical Christians comprised a majority of 2012 Republican primary voters in Mississippi, Alabama, Tennessee, Oklahoma, South Carolina, Louisiana, and majorities of 2008 voters in Texas, Missouri, and Arkansas (states where exit polls were not conducted last time). Although exit polls aren't available, evangelicals, based on their share of the overall population, will likely comprise a majority of GOP voters in other Heartland states including Kansas, Kentucky, and West Virginia.
Donald Trump
As the front-runner, Trump is drawing competitive support from virtually all sectors in the GOP. But the core of his support is his commanding advantage among Republicans without a four-year college degree. In the most recent CNN/ORC national poll, Trump attracted a stunning 46 percent of non-college Republicans, nearly four times his closest competitor (Cruz at 12 percent). Among college-educated Republicans, Trump placed fourth with just 18 percent, slightly behind Cruz, Rubio and Carson.
Given Trump's strong blue-collar appeal, his best states could be those that combine large numbers of non-college Republicans with relatively fewer of the evangelicals moving toward Cruz. Those states are mostly found in the Northeast, the Rust Belt, and the Mountain States. Looking at either 2008 or 2012 exit polls, Vermont, New York, Wisconsin, Arizona, Utah, and Nevada all fit the same profile: In each state, voters without a college degree represented a majority of the primary electorate while evangelical Christians comprised less than 40 percent. Trump would also need to run well in outer Southern states that are heavily evangelical but also preponderantly blue-collar, such as West Virginia, Kentucky, Tennessee, and Oklahoma.
Marco Rubio
Rubio's support so far hasn't been defined as sharply as that for Trump or Cruz. But many in the GOP believe he is now best positioned to consolidate the center-right, non-evangelical, largely white-collar voters who powered John McCain and Mitt Romney to their respective nomination victories in 2008 and 2012.  Rubio isn't a sure thing to coalesce that support: He's running a considerably more conservative campaign than either McCain or Romney—much less Chris Christie, Jeb Bush, or John Kasich, Rubio's principal competitors for those voters this year.
"He is the most conservative of the establishment candidates," Bolger says. And while Christie, Bush, and Kasich have all faded in national polls, each man has invested heavily in New Hampshire, whose results often help identify the favorite for these voters in later states. But Rubio is showing more strength than any of those three in Iowa, which could help him separate from them in the New Hampshire contest a week later on Feb. 9.
Rubio, or whoever else emerges as the champion of the party's "managerial" white-collar wing, would need to perform well in the more culturally moderate, mostly coastal states that feature few evangelicals and many college graduates. California, Connecticut, New Jersey, Massachusetts, and Maryland are all states where college graduates cast a majority of primary votes in the most recent presidential exit poll, and evangelical Christians accounted for only about one-third or less. One complication may be that Trump's "home-court advantage" could help him swipe some of the New York metro-area states that the managerial candidate can usually rely upon.
If the race develops along these lines—with Trump as the champion of blue-collar Republicans, Cruz as the evangelical tribune, and Rubio (or possibly a rival) as the white-collar favorite—the tipping point states could be ones where those forces are closely balanced.
Several possibilities stand out on the calendar.
South Carolina, a traditionally decisive GOP primary contest, votes Feb. 20. Evangelicals represented a clear majority of voters there in 2012 (64 percent), but they have often proved more pragmatic in their choices than their counterparts in Iowa and the Deep South. (In 2008, for instance, McCain won only 10 percent of evangelical Christians in Iowa but 27 percent in South Carolina en route to his critical victory there.) In addition, the state is closely balanced between voters with a college degree (47 percent) and those without one (53 percent).
David Woodard, a political scientist at Clemson University and longtime Republican consultant in the state, says the state's history of usually favoring mainstream electable candidates could eventually tilt it more toward Rubio than Trump or Cruz. "Historically, South Carolina picks a mainstream candidate," Woodard says. "We gave George H.W. Bush the nomination, George W. Bush the nomination, Bob Dole the nomination. We get in the middle of the bell curve when we have to."
Other key southern states could present the candidates with a similar equation as South Carolina.
Georgia, which votes March 1, offers a large number of evangelicals (64 percent) but also a thin majority of college graduates (52 percent). In 2008, that complex mix produced a photo finish between McCain, Huckabee, and Romney. It could easily produce a similarly competitive contest this time.
Virginia, also voting March 1, tilts more toward college graduates (58 percent) with slightly fewer evangelicals (44 percent). That should benefit a managerial candidate like Rubio.
North Carolina, voting on March 15, could produce an electorate very similar to Georgia.
If Trump, Cruz, and Rubio build the coalitions that many anticipate, three big battlegrounds, two of them in the Midwest, may be the most closely divided states of all (though Rubio would enjoy a home state advantage in Florida).
Michigan and Illinois's GOP electorate in 2012 divided almost exactly in half between voters with and without college degrees, and evangelical Christians constituted about two-fifths of the total.
Florida split exactly in half between college and noncollege voters, with evangelicals comprising exactly two-fifths of the total.
Beyond those three mega-states, two other Rust Belt states could present intriguing battlegrounds.
Ohio, the other Midwest behemoth, presents a similar profile as Illinois and Michigan. But with a slightly greater tilt toward blue-collar (55 percent) and evangelical (47 percent) voters, it may lean more toward Trump and Cruz than Rubio (or another "managerial" favorite).
Missouri, with its even-larger evangelical (55 percent in 2008) and noncollege (57 percent) constituencies could provide another Cruz-Trump showdown.
These tests will come in rapid succession next year: Michigan votes on March 8, and Florida, Illinois, Ohio, and Missouri all follow on March 15.
In the modern primary era that traces back to 1976, the GOP has never had a sustained contest between three viable candidates. The closest came in 2008 when Mitt Romney won 11 states to finish third behind Huckabee and eventual winner McCain—and even then Romney quit the race by early February. The possibility of shattering that history with an extended three-way competition is only one of many uncertainties that have left even the most seasoned GOP analysts tentative about what comes next. "I don't have any kind of certitude for any answer I could give," says Bolger when asked how the race may unfold. "You can create a scenario for each one of them to run well and win."
---
Janie Boschma contributed to this article