The Senate Finally Passed Chemical Safety Reform. Here's How They Did It
"Some good old fashioned legislating" helped end a years-long effort.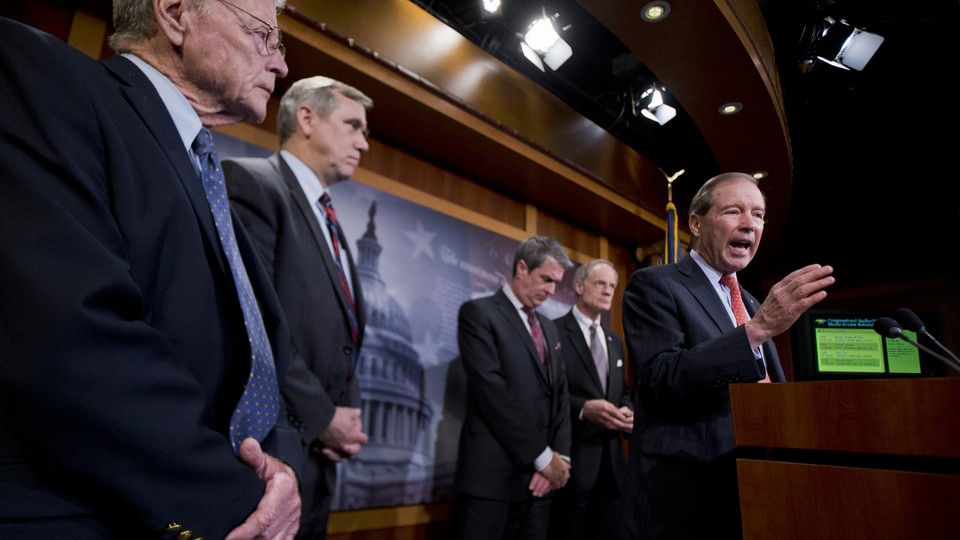 The lineup in the Senate swamp on the warm October day was so unusual, it was just about the only thing every speaker could mention as they got to the mic. Liberals such as Sheldon Whitehouse and Ed Markey were lined up next to archconservatives David Vitter and Jim Inhofe. The heads of the Environmental Defense Fund and the American Chemistry Council stood shoulder-to-shoulder.
They were there to celebrate a long-awaited chemical-reform bill, which after years of languishing had crossed a major milestone. A few days earlier, the bill had netted its 60th cosponsor and its supporters were confident that, after clearing a last-minute hurdle, it could pass the full Senate in a matter of minutes.
They were in for disappointment.
Instead of minutes, it took more than two months of waiting until, on Thursday night, the Senate finally passed its first update of the loathed 1976 Toxic Substances Control Act.
Now, if they can successfully navigate a conference with a House-passed TSCA reform bill, the product could end decades of work to overhaul the nation's chemical management system. Of the 80,000 or so chem­ic­als in com­merce, EPA has only re­quired test­ing for about 200 since the ori­gin­al TSCA le­gis­la­tion was passed. And of those 200, it has partially reg­u­lated only five.
But members are also selling it as a triumph of networking, taking a bill that was once seen as a pipe dream and bringing it to the floor with the Senate's magic number: 60.
Here's how they got there.
2 Votes
Having already moved bills to ban smoking on airplanes and cracking down on drunk driving, Sen. Frank Lautenberg of New Jersey had been trying for years to pass a chemical-reform bill as a cap on his public-health legacy. But his Safe Chemicals Act had gone nowhere; even in a Democrat-controlled Congress, the best Lautenberg could do was to get it out of committee.
Concurrently, the chemical industry was looking to reform the bill. States were swooping in to fill the void and setting their own regulatory systems, creating a patchwork system that companies said was too confusing and costly. David Vitter, a Louisiana Republican, started working on his own bill that was expected to be much more favorable to the industry that's a major player in his home state.
In the spring of 2013, Vitter and Lautenberg approached moderate Democrat Joe Manchin about signing on to their respective bills (just weeks earlier, Lautenberg, who was sick and mostly out of Washington, had made a dramatic appearance on the Senate floor to vote for Manchin's gun-reform bill), but Manchin declined. Instead, he told the two to sit down together and merge their bills, rather than competing on legislation with equally dim chances of passing.
The result was a political odd couple—a liberal giant and an archconservative who hates EPA regulations—and a bill that seemed to match the disparate poles. The bill did give EPA more authority to review existing chemicals and test new ones before they reached the market, and changed the criteria by which EPA would evaluate a chemical's safety.
Many on the left balked at what they said were handouts to the industry. There weren't firm deadlines for EPA to finish their reviews, nor would it provide enough funding. And it removed Lautenberg's language spelling out a specific safety standard and explicit protections for certain vulnerable populations like children or the elderly. Even though it had 14 cosponsors, it had lost the support of many Democrats who had backed Lautenberg's original bill, and public health groups fled (the Environmental Working Group said at the time that elements of it "may actually be worse than current law").
Part of the criticism no doubt had to do with mistrust of Vitter. Bonnie Lautenberg, the senator's widow, recalled in an interview that her husband had tried for years to get even the most liberal Republicans, such as Olympia Snowe, on board, but couldn't.
"We are so, so grateful to [Vitter] and the way he got so many Republicans to work with him," she said fondly. "The last photograph I have of my husband is of him with David Vitter."
14 Votes
Just six weeks after the bill came out, Lautenberg passed away at age 89.
Bonnie, still in touch with Vitter's staff, pressed for the bill to keep going, so Vitter started seeking "another strong Democratic partner." New Mexico's Tom Udall had taken over Lautenberg's spot chairing the Superfund, Toxics, and Environmental Health subcommittee, and seemed a reasonable partner. Even though the two had never worked on legislation together, Vitter reached out.
One night, the two walked from their offices to The Monocle, a nearby bar, for dinner to talk through the bill. "We just shot the bull, and it was really positive and productive," Vitter recalled. "I sensed a real commitment to building towards passing this bill."
But progress in their chamber faced a huge roadblock in the form of California Democrat Barbara Boxer, then the chairman of the Environment and Public Works Committee. Her home state had some of the toughest environmental laws in the country and she was concerned that the bill as written would wipe them off the books in favor of weaker federal enforcement. Boxer wanted Lautenberg's original bill—which had no Republican support—to move through her committee.
That summer, Boxer held an hours-long hearing with three panels of witnesses to debate the language, but made it clear that she wouldn't pass the bipartisan bill (at one point, she even held up a Curious George doll and squeaked, "no preemption please!"). Behind the scenes, Boxer continued her assault on the bill, trying to pull off Democrats who were being approached by Udall.
"Their bill was a disaster," she said in an interview. "The first time it was introduced was a disaster, the second time was the same disaster … I had no negotiating partners, they wouldn't deal with me, so I said 'I'm going to stand up and say no.'"
Without Boxer on board, the bill didn't have an obvious path forward, and it was soon overtaken by other issues.
15 Votes
Ironically, it would take the Republican takeover of the Senate for Lautenberg's bill to come back.
Work had been ongoing behind the scenes to possibly reintroduce the bipartisan bill, and a February 2014 letter by 11 Democrats led by Thomas Carper had spelled out nine major areas of concern for the Left, including that an updated bill clarify protection of vulnerable populations, set a schedule for EPA issuing a priority list of chemicals and include language addressing the import of products with harmful chemicals.
Reflecting some of that input, Udall and Vitter reintroduced their bill, now named the "Frank R. Lautenberg Chemical Safety for the 21st Century Act," in March with 15 cosponsors. Even as Congress moved to the right, the bill itself had moved to the left. Among the changes was a waiver system to allow states to keep enforcing their laws for certain chemicals and a fee system to pay for chemical testing, for example.
But the same opponents were still left wanting. A day later, Boxer introduced her own bill with Markey, a Massachusetts Democrat, then embarked on a public campaign to kill the Udall-Vitter compromise that got so intense it rubbed even some Democrats the wrong way. She held a fiery press conference with chemical advocates such as Erin Brockovich, and at one point charged that the bipartisan bill had been written by the American Chemistry Council, pointing to a Word document showing that the group had made edits (ACC said it had just commented on a draft, as had many outside groups).
"I loved Frank Lauten­berg so much, and it's with deep re­spect and a heavy heart that I say all of this about a bill that bears his name," Boxer said at the time.
But Boxer wasn't in charge of the EPW agenda and sponsors didn't have to go through her anymore.
"I always wanted her to be involved and be constructive," Udall said. "But there were times when I thought her opposition might just stop us flat, right where we were."
That's exactly what Boxer had in mind.
"I was a roadblock. The whole point of what I did was to stop this bill until I got to a point where I didn't think it would kill people," she said. "I'm not here to please other members, I'm here to work with other members for the good of the people."
36 Votes
After a March hearing on the bill, three Democrats on the committee—Sheldon Whitehouse, Jeff Merkley, and Cory Booker—came together with a list of concerns and approached Udall.
"Every so often, a hearing really does make a difference and this was a good hearing," Whitehouse said. "Seeing the faults and flaws of the existing bill, the hearing really set up a feeling where we could gain some ground … This wasn't a question of a bill being on a fulcrum where there had to be offsets to our changes, we knew there would have to be significant movement in the direction of public protection."
"Tom had been talking to all of us pretty constantly asking us to help him improve the bill, but we thought we could be more effective negotiating as a group rather than getting picked off one-by-one," Whitehouse continued.
The result was a package of Democrat-friendly changes. Members addressed a so-called "death zone," or a gap that barred states from acting after EPA began evaluating a specific chemical. More state laws were grandfathered into the bill, and a various safety standards were tightened.
The support of the three new Democrats allowed the bill to emerge from the EPW Committee in a 15-5 vote. A week later they signed on as cosponsors with 11 other senators, bringing the bill's total to 36.
Meanwhile, the GOP-controlled House was going ahead with its own bill, one that public-health groups thought was even better than one originally drafted by Lautenberg. The bill from Rep. John Shimkus was narrower than what the Senate proposed and didn't contain some of the industry-friendly provisions that environmentalists hated.
The bill, in the end, passed in a 398-1 vote under a suspension of the rules, shocking outsiders who had seen how contentious TSCA reform had been in the past.
"I don't think the House authors have gotten the credit they deserve for influencing the debate," said Andy Igrejas, executive director of the coalition Safer Chemicals, Healthy Families, which has not endorsed the House bill but thinks it is a good base. "It got less attention, but ironically that's because of the work they put in to get the bill to that point."
52 Votes
With the Senate bill out of committee, sponsors started looking for floor time, but with a packed floor agenda, they wanted to minimize the time it would take up. By July, the bill was up to 52 cosponsors, but sponsors acknowledged that their chances would be better if they could prove they had 60 votes to fend off a filibuster.
But as they worked to recruit more, Udall and Vitter had a goal in mind: keep a one-for-one balance between the parties.
"In this political atmosphere, it's important for this to be a true bipartisan bill," Vitter said. "It hasn't been so much difficult, as it's been very time consuming. It's not unique to the subject matter, I think it's more about this Congress and this Senate."
That meant a lot of "good old-fashioned legislating," as Udall called it. Individual members had pet concerns. Delaware's Christopher Coons, a chemistry major, had been pushing for green chemistry and research provisions. New Jersey's Booker wanted limits on animal testing.
Jim Inhofe, chairman of the Environment and Public Works Committee and a supporter of the bill, recalled that at one press conference, Vitter was running late and Inhofe realized he was the only Republican on a stage with "all of the very-far Left."
"I'm looking around and I thought, 'Am I really doing the right thing here?'" Inhofe said.
Whitehouse pointed out that Udall had taken a lot of friendly fire from the Left in the early stages.
"I think he signed on not because he really liked the bill as it was, but because he saw the prospect of a bipartisan bill and could be a link and drive it to where it is today," Whitehouse said.
In a press conference, Booker looked at Udall and said, "You've got scars. When you go to heaven, God doesn't judge you by how good you look, but by how many scars you have, and this is one."
60 Votes
Markey, who had at one point allied with Boxer, and Illinois Democrat Dick Durbin finally signed on in October after months of negotiating, becoming the 59th and 60th supporters. The two had worked together on various toxics issues (including a July effort to get asbestos out of children's toys) and had been pressing Udall to keep negotiating the bill, despite Markey's alliance with Boxer.
The two finally came on after Udall and Vitter agreed to a new package that would set deadlines for industry to comply with EPA regulations, increase the fees paid by industry and accelerate action on a list of chemicals identified as high risk. It also simplifies the process for states to keep enforcing their own laws amid federal action.
Boxer has claimed that the Democrats were negotiating in part on her behalf, although Republican aides said that Democrats were really going behind her back. Coons said the split in the party was "exceptionally difficult."
Inhofe, who had worked with Boxer on a major transportation bill that summer, stepped in for Vitter to negotiate directly with her. The two worked out new language that would give back some regulatory power to the states, give more testing priority for chemicals like asbestos and force extra consideration for chemicals stored near drinking water (an issue brought to light in the 2013 chemical spill in West Virginia).
She agreed not to get in the way of the bill and the sponsors got an agreement from both parties to move the bill by unanimous consent. All that was left was finding a few minutes on the floor.
100 Votes (Or at least, no objections)
The final hurdle for the bill was a paradox familiar to any senator who has caught a glimpse of the finish line. Once a bill looks like it could succeed, other legislators—knowing how few opportunities there are to move a measure through the Senate—look to attach their own projects to the measure, simultaneously giving new hope to their bills but making it more difficult to pass the measure as a whole.
Ironically, the bill's success almost guaranteed its failure. North Carolina Republican Richard Burr, a cosponsor of the bill, wanted to amend the bill to reauthorize the expired Land and Water Conservation Fund, a popular public-lands program, and said he'd block up quick-floor time on the chemical bill to get it. Sponsors, wanting to move it cleanly, told Burr he'd need to find another vehicle.
And so the bill sat idle for months. Udall and Inhofe would trot to the floor every so often for a showy request for unanimous consent, Burr would object and the Senate would move on.
It took until the final week of the session for the logjam to clear—a three-year extension of the LWCF was included in the omnibus package. The morning after the omnibus was released, Burr called Inhofe's office to tell him the hold was lifted.
That's when a familiar foe reemerged. Boxer, upset that the unanimous-consent agreement didn't contain an agreement to go to formal conference with the House, immediately instituted her own hold and demanded assurance that a conference be held with the terms she wanted. Republicans, saying that was outside the normal order for the Senate and concerned it could blow up a delicate unanimous consent agreement, launched a frantic behind-the-scenes dispute.
And some ugliness spilled out into the open. "She's willing to walk back on a deal on the sake of trying to throw her Democratic colleagues under the bus," said a Republican aide, accusing her of trying to keep certain members away from the conference. A Democratic aide said that Boxer was simply trying to make sure there were no backroom dealings.
Assured that the conference would happen in the open, Boxer backed off and lifted the hold. Just before 6:00 p.m., while most of the Capitol was looking forward to the next day's must-pass omnibus votes, Inhofe and Udall took to the floor and quickly passed the bill by voice vote.
But Boxer may not get her wish—Inhofe said Friday that a formal, public conference with the House "may be necessary, but may not." Informal talks have already begun to merge the two bills.
Whatever the path forward, Senators were eager to look at the man who started it all. In a victory lap press conference Friday, they were flanked by a photograph of Lautenberg surrounded by his grandchildren, marking a legacy that is that much closer to the finish line.
"I could just cry when I think about it," Bonnie Lautenberg said in an interview, sniffing as she held back tears. "We've worked so hard to get this done. It meant so much to Frank and it means so much to our family, I'll be forever grateful to everyone who made this happen."