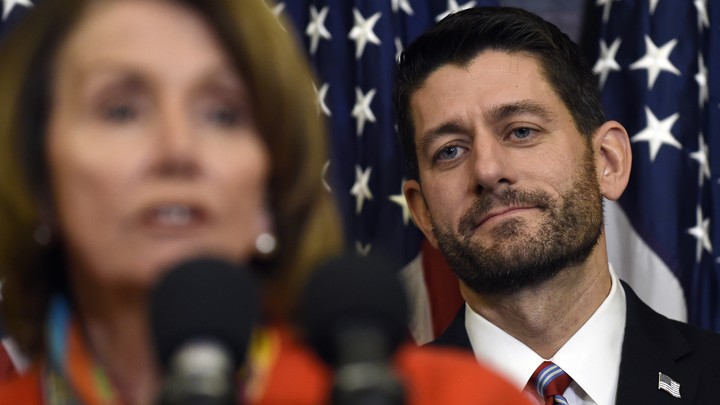 The last several weeks of talks between House Speaker Paul Ryan and Minority Leader Nancy Pelosi were about more than just bargaining over fiscal policy and social riders. The two leaders, engaged in their first big face-off, were also negotiating Congress' generational gap.
Roughly 30 years Ryan's senior and with more than a decade longer in the House, Pelosi is an old-school legislator and leader who prefers to keep the reins tight on her conference and committee chairs. Ryan, the fledgling speaker who has written several budgets but negotiated few deals, has promised to do the opposite: forgo the backroom dealing and let committee chairs marshal the issues.
Though he talks frequently about his eagerness to move into that future, for this negotiation, Ryan was trapped in the present, where deals are cut at the last minute by top party leaders. Pelosi forced him to negotiate on her terms, which is in part why Ryan, explaining the deal to his conference and to reporters, admitted profusely that he walked away with less than he would have liked.
"We played our cards the best we could given the cards we were given, given the situation we inherited," Ryan said, referring not-so-subtly to the failures of former Speaker John Boehner and the limitations of his last big budget deal. "I believe we've made the best of it."
Ryan said early in the process that he would defer to Appropriations Committee Chairman Harold Rogers. And although members and staff said committee chairs were more involved in the process than in recent years, Republican members and aides also said Pelosi did not allow the committee latitude to make the ultimate decisions, in essence forcing Ryan to the table. (Democrats dispute the notion that Pelosi wouldn't empower her appropriators to negotiate.)
It is no surprise that Pelosi would rather sit across the table from Ryan. Democrats see him as an inexperienced partisan, and members believe much of the back-and-forth originated with Pelosi, who has led Democrats for more than a decade, testing her new adversary.
"We have confidence in Mrs. Pelosi and her negotiating skills, which we have found through the years to be very good," Pelosi's No. 2, Minority Whip Steny Hoyer, said. "Mr. Ryan is new at this process, in many ways. He's done a budget, but a budget is essentially a partisan document. You don't expect to get any votes from the other side, so it's not really an analogous process."
Yet as the Friday vote on the omnibus neared, it became clear that Ryan and Republicans were not the only ones clamoring for a more inclusive House. While Democratic leadership and most of the rank-and-file remain uncommitted on the omnibus, complaints were already emerging about the top-down nature of the negotiations.
"Most [Congressional Black Caucus] members are opposed to the omnibus and the tax extenders, for the very simple reason that we were not included substantially in the negotiations," said Rep. G.K. Butterfield, who chairs the CBC and its 40-plus members. "The deal does not address poverty in a significant way, and it ignores many other priorities that the CBC has advocated for for many years."
Pelosi met Wednesday afternoon with the Tri-Caucus, which is made up of the CBC, the Congressional Hispanic Caucus, and the Asian Pacific American Caucus. A Democratic aide emphasized that leadership has not has not yet taken a stance on the omnibus nor is it whipping members—and characterized the meeting as an informational exchange. Pelosi also met with the Congressional Progressive Caucus, the aide said.
Another staffer who was in the meeting noted that the Hispanic Caucus has been pushing for a provision to help Puerto Rico restructure its debt, and raised that issue in the gathering. Pelosi has also criticized Republicans for not including that in the omnibus; Ryan said Wednesday he wants to make Puerto Rico's debt a priority when Congress returns next year.
Even before the omnibus was released, Pelosi faced pressures from her own caucus members, some of whom have been frustrated at handing the GOP small policy victories with each funding negotiation. That is in large part why Pelosi, who for years sat on the appropriations committee, made it her mission to keep the omnibus bill free of the most controversial riders, such as ones that would target environmental and financial regulations and Planned Parenthood, and add hurdles to Syrian refugees coming to this country. The absence of the latter measure came much to the consternation of some Republicans who wanted to push the issue with President Obama.
"The idea of not putting in the Syrian-refugee issue makes absolutely no sense to me," House Freedom Caucus Chairman Jim Jordan said. "Forty-seven Democrats voted for it. The Homeland Security chairman said that terrorists are actively trying to exploit that program, and we're not going to put it in the bill. That's crazy."
Although Republicans pointed to the veto-proof margin of the House vote to pass the refugee bill as proof it should be forced in the omnibus, Ryan told a breakfast gathering of Rep. Steve King's Conservative Opportunity Society on Wednesday that the reason he did not include it was Pelosi and Democrats pledged they would not help override a veto if Obama shot down the omnibus based on the rider. Republicans instead fell back on tightening visa waiver requirements, and Ryan told his caucus that the Senate has pledged to take up the refugee legislation next year.
Still, Democratic leaders did not find in Ryan quite the naïveté for which they had hoped, and that was in no small part because half of the negotiations dealt with taxes. Ryan, the former chairman of the Ways and Means Committee, helped negotiate research and development tax breaks, delays to some Obamacare taxes, and an end to the ban on selling crude oil overseas.
"It's not surprising that as a former chairman of Ways and Means, somehow most of the victories seem to be on the tax and trade side of the ledger here," said Rep. Tom Cole, a member of the appropriations committee. "On the rider stuff, I think obviously that was tougher. And I think that was an administration victory as much as a Pelosi victory. But permanent tax relief and a permanent lifting of the oil ban for nine months [without] riders is a pretty good deal."
On substance, many members said the two leaders fought to a draw. Pelosi made a late and unsuccessful pitch to allow the Centers for Disease Control and Prevention to study gun violence as a health issue. Ryan also scored some lower-profile victories for his conference, such as halting a regulation that would give the Environmental Protection Agency and the U.S. Army Corps of Engineers broader jurisdiction over the country's bodies of water, and restrictions on the IRS's and SEC's ability to regulate tax-exempt organizations.
"I think Paul did an incredible job. Listen, if you can't get 218 votes, you don't have a lot of leverage. Pelosi knew," Rep. Mario Diaz-Balart said. "I have heard no complaints [from Republicans] about what is in the bill, just what's not."
This article has been updated.
We want to hear what you think about this article. Submit a letter to the editor or write to letters@theatlantic.com.
Daniel Newhauser is a staff correspondent for National Journal, where he primarily covers the House of Representatives. He was formerly a House leadership reporter for Roll Call, where he started as an intern in 2010 and quickly earned a slot as a beat reporter.
A native of San Antonio, Texas, Newhauser traveled further West to study journalism at Arizona State University's Walter Cronkite School of Journalism and Mass Communication and write for newspapers including the East Valley Tribune and the Green Valley News & Sun.
Alex Brown
is a Congressional correspondent at
National Journal.