The Resource Curse, Big Oil, and the Dodd-Frank Battle That Won't Die
Financial regulators have finally issued draft rules that will force oil companies to disclose payments to foreign governments.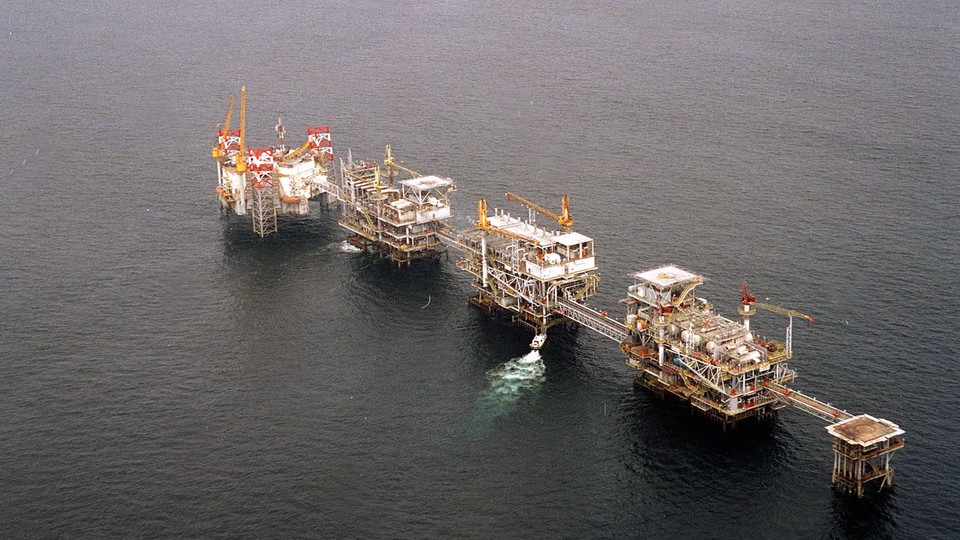 Financial regulators on Friday voted 3-1 to issue a draft anticorruption regulation, a step forward for a hotly contested rule that would require oil and mining companies to reveal what they pay foreign governments to drill and dig in their countries.
The rule, advanced Friday by the Securities and Exchange Commission, is aimed at fighting the  "resource curse"—a term for the poverty, corruption, and conflict that often plague energy- and mineral-rich countries in Africa and elsewhere.
The rule is also the subject of a contentious, years-long battle that has been fought in federal courts and in the Securities and Exchange Commission since the measure was born of the 2010 Dodd-Frank Wall Street regulatory law.
A short history: The SEC dragged its feet on the rule after Dodd-Frank passed in 2010, and didn't get around to completing it until August of 2012. But the rule drew quick litigation from powerful business groups including the U.S. Chamber of Commerce and the American Petroleum Institute. A federal judge tossed out the rule in mid-2013 and the SEC didn't appeal, opting instead to rewrite the regulation. That dragged on and on, and the draft rewrite surfaced Friday only because of a judge's ruling in a lawsuit brought by Oxfam that forced the SEC into an "expedited" schedule.
The SEC has promised a federal judge in Boston that it will complete the rule by mid-2016, but then it could easily be litigated again in the way that most major regulations end up in court. Industry groups have been targeting the rule for years, arguing it will put U.S.-based oil producers at a competitive disadvantage when competing abroad against state-controlled Russian and Chinese companies that aren't bound by the SEC mandate.
Battle Lines Quickly Form Again
API, the oil-and-gas industry's most powerful lobbying group, said the new proposal is damaging.
"Not only could the rule hurt the millions of Americans who own shares in oil and natural-gas companies, it could also cost jobs and damage America's energy security by making it more difficult for U.S. firms to gain access to resources abroad," said Stephen Comstock, the group's director of tax and accounting policy.
The rule requires companies to pony up information about payments related to specific energy and mining projects—money for taxes, royalties, and more. For years it has been a priority for human rights groups like Oxfam, the Natural Resource Governance Institute, and the umbrella Publish What You Pay coalition.
Activists were largely pleased with the new proposal. It doesn't include several provisions that oil companies such as Exxon and Shell and trade groups have been seeking in years of lobbying the SEC. Disclosure, the rule notes, "enables citizens in resource-rich countries to hold their governments accountable for the wealth generated by those resources."
So, like the earlier version, it doesn't include industry-sought provisions that allow project-by-project payment information to remain under wraps at the SEC, or an exemption that would bar disclosure to the SEC if a country where projects are located bars such transparency.
Whether any countries at all currently bar such disclosure is a matter of dispute, although an API spokesman said it's the case in China and Qatar.
Either way, advocates fear that allowing exemptions from public disclosure if it's barred in countries where projects are located would amount to a "tyrant's veto," giving a petro-state ruler incentives to impose policies that effectively nullify the SEC mandate.
A Major Change, and New Worries for Activists
The new proposal does, however,  include a provision that allows companies to ask the SEC for exemptions on a "case by case" basis "where confidential treatment may be warranted based upon the specific facts and circumstances."
The SEC is inviting comment on questions such as: "Should the rules provide an exemption from public disclosure for existing or future agreements that contain confidentiality provisions?" and on cases in which disclosure is barred in a country, or where it might jeopardize employees' safety, or disclose "competitively sensitive information."
The provisions in the rule on exemptions have some advocates concerned. Jonathan Kaufman, an attorney with the advocacy group EarthRights International, said the availability of case-by-case exemptions is an "unnecessary accommodation of exaggerated concerns from some members of the oil industry.
"We just have to hope that the process for applying for exemptions is transparent, so we can make sure extractive companies aren't misleading the SEC," Kaufman told National Journal.
Jana Morgan, director of the U.S. branch of Publish What You Pay, noted that exemptions are not allowed in other places with disclosure mandates—the European Union, Canada, and Norway. According to Morgan, the Norwegian oil giant Statoil reported its project-level payments this year in Angola, a country once seen as barring such revelations, without any backlash or repercussions.
Overall, transparency activists applauded the rule.
"While we are still in the process of analyzing the proposal, the SEC appears to have answered the call of investors with trillions of dollars in assets under management, the United States government, and hundreds of civil society organizations in resource-rich countries around the world, by issuing a strong proposed rule that requires public disclosure of payments by company and by project, with no categorical exemptions," Morgan said.
But the new proposal will open the floodgates for yet another round of lobbying on the rule, and potential litigation looms even once it's finalized in mid-2016. Activists proclaimed victory Friday, but the war won't be over for a long time.