The Republican Debate in Vegas: A Good Night for Cruz, Rubio, and Paul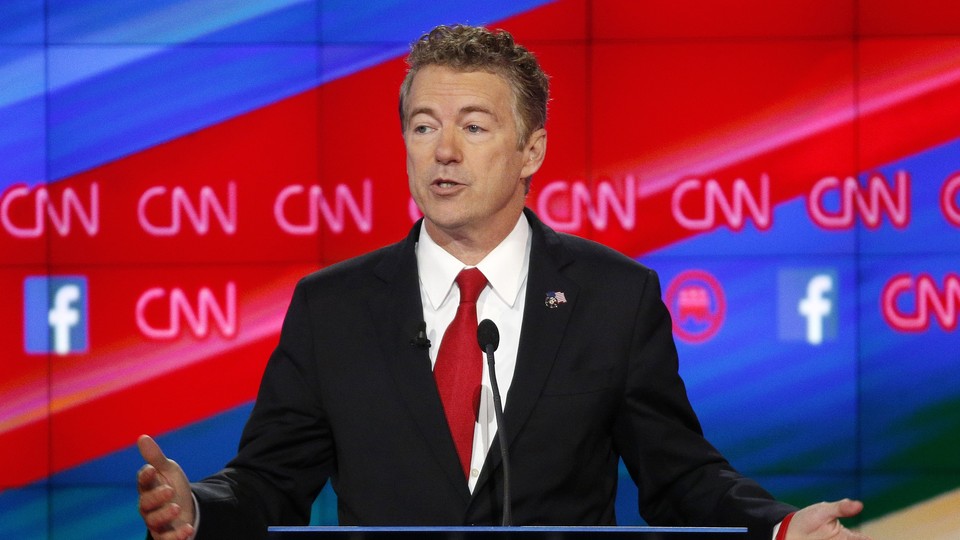 Editor's Note:
This article previously appeared in a different format as part of The Atlantic's Notes section, retired in 2021.
Hey, the debates are back! Our expanding politics crew did the usual liveblog routine, and you should check it out for a granular read of the Las Vegas Republican debate.
It was a strange debate—it seemed at times like several concurrent debates going on one stage, with Rand Paul acting as a sort of outside commentator. Here's my quick reaction:
The fifth Republican debate had the feel of a Chekhov play—a cast of characters together on the same stage, but each involved in their own, only occasionally interlocking, conflicts. Near the center, Marco Rubio and Ted Cruz squared off in a series of detailed, wonky disputes about the military and surveillance. Meanwhile, a bit to the side and largely unawares, Jeb Bush and Donald Trump tried to one-up each other. Off to the right, John Kasich, Chris Christie, and Carly Fiorina vied to prove most willing to start a war. And nearly off in the wings, Rand Paul delivered a series of wry commentaries on the unfolding drama. (Ben Carson must have missed rehearsals; he had little to say.)

What unified the nine candidates on stage was their insistence that the Obama administration had failed to keep Americans safe, falling short in its efforts both stateside and abroad. It was a bleak, fearful debate. But the rivals' offered disparate prescriptions for how to respond to this weakness, and were often vague. The main takeaways from the evening were that political correctness is bad and that most of the field, except perhaps Trump and Paul, are eager to deploy American troops to Syria and Iraq.