The Number That Haunts Republicans, and How Paul Ryan Wants to Fix It
Party leadership says the "vote no, hope yes" era is hurting their leverage at the bargaining table.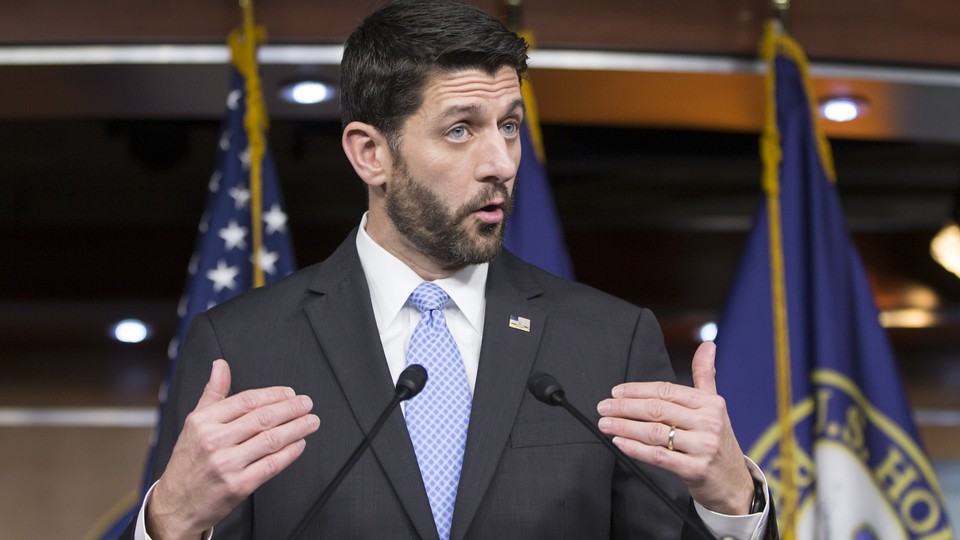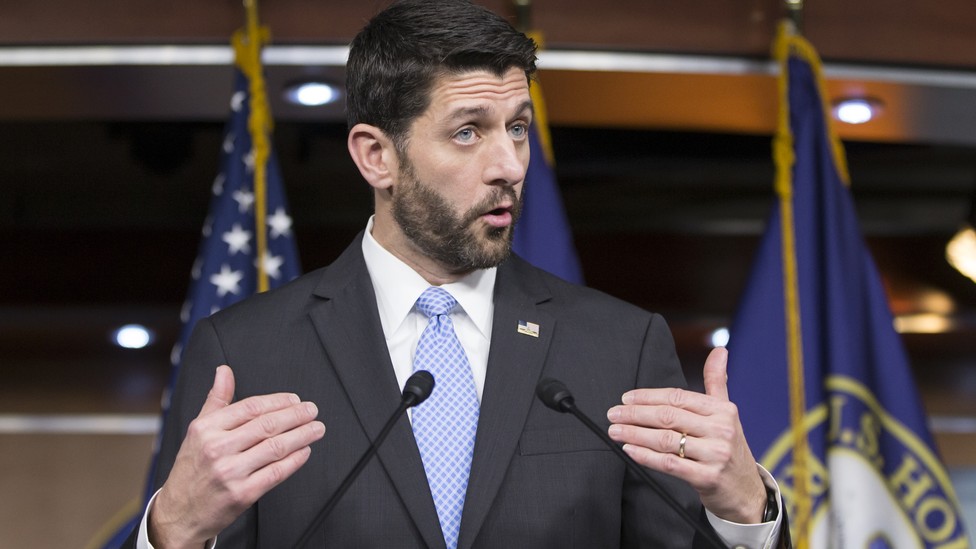 House Republican leaders have been wearing a scarlet 79 since November, and now they are doing all they can to tear it off.
Only 79 Republicans voted for a November budget deal that set the table for the omnibus bill expected on the House floor Friday, fewer than a third of the votes needed to pass the measure. And during negotiations over the omnibus spending measure to seal that budget deal, Democrats would not let Speaker Paul Ryan and his team forget it.
Being reminded that they can put up only about a third of the votes needed to pass the bill hurt their leverage to secure policies they were seeking, several Republican members said, and they are hoping to have a higher number to point to next year—and more policy wins.
"I feel like it should be branded in my forehead," Republican Rep. Tom Cole said of the number. "And it's a fair talking point to use. Our guys need to understand that you can't ask for the sun, the moon, and the stars with … 79 on [the budget deal]. From their standpoint, [Democrats are] saying, 'We have to provide two out of three votes and a presidential signature; now tell me again why I need to give you this?' It's a fair point to make."
The push is part of House Republican leaders' attempt to end the "hope yes, vote no" pattern among their members, following up on Majority Whip Steve Scalise's letter to members last month asking them to support the bill. GOP leaders even included a measure ending the ban on crude-oil exports, a huge Republican priority, in the omnibus bill to entice votes.
"The message is, 'If you have a philosophical objection to this, we respect that, but let us know what it is,'" said Rep. Dennis Ross, the senior deputy whip. "Otherwise, we want to find out how to get you to 'yes.' Because we've got to get more than 79. That gives us greater leverage going into next year."
In particular, Ryan wants to end the John Boehner era on a positive note. Republican leadership views the omnibus as Boehner's last bill, and they want Ryan to be in the best possible negotiating position next year so he can try to pass spending bills through regular order, and absent the infighting that plagued and ultimately doomed Boehner.
"It is significant. You have to show that Paul brought things to a close in the best fashion. It's significant to cross that threshold for our side," said a member of leadership, speaking anonymously to discuss internal deliberations. "The higher the number we have now strengthens our hand for next year's negotiations. It's a down payment on next fiscal year."
But complicating their mission is a central irony: Leaders want more votes from their team now to secure more victories later, but they didn't score enough victories now for many members to give leaders their votes. While the whip team is trying to tell members to focus on what is in the bill rather than what is not, it is clear many members are unhappy.
The House Freedom Caucus and other conservative members are frustrated the measure doesn't ban Syrian refugees from coming to the U.S. and allows federal money to be given to Planned Parenthood. Natural Resources Committee Chairman Rob Bishop is among several Western-state members unhappy, among other things, that the bill earmarks $60 million for the Bureau of Land Management to conserve sage grouse habitat in the West.
Rep. Bill Johnson, who was one of the 79 to vote for the budget deal, is among several coal-friendly members fuming that the omnibus did not contain language barring the Interior Department from implementing the stream buffer zone rule, which requires coal mining to stay 100 feet away from water stream.
"I've made it very clear to leadership where I stand. I think leadership understands," Johnson said. "I'm leaning no. Something would have to change significantly to change that position."
And the entire Georgia delegation spent several swaths of the afternoon meeting with Ryan, Scalise, and Majority Leader Kevin McCarthy objecting to language included in the omnibus by Sen. Richard Shelby that the Georgians think infringes on a decades-old water feud between the Peach State, Alabama, and Florida. (Leadership staff late Thursday confirmed they would remove Shelby's provision to appease the Georgians).
The Republican need for votes is made more urgent because the Democratic majority that has traditionally helped pass funding bills might not be there this time. Asked Thursday if she was confident Democrats could provide the necessary votes, House Minority Leader Nancy Pelosi replied, flatly, "No."
Pelosi herself supports the bill, but she has faced deep dissent from progressives and minority caucuses who feel they and their priorities were left out of negotiations. Democratic leaders have acknowledged those concerns, but they say the alternative to the current deal is a yearlong continuing resolution that will bring spending back to sequester levels and remove some of the investments Democrats have fought for.
Congressional Black Caucus Chairman G.K. Butterfield has been one of the most outspoken opponents of the omnibus, and he said his members are taking that threat into consideration. "If we successfully oppose the omnibus, it is argued that the alternative is a yearlong CR," he said. "Then you have to compare the disadvantages of a yearlong CR against not having the omnibus. It's a Hobson's choice. It's a very difficult place to be." Butterfield personally plans to vote against the omnibus, but he said his members will "weigh the equities."
Rep. John Lewis is also a member of the CBC and a chief deputy whip. He remains undecided, and he said his talks with members in his whip capacity have shown much of the caucus to be in the same position. "I whipped yesterday," he said. "About 15 people I whipped, they were all undecided except one—outright undecided."
The head of Democrats' vote-counting operations, Minority Whip Steny Hoyer, did not offer any estimates of his own, but he said reports that Republicans could offer only 100 votes were merely "speculation."
For all of Democrats' hand-wringing, though, Republicans said they have no plans to bring a temporary CR to the floor, nor do they think they could pass one with only GOP votes. Even some liberals remain unpersuaded by the argument that the alternative to the omnibus is a long-term CR, saying President Obama would veto such a measure.
"They're not going to close down the government," said Rep. Luis Gutierrez. "Who here believes they're going to close down the government? None of you. You all know we'll do a continuing resolution, we'll be back here on Monday or Tuesday or whenever, after we finish negotiating."
Still, caucus leaders are warning that killing the omnibus could have unintended consequences. "There are some who believe we ought to push this to a CR and push Paul Ryan's back against the wall," said Rep. Steve Israel, who heads House Democrats' messaging efforts. "Unfortunately, he's got some options, and one of the most powerful options he has is to say, 'Fine, I will find enough Republican votes to do a one-year temporary spending measure, and I will find more than enough Republican votes to do $620 billion of permanent tax cuts to the special interests, which aren't even funded.' ... I for one don't want to walk away from those good things [in the omnibus] because I couldn't get the best things."
That argument doesn't seem to be quelling the opposition. "It's great to lift sequester, but at what cost?" said Congressional Progressive Caucus Cochair Keith Ellison. "If the president says, 'I'm not signing a clean CR,' then we get back to a better negotiating position."
Democratic leaders say they're not pressuring members to vote one way or another, and with Republicans so firmly in the majority, they feel that the burden of passing the bill shouldn't fall so heavily on them. "Our members are going to do what our members are going to do," Pelosi said.