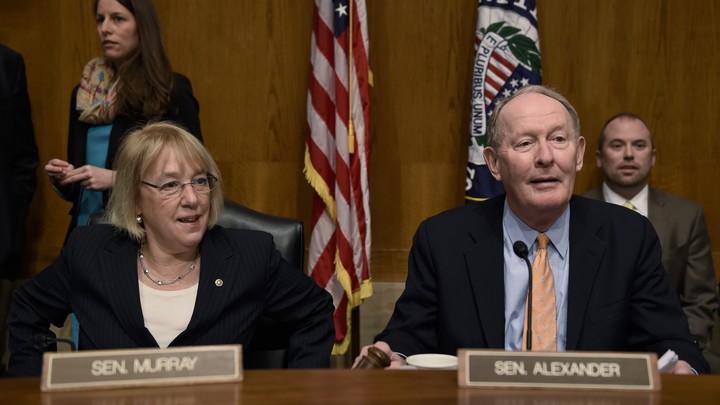 The Senate on Wednesday passed a major bill overhauling the federal government's role in elementary and secondary education, reducing its reach after over a dozen years of No Child Left Behind.
The bill—called the Every Student Succeeds Act—maintains reading, math, and science tests to help track students' progress but gives states the power to use that information as just one component in a new set of accountability standards each state creates. It blocks the Education Department from telling states how to assess schools and evaluate teachers.
The legislation, which affects 50 million children in nearly 100,000 public schools, passed 85-to-12 and now goes to the president, who is expected to sign it by the end of the year.
Before the vote, Sen. Lamar Alexander of Tennessee, a key author of the bill, turned to his fellow Republicans and said, "Your voting 'yes' means the largest step toward local control of schools in 25 years."
The bill provides some federal safeguards that were especially important for Democrats. States would be required to report the academic performance of low-income, disabled, and minority students and to intervene in the state's lowest-performing 5 percent of schools. It would also create a new grant program to improve early childhood education.
The legislation "will reduce the reliance on high-stakes testing," said Sen. Patty Murray of Washington, the lead Senate Democrat on the legislative effort. "It will invest in improving and expanding access to early learning programs so more kids start kindergarten ready to learn. And it will help ensure all students have access to a quality education, regardless of where they live, how they learn, or how much money their parents make."
But it also states that the federal government may not mandate or give states incentives to adopt or maintain any particular set of academic standards. That's a key point for conservatives who have railed against the state-created Common Core standards, especially as the Obama administration provided competitive grants to states incentivizing rigorous standards through its Race to the Top program.
We want to hear what you think about this article. Submit a letter to the editor or write to letters@theatlantic.com.
Alex Rogers covers Congress as a staff correspondent for National Journal. He previously worked as a political reporter at TIME. He is a native of Bethesda, Maryland and a graduate of Vanderbilt University.