The Last Two Trains Are Delayed in the Station
The omnibus spending bill and the tax-extender package are moving slowly, and Congress may need to stay in town at least through the weekend to finish its work.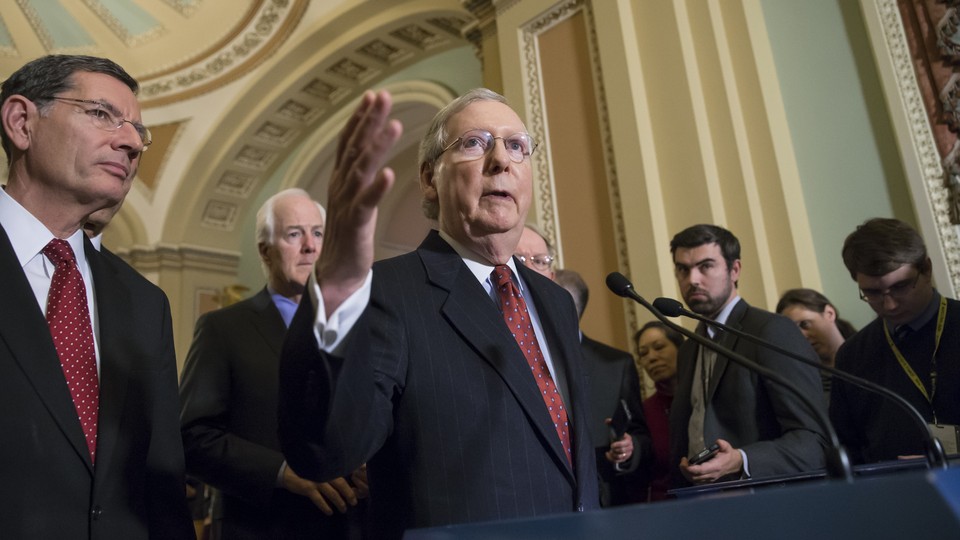 Hopes for a comprehensive package of tax breaks began dimming Tuesday, as congressional negotiators lowered their expectations to a continuation of current law, even as leaders threatened a rare weekend session to finish talks over a catchall spending bill.
Negotiations over the two packages of legislation—one a six-year, $800 billion extension of several popular tax breaks and the other a $1.1 trillion bill funding every aspect of the federal government—had become intertwined in recent days. But House Speaker Paul Ryan sought to put some distance between the two on Tuesday, as leaders introduced a two-year, clean reauthorization of several expiring tax provisions as a fallback plan.
House Minority Leader Nancy Pelosi had been insisting on Democratic-favored tax provisions, in particular indexing the child tax credit to inflation. But Ryan told his conference at a closed-door meeting Tuesday morning that he had no qualms falling back on the two-year bill.
"We're not going to get jammed," Ryan said, according to a source in the room.
Top tax-writing staffers from both parties were meeting as recently as Tuesday afternoon. But some members worried that the package, which would make permanent some tax breaks preferred by each party, appears to be collapsing under its own weight. The Senate too began preparing a two-year fallback plan, even though Majority Leader Mitch McConnell said Tuesday that he is still pushing for the "more robust" deal.
Senate Minority Leader Harry Reid, who has pushed forcefully for a larger tax-extenders agreement despite the reservations of some of his members, said Tuesday that negotiators accomplished little over the weekend and only really got back to the business of trying to finalize a package on Monday night.
"Before we start talking about whether it's a good package or a bad package, let's have a package," Reid said. "We don't have anything to focus on right now."
He was dismissive of concerns voiced by some Democratic members that the bill under discussion would benefit large corporations over middle-class Americans and lacks pay-fors. "These tax extenders—many of them are good for business, but those that are good for business are also good for everyday Americans," Reid said. "And each year we [pass these extensions], they're not paid for—with rare exception. So I don't know what people are talking about."
Senate Majority Whip John Cornyn said Tuesday that he's unhappy with the possibility of abandoning the larger tax plan in favor of a two-year extension of current law, but he added that he trusts Rep. Kevin Brady and Sen. Orrin Hatch, the chairmen of the two chambers' tax-writing committees, "who are conducting negotiations on our behalf.
"It's a terrible way to do business every year or two years to do this," Cornyn said. "We ought to make the ones permanent that deserve on the merits to be permanent, like the research and development tax credit. … What they've got is the default, the two-year bill and hopefully will make it more robust, like I said, with some permanent [extensions]."
Brady said Tuesday evening that he is considering adding a delay on two Obamacare-related taxes to the two-year extenders package—a medical-device tax and the Cadillac tax, a charge on employer-sponsored health insurance plans.
"We're still strongly considering adding that on before we go to Rules. We don't know when that will be," Brady said. "A lot depends on how the negotiations continue."
Both Brady and Cornyn added that as discussions on both the tax and spending bills continue, they may be combined into a single bill before Congress leaves town until January.
But when they'll break for the holidays is still up in the air.
After leaders in both parties initially expressed optimism that they'd meet the Dec. 11 deadline to avoid a government shutdown heading into this week, the words "continuing resolution" began to echo through both chambers of the Capitol on Tuesday. Members on the appropriations committees say that the bulk of the work on spending is done, but a few dozen riders are stalling negotiations as Congress nears its deadline.
"We know we'll have to deal with a short-term CR. We will not allow the government not to be funded, so we'll do a short-term so we can finish our work," House Majority Leader Kevin McCarthy told reporters Tuesday morning.
McConnell said Tuesday that he has already asked members to "be prepared to be here this weekend" in order to finish up work on the omnibus and tax legislation.
And Reid, who told reporters last week, "Seriously, I feel good about the omnibus," downgraded that assessment Tuesday, saying that the spending and tax-extender issues were, at least, "alive."
Even how long to delay the fight had become a point of contention. In a private meeting of Ryan's circle of advisers from different factions in his conference, House Freedom Caucus Chairman Jim Jordan advocated for a six-week CR to give Republicans more time to fight for their riders, particularly a House-passed measure that would make the administration sign off on every Syrian refugee admitted to the country.
Freedom Caucus member Matt Salmon said that would allow Congress to work through the issues without facing what he called an artificial deadline of adjournment for Christmas break.
"Every time that we get jammed up against a holiday schedule with people wanting to be back in their districts and back with their families, we seem to end up getting things that we dislike intensely. And when we don't have that kind of pressure, there's a little bit more of an ability to fight," Salmon said.
Yet the idea did not seem to be taking off in the conference. Leaders instead began planning a CR of only a few days, with the hope that a one-year package could be hammered out and voted on over the weekend or as soon as early next week.
That was in part because House Democrats said they would be amenable to a short-term continuing resolution, but not one that lasts several weeks. "A handful of days is not unreasonable," House Minority Whip Steny Hoyer said.
Rep. Joseph Crowley, the Democratic Caucus vice chair, added that his party has the backing of the White House in opposing a longer-term CR. "I don't believe the president is supportive of an extender at this point beyond a few days maybe so we can cross the T's and dot the I's. The anticipation was that we'd get this done by the 11th," Crowley said. "I don't see how [a six-week extension] changes anything. It just postpones the inevitable."
Senate leaders were no more amenable to a longer-term CR, with Reid arguing: "If they did that, it would be a very, very bad beginning for the new speaker."
As far as riders, Hoyer said that his members would sustain a veto if a bill to restrict the flow of Syrian refugees were included in the omnibus. Though such a bill earned veto-proof numbers a few weeks ago, Hoyer said "there's no doubt in my mind" Democrats would not give it such a margin as part of an omnibus package.
Meanwhile, Hoyer added that a measure to lift the crude-oil export ban is "on the table," and, though not a preference of Democrats, it doesn't rise to the level of other toxic riders they oppose.
Rep. Charlie Dent, a Republican appropriator, said Democrats' leverage is increased by the reluctance from some in his party to vote for a large spending bill.
"They have a lot of leverage because they're going to put up a hell of a lot of votes on the omni. And given our track record on the CR and the omni, we don't have as much leverage as we should," he said. "Some of my colleagues on my side have to understand that—that our leverage is wounded because we have too many people who hope yes and vote no."
---
Rachel Roubein contributed to this article