The Split Between the States Over Guns
Owners of firearms will have more rights in Texas and fewer rights in California in the new year, thanks to the nation's deepening cultural divide.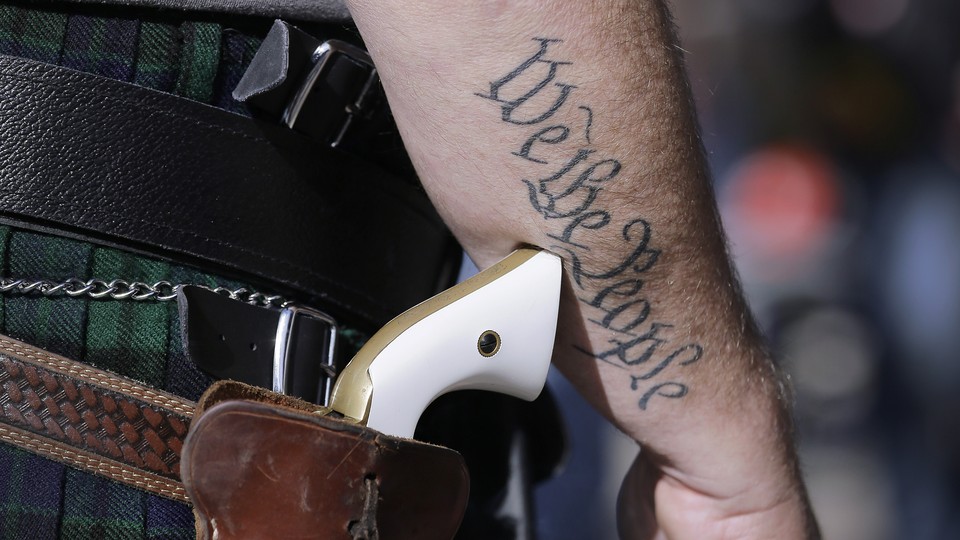 Will restrictions on guns expand or contract in 2016? It depends entirely on which state you're in.
Guns are about to become a lot more visible in the nation's second most populous state. With a law that takes effect in the new year, Texans licensed to carry firearms won't have to conceal them anymore—they can wear them out in the open, so long as they are in a belt or shoulder holster. Later in 2016, Texans will be allowed to take guns into campus dorms and classrooms, although those will have to remain hidden from view.
Gun laws are also set to change this week in California, but the country's biggest state is going in the opposite direction. Concealed weapons will now be banned on college campuses, and police and families will have new powers to seek court orders to strip firearms from relatives believed to be a threat to themselves or others.
The partisan debate over gun policy may have paralyzed Congress, but the rise in high-profile mass shootings has catalyzed action in the states, and 2015 saw the gap in gun laws between red and blue states grow ever larger. Kansas and Maine—states where Republicans hold governorships and the legislature—passed laws dramatically expanding the rights of gun owners. In Democrat-run Oregon, however, gun-control advocates won passage of a law requiring background checks for all firearms purchases. And advocates claimed bipartisan victories in nine states—including deep-red Alabama, Louisiana, and South Carolina—that restricted access to people sanctioned for domestic violence abuses.
"Taking all those things together, it's a draw," said Tim Daly, who directs the campaign on guns and crime policy at the liberal Center for American Progress.
In a political environment long dominated by the NRA, advocates for stricter gun control have claimed momentum ever since the 2012 massacre of 20 young children and six adults at Sandy Hook Elementary School in Newtown, Connecticut. Despite the failed push at the federal level, an additional half-dozen states have enacted background check laws, bringing the total to 18 nationwide. And while the number of new state gun-control laws in 2015 was less than the flurry enacted in 2013, advocates say they have improved their record in fighting NRA-backed attempts to expand gun rights and protecting legislators targeted by the NRA in elections. "We have, I feel, the wind at our backs for the first time ever," said Shannon Watts, the founder of Moms Demand Action for Gun Sense in America. "It's not a third rail anymore."
The NRA's biggest victories came in Kansas and Maine, which passed laws allowing gun owners to carry concealed firearms without a permit. Gun-rights supporters have cheered the new "open carry" and "campus carry" laws in Texas, although they have both forced local businesses and governments to prepare citizens who may be unsettled to see guns openly displayed in public. Some business owners are taking advantage of a provision allowing them to put up signs banning guns from their stores, while city officials in Dallas released a video aimed at discouraging residents from calling 311 or 911 every time they see someone carrying a holstered gun. ("Only call 911 if you encounter a person who is in violation of the law," a city spokeswoman advises, referring to people who are carrying guns outside a holster, intoxicated, committing a crime, or "acting in a reckless or suspicious manner.")
The California protective-order law was a big win for gun-control advocates, who say it's the most expansive such measure in the country. It will allow police or worried family members to take action if a person makes threats or displays disturbing behavior that falls short of warranting arrest or  involuntary commitment. It was designed in response to the 2014 shooting rampage by Eliot Rodger in Isla Vista near the UC-Santa Barbara campus. Sheriff's deputies had previously been dispatched to Rodger's apartment after his family raised concerns to mental-health workers, but left without touching his stash of firearms. The bill passed despite concerns that it would infringe on the constitutional rights of people who hadn't committed a crime. "We think this is a very promising model for other states to follow," said Ari Freilich, a staff attorney at the California-based Law Center to Prevent Gun Violence.
If the state-level battle over gun laws has become a more evenly matched tug of war in recent years, both sides seem to be pulling harder. As gun-control advocates have stepped up efforts to restrict access in blue and purple states, the NRA and its legislative allies have argued that the key to preventing mass shootings is to arm more people in more places, such as schools and college campuses. Despite their defeats in Kansas, Maine, and Texas, gun-control advocates backed with millions from former New York Mayor Michael Bloomberg boast about stopping NRA-backed efforts to enact campus-carry laws in 14 of the 16 states where bills were introduced. "These are bills that would have sailed through the statehouses in the past," Watts said.
The NRA counters that it has beat back even more efforts to restrict gun access and that, by its count, states in 2015 passed 10 times more bills that it supported than bills they opposed—a similar record to 2014 and an improvement over 2013. The suggestion by gun-control groups that they have the momentum in the states, said NRA spokeswoman Amy Hunter, "is a lie being pushed by Bloomberg in his efforts to convince the American people that he's gaining traction, when the truth is there is no appetite for more gun control."
The polls show this, the successful passage of hundreds of pro-gun bills shows this, as do elections.  Over the past three years, states across the country have signed into law nearly 300 new measures protecting and expanding Second Amendment rights. That's almost 10 times the number of new anti-gun laws.
Hunter said the NRA's biggest setback came just last week, when Virginia Attorney General Mark Herring announced that he would stop recognizing concealed-carry permits from residents of 25 states that have laxer gun laws. The change is the most aggressive such action to deny reciprocity by any state in the country, and it could open a new avenue of activism as states enact increasingly divergent gun policies. "Guns cross over state lines as easily as cars do," Watts said.
Like most everything else, the fight over gun policy will move to the campaign trial in 2016. In Nevada and Maine, voters will decide for themselves in November whether background checks should be mandatory for private gun sales. Hillary Clinton has taken up the mantle of gun control from President Obama, ensuring it will be an issue in the general election should she capture the Democratic nomination. Obama could announce limited executive actions of his own before then. Yet in the absence of any action by Congress, gun policy will continue to be decided by the states. And if 2015 was any indication, the chasm between red and blue will grow wider and wider.