The Fish Rots From the Head in Chicago
Why aren't President Obama and Hillary Clinton demanding Rahm Emanuel's head?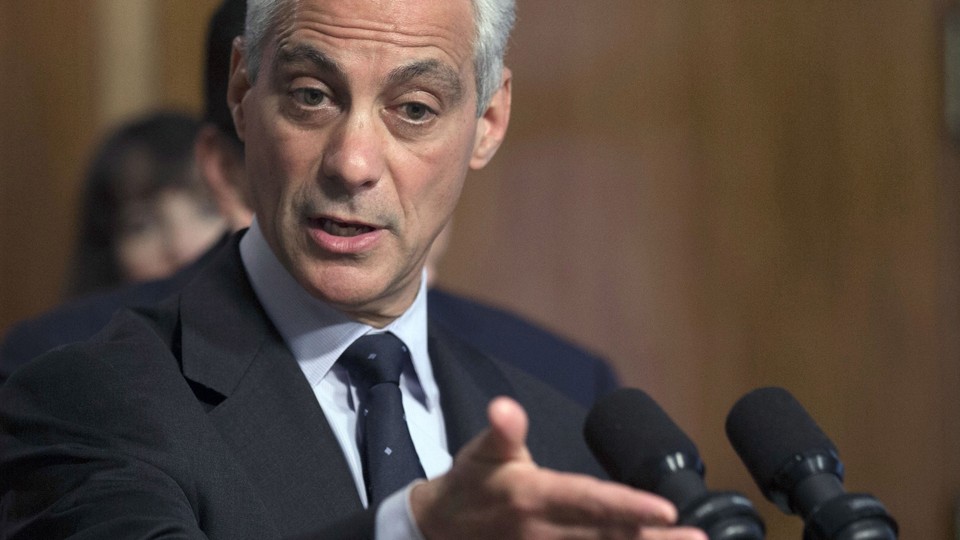 President Obama needs to mail Rahm Emanuel a dead fish in a box. Hillary Clinton should deliver it. For the integrity of the party that represents a vast majority of black voters, Democratic leaders everywhere need to send the Chicago mayor a message: You're dead to us.
A longtime lieutenant for the Clinton family and former chief of staff in the Obama White House, Emanuel never hesitated to muscle weak or disloyal Democrats out of power. It's time to flip the script on the enforcer nicknamed "Rahmbo."
Emanuel once sent a pollster who was late delivering a survey result a dead fish in a box. The night Bill Clinton won the 1992 presidential election, his aides were celebrating around a picnic table when Emanuel picked up a knife and shouted the names of politicians who had "f****ed us." After each name, Emanuel declared, "Dead man!"
I've got nothing against Emanuel. I've known him since 1992 and benefited from his strategic leaks in the Clinton White House. And I know this: Emanuel epitomizes a brand of politics that puts loyalty and electoral success above all else. He was educated in the school of Clinton, where the ends justify the means, and ruled the Obama White House when it capitulated to the culture of Washington that his boss had vowed to fight.
And then off he went to Chicago, a historically corrupt city with a police department known for hiding misconduct and brutality.
On Oct. 20, 2014, police officer Jason Van Dyke fired 16 times at 17-year-old Laquan McDonald, killing him. The next day, a police department statement claimed the teenager was shot while approaching police officers. That was a lie.
A dash-cam video that authorities had access to within hours of the shooting shows McDonald holding a knife and veering away from officers when he was shot. Why did the police department claim otherwise? Why wasn't the video released to the public? Why didn't the city investigate the fact that 86 minutes of other video surveillance footage of the crime scene was suspiciously missing?
The most logical conclusion is that police wanted to duck accountability and Emanuel wanted to avoid losing his Feb. 24, 2015 reelection amid national unrest over a police shooting in Ferguson, Missouri.
The mayor narrowly won a second term after an April 7 runoff. Eight days later, the city made public a preemptive $5 million settlement with the McDonald family, an agreement reached quietly weeks prior. Emanuel's team made sure to include a clause that kept the video confidential.
Fighting a freelance journalist's lawsuit seeking the video, Emanuel argued that releasing it might taint a federal investigation. That was a lie. The Justice Department has said it did not ask the city to withhold the video.
"That makes this whole episode look like an attempt by the city, the police and prosecutors to keep the video under wraps, knowing the political problems it would most likely create," reads a New York Times editorial that accused Emanuel of "willful ignorance" in "the cover-up."
More than a year after the shooting, a county judge ordered the city to release the video. Only then was the officer charged with McDonald's murder.
Emanuel on Tuesday fired police superintendent Garry McCarthy, not because one of his officers shot a man 16 times as he walked away from police or because his department covered it up. No, Emanuel fired McCarthy because he had become "a distraction."
Emanuel promised to start equipping officers with body cameras and to appoint a task force to investigate the police department. But it's too late.
Chicagoans have seen how far Emanuel's administration will go to hide an embarrassing video.
They won't trust a task force appointed by this mayor.
They know a fish rots from the head.
The world is watching, too, and wondering whether the party that represents most blacks and most big cities can clean its own house. Lord knows there would be howls from the Left had a GOP mayor been so "willfully ignorant," so tone deaf and morally corrupt in the death of a black teenager. And they would be justified.
A Chicago cop killed a teenager and Emanuel administration f***ed with the evidence. Pick up the rhetorical knife, Democrats, and aim it at Rahmbo: dead man.