The Deadliest County for Police Killings in America
In Kern County, California, cops kill 1.5 people per 100,000 residents—prompting an investigation by The Guardian, but not by state or federal overseers.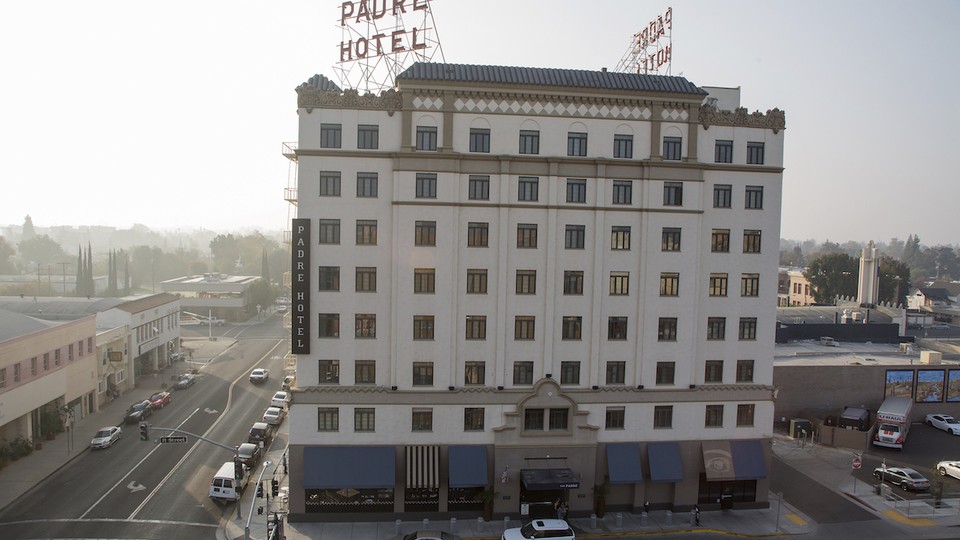 Last month, almost 200 people gathered on a street in Bakersfield, California, to protest the police killing of James De La Rosa, who was not carrying a weapon when tased and shot by four police officers. Cops shooting a man dead didn't surprise locals. Several months ago, I reported that law enforcement in Kern County, where Bakersfield is located, kill more people per capita than anywhere else in California, citing an ACLU analysis of data collected over six years ending in 2014.
But it turns out that there is much more to this story.
While attempting to track every police killing in the United States during 2015, journalists at The Guardian discovered that cops in Kern County aren't just the deadliest force in the state relative to the population, they are the deadliest in the nation. "In all, 13 people have been killed so far this year by law enforcement officers in Kern County, which has a population of just under 875,000," the newspaper has just reported. "During the same period, nine people were killed by the NYPD across the five counties of New York City, where almost 10 times as many people live and about 23 times as many sworn law-enforcement officers patrol."
This is due in part to the fact that Bakersfield and other spots in Kern County are extremely high-crime areas, afflicted by gang violence, epidemic poverty, and drug addiction: "The city's murder rate is 75% higher than the national average and its robbery rate is 79% higher. Bakersfield's burglary rate is more than twice that of the US average and its rate of motor vehicle theft is more than three times as high. In 2014 an assault or robbery involving a firearm occurred at a rate of just under once a day."
Even so, The Guardian unearthed many alarming facts about local law enforcement in a place where all 54 fatal shootings over the last decade appear to have been ruled justified by police organizations that essentially oversee themselves. Some findings are jaw-dropping, and they suggest a little remarked upon failure.
Let's start with some of what Guardian journalists Jon Swaine, Oliver Laughland, and Mae Ryan found.
After police killed the unarmed De La Rosa, a couple who witnessed the shooting as bystanders said that he had his hands up and was not reaching for his waistband. Later, while his corpse was under a sheet on a hospital gurney, a police officer lifted the sheet, began playing with his toes, and made a joke about rigor mortis.
The police officer then said, "I love playing with dead bodies."
A different Bakersfield police officer, Rick Wimbish, "has been involved in at least four fatal shootings in two years, including that of De La Rosa, during which Wimbish deployed his taser. None of the four men killed in these confrontations were armed with a deadly firearm themselves. One, a violent criminal, had a BB gun; another was holding a tire iron." Shooting the guy with the BB gun struck me as clearly justified after I read the description of the incident. But during one of his other killings, Wimbish and other officers opened fire on an unarmed confidential informant of their own department during a planned operation after the guy he was with––the criminal he was helping cops to catch that very moment––pulled out a gun.
And the "tire-iron" case involving Wimbish could hardly be more suspicious:
Jason Alderman's family refuse to believe it, but police say he was trying to rob a closed Subway restaurant one Saturday evening in August. He was confronted abruptly by Bakersfield officers Wimbish and Garrett ... The pair was responding to an unrelated call-out when they spotted Alderman, according to police records.

Garrett, who was the passenger in the patrol car, is said to have got out and shot Alderman dead, firing "several rounds." After days of vague and confusing statements the department eventually said Alderman, 29, had been carrying a black tire-iron and held it towards Garrett as if it were a gun. A photograph of the iron, helpfully laid out in the approximate shape of a rifle, was released. But unfortunately, police said, only one person apart from Alderman had seen what happened: Garrett himself. No surveillance footage existed; the sandwich restaurant's cameras had stopped filming earlier in the night.

"To our knowledge there is no video," a police spokesman said at the time, "has never been video, and we certainly don't have any video in evidence."

Five days after the shooting, however, investigators working for Alderman's family made a discovery. There was, in fact, some surveillance footage of the incident. The police had quietly seized it from the Subway manager, who had been asked not to disclose what it showed. Police refuse to release the recording. Sergeant Joe Grubbs, then the Bakersfield PD spokesman, said the shooting would be "highly scrutinised" and said: "We want to be scrutinised." But within a month, Garrett and Wimbish had been cleared of wrongdoing by the department itself...
Remarkably, another Bakersfield police officer, Timothy Berchtold, "shot and killed three people in the span of less than two months in 2010," The Guardian added. "Two of those he shot were unarmed and accused of a strikingly similar offence—reversing a car they were driving towards Berchtold. One of them, Traveon Avila, was a 15-year-old boy."
Perhaps these two police officers are just unlucky, and it is an unfortunate coincidence, not incompetence or worse, that explains why they're so frequently involved in deadly encounters in one of America's most deadly police departments. But surely the facts that The Guardian has reported about the shootings they've participated in and other goings on in Bakersfield warrant an investigation by state or federal overseers, who are responsible for safeguarding the rights of citizens. Surely there are enough red flags to warrant at least taking a closer look.
And that brings us to the little remarked upon failure.
Lots of jurisdictions in America started collecting data on police killings only recently. But the data about Kern County as a place where the cops shoot and kill such an aberrant number of people has been collected by the State of California for more than a decade. It has been a public record, and thus available to the federal government, too, for all that time. So why is it that only The Guardian, after gathering its own data, thought, "Hey, Kern County cops kill wildly more people per capita than other jurisdictions––let's send some investigators to look more closely"?
Part of the story of the police protests roiling American cities is the abject failure of state and federal officials to fulfill their most basic oversight duties. Thus far, Kern County hasn't been an object of national attention. Perhaps that's partly because the Black Lives Matter narrative has dominated press coverage of police misconduct—in Kern County, most of the victims are Latino. But the issues raised by the Black Lives Matter movement affect a variety of communities, even if that's not always acknowledged in the media.
Guided by data, The Guardian has done important work in Bakersfield to correct that oversight. Now state or federal overseers should launch an overdue investigation. There can be no question that something is very wrong in Kern County. What exactly that is remains to be seen. Meanwhile, the entire Guardian story, only parts of which I've touched on, is worth the time of anyone interested in policing.