The Case for Chris Christie's Political Comeback
The New Jersey governor is betting all his political chips on doing well in New Hampshire. If that happens, he'd become an instant contender.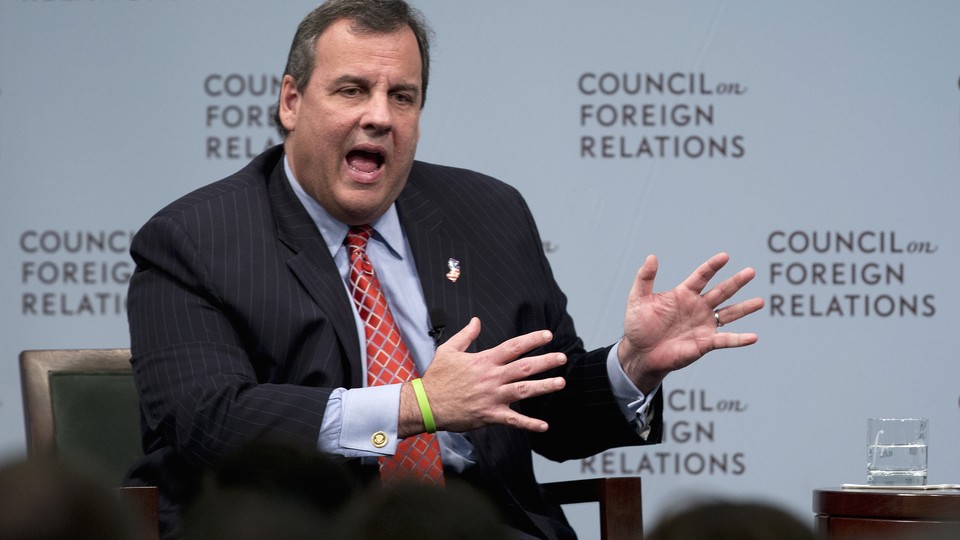 New Jersey Gov. Chris Christie offers a case study in the futility of obsessing over polls at the expense of everything else. If you just look at his national and early-state numbers, which still hover in the low single-digits, it would be easy to conclude that he faces near-impossible odds of winning the GOP's presidential nomination; by the former measure, he was left off the stage at the last Republican debate. But after considering the governor's strategic discipline—win New Hampshire or else—and fortuitous message focused on national security and law-and-order issues, it's clear that Christie is well-positioned for a political comeback.
After scandal back home derailed his political prospects, Christie modeled his presidential campaign after John McCain's retooled operation in 2008: lean, personality-driven, and accessible. And with fears of terrorism again at the forefront of GOP voters' minds, Christie also has political good fortune on his hands. He isn't the most conversant candidate on foreign policy—that title goes to Jeb Bush or Marco Rubio—but his tough indictment of President Obama's detachment in the wake of the Paris terrorist attacks combined with hands-on experience governing terror-scarred New Jersey makes him the candidate of the moment.
His entire campaign now rests on the fickle voters of New Hampshire, where he has held 36 town-hall meetings and where his campaign and super PAC have spent most of their $6.4 million in advertising. A strong performance in the Granite State—finishing at the top of the establishment-friendly field, or a close second—would alter the trajectory of the Republican race. Momentum is everything in presidential politics, and a Christie comeback would turn around his flagging fundraising in time for the expensive March primary battles. Donors have always liked Christie, but backed away when his prospects looked long.
Despite Christie's relentless effort in the state, the political return has been mixed. Most consequentially, he's beginning to overcome much of the resistance from Republican voters who viewed him as too moderate to be the party's standard-bearer. His embrace of President Obama after Superstorm Sandy has been overshadowed by his acidic attacks against the administration's handling of national security.
His favorable/unfavorable rating in New Hampshire is now an encouraging 51/30, according to a recent Boston Globe/Suffolk University poll. His net favorables are a tick better than Jeb Bush and John Kasich, and are trending upwards. His campaign strategists, based on their polling, also believe he is much better-positioned than his establishment rivals to pick up Trump supporters. As my colleague Ronald Brownstein noted, Trump's base of support is strongest among noncollege secular Republicans—the so-called Reagan Democrats of years past. Those voters are prevalent in New Hampshire, and at least in the state, Christie's advisers argue that their support overlaps with Trump's base. "One candidate that can tap into what Trump is tapping into is Christie," said a senior adviser to the governor. "Christie has the same tell-it-like-it-is approach, and that's what these voters ultimately like."
That message is also translating organizationally in New Hampshire. The New Hampshire Union Leader offered Christie an early, glowing endorsement headlined: "For our safety, for our future: Chris Christie." While the paper's track record of picking winners isn't great, it's notable that the conservative editorial board picked a candidate perceived as too moderate. The paper holds a solid track record swaying uncommitted voters, and in such a crowded field, their backing carries more weight. In addition, Christie has been racking up support from pivotal New Hampshire insiders, an important indicator of voter backing down the road.
And as a governor, Christie has the opportunity to become the establishment alternative to a rising Rubio, whose biggest weakness is his lack of executive experience. Three governors have already dropped out of the race, undermining the early conventional wisdom but offering an opportunity for the most talented politician of those remaining. Christie is the most effective communicator of the remaining governors, and could capitalize on any establishment anxiety about nominating such a fresh-faced newcomer.
But despite the green shoots, there are still cautionary signs for Team Christie. Despite the governor's improving net favorables, he still lags badly in New Hampshire polling. He only won 4 percent of the vote in the Globe's survey, and just 11 percent when second-choice candidates were added. For a candidate depending on New Hampshire, he'll need to see improvement soon.
Christie is also dependent of the misfortunes of other candidates, especially Rubio. As long as Rubio looks like the donors' darling and most electable alternative to the grassroots favorites, Christie will struggle to get traction. Indeed, Christie's recent momentum has largely come at the expense of Jeb Bush, who originally looked like the governor with the resources and strategy to go the distance. Now he looks like Christie with less charisma and a problematic last name.
The biggest red flag for Christie: the ongoing investigation over his administration's handling of the George Washington Bridge lane closures. He has avoided the aggressive scrutiny that has burdened many of his rivals, but the issue isn't going away and, even if Republicans dismiss it, it will continue to raise questions about his electability in a general election. Meanwhile, his record back home is filled with vulnerabilities, from the state's lackluster economic growth to his rock-bottom approval ratings. Christie allies counter that it's a product of New Jersey's Democratic nature, but a central part of the governor's message is that he was able to win reelection with an unusually large coalition. That's far from the case now.
Still, it's striking that Christie has a pathway to victory when his campaign looked to be on life support not long ago. His political fortunes are akin to his hometown New York Giants—a real shot at making the (political) playoffs, but needing other campaigns to collapse. To prevail in New Hampshire, he'll need to win over support from the other executives—Bush, Kasich, and Carly Fiorina—while potentially peeling off some of Trump's widespread support. For everything to break his way is plausible, but a risky bet.
Usually, two candidates emerge from the political rubble of the Iowa caucuses and the New Hampshire primaries. This year, we could see four: Trump as the candidate of GOP populists, Cruz or Carson as the evangelicals' pick, Rubio as the early establishment favorite, and Christie as the establishment alternative eager to contrast his executive experience against first-term senators, a neurosurgeon, and a reality-show star.
"You're going to find four or five tickets coming out of New Hampshire—and I'm confident Christie will be one of them," said Christie backer Joel Maiola, who served as a chief of staff to former Sen. Judd Gregg. "Politics is all about timing. And his timing could not be better."