The Carson Campaign's Year-End Collapse
Two top aides resigned from the Republican candidate's team on Thursday, dealing the latest blow to a troubled effort.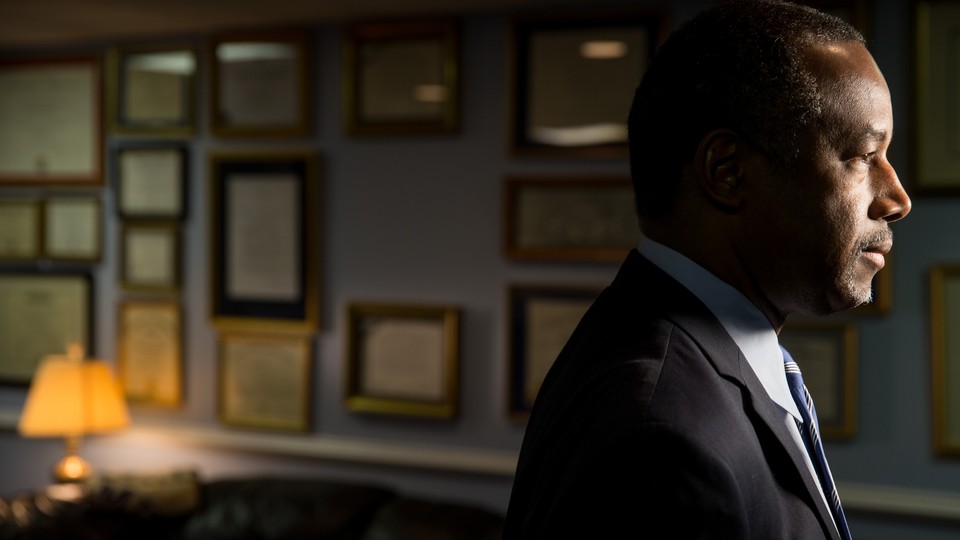 A doctor walks into the examination room and says to his patient, "I have good news and bad news. Which do you want first?"
The doctor is Ben Carson; the patient is his base of support. The good news is that Carson had another great fundraising quarter—hauling in $23 million in the last three months of the year, possibly the best of any Republican, although serious questions remain about the methods he used to raise the funds, and how he has spent them. Campaign manager Barry Bennett confirmed the figure to Politico, and spokesman Doug Watts to The New York Times.
Now, the bad news: Bennett and Watts both precipitously quit Thursday afternoon. That leaves Carson with a questionable fundraising apparatus, no campaign manager or communications chief, and polling that has been in a steady, inexorable decline since peaking around Halloween, putting Carson in fourth place in the battle for the Republican nomination after running second. Bennett and Watts reportedly resigned over tension with Armstrong Williams, a conservative figure and Carson svengali. Carson's campaign is in large part Williams's creation—he cultivated the doctor and convinced him to run for office—but Williams had no formal role on the campaign, and clashed with official aides.
The resignation comes after a tumultuous couple of weeks. First, The Wall Street Journal reported that Carson's burn rate—the amount of cash his campaign is spending, compared to what it's bringing in—remains high, even as it takes in huge sums. Carson, under pressure, said he'd shake up his campaign team. Then he changed his mind, telling the Times, "I have 100 percent confidence in my campaign team." Then he promised to get more aggressive. Then he again hinted at a shakeup.
That was apparently too much for Watts and Bennett. Jennifer Jacobs of the Des Moines Register broke the news:
BREAKING: Doug Watts in statement confirms: "Yes, Barry Bennett and I have resigned from the Carson campaign effective immediately."

— Jennifer Jacobs (@JenniferJJacobs) December 31, 2015
Sources tell me Carson's two top aides quit because of tensions with Armstrong Wiliams, a conservative radio personality advising Carson.

— Jennifer Jacobs (@JenniferJJacobs) December 31, 2015
Things got even weirder:
CHAOS: I am on phone w/ Armstrong Williams as he gets the news. Carson calling him on other phone. "Doctor? Doctor, wait a second. What?"

— Robert Costa (@costareports) December 31, 2015
This isn't the first time staff changes have roiled the Carson campaign. In June, turmoil seemed to imperil his campaign, but that rough patch was followed by his rise in the polls.
To understand Williams's role in Carson's rise, it helps to read Jason Zengerle's sketch of the man. He's inextricable from Carson, yet he often worked at cross-purposes to the campaign. Take, for example, a damaging story in The New York Times about Carson's failure to grasp basic elements of foreign policy. The Carson campaign accused the paper of taking advantage of the adviser, Duane Clarridge, "an elderly gentlemen." But the paper pointedly noted that it was Williams who had referred Clarridge to a reporter. (Williams has not replied to a request for comment.)
The loss of Bennett and Watts doesn't just come at a terrible time for the Carson campaign—the candidate's numbers are dropping, and the Iowa caucuses are just 32 days away. It also strips Carson of some of the few advisers he has with real, deep political experience. Watts worked on the Reagan-Bush campaign in 1984. Bennett came to Carson from Senator Rob Portman, the moderate Republican senator from Ohio. He was thought to give real oomph to a campaign badly in need of it—with a staff of inexperienced workers, and a candidate who had a compelling biography and an easy connection with many voters, but no experience in politics or policy to draw on.
One thing to watch is whether the two departures clear the way for a return by Terry Giles, an early Carson confidant and backer who was shunted out of the way during the fall.
Even with Watts and Bennett aboard, Carson was running an unorthodox campaign, viewed by many political sages as hopeless. The campaign wasn't seeking any endorsements, and relies heavily on small-dollar donations. He hasn't invested much in TV advertising, either.
"We have a more innovative approach here," Watts told me in October. "We're using modern tools that allow us to do things more efficiently .… What they're talking about is a traditional campaign. It's only been gone for a couple of years, but it's long gone. Putting all your money into TV just doesn't cut it."
For better or worse, Bennett and Watts' departures leave in place Carson's fundraising apparatus, which I noted in October is heavily reliant on pricey telemarketing and direct-mail tactics. The knock on the campaign is that it's designed to make a lot of money for vendors, many of whom are tied to campaign staffers, and perhaps for Carson. Without experienced operatives atop the effort, donations to the Carson campaign will look like an even worse investment.