The Biggest Health Care Winners in the Tax and Omnibus Deal
The package includes funding for NIH and 9/11 responders, and it delays the "Cadillac tax" on pricey health plans.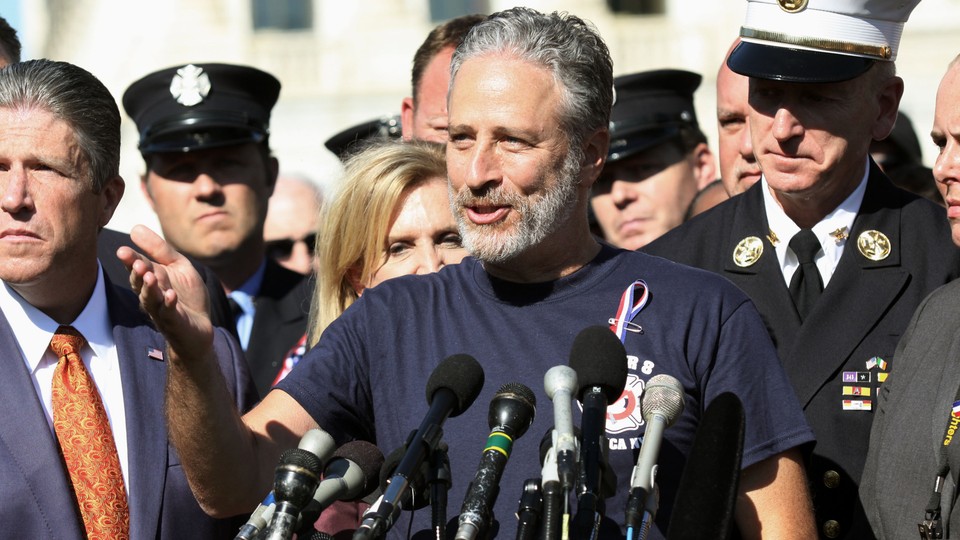 The $1.1 trillion spending bill and tax-extenders package unveiled Tuesday and early Wednesday morning is the finale to weeks of lobbying and speculation on a host of issues—particularly health care. There are some big winners in the yearend bills, including 9/11 first-responders and survivors, "Cadillac tax" opponents, and possibly Sen. Marco Rubio. Here's a closer look:
Zadroga Act
The omnibus funds the program providing health benefits for 9/11 first-responders and survivors sickened by toxic air at the attack site through 2090. Also, it reauthorizes the Victim Compensation Fund for five years.
Renewing the legislation, known as the Zadroga Act, was the center of a massive lobbying effort involving, for one group, at least 22 trips to Washington (with crews of anywhere from 12 to 50 people) and an estimated 600 meetings for John Feal, pres­id­ent and founder of the 9/11 ad­vocacy group Feal­Good Found­a­tion. It'd been the subject of rallies, press conferences, and a segment on The Daily Show, featuring a powerful advocate for the bill, Jon Stewart.
"We've met with some mem­bers of the Sen­ate and Con­gress four, five, six times," Feal told National Journal after a press conference last week. "Every time we got close, they move the goal­post back on us. Every time we got to the one-yard line, they just kept mov­ing it back, and this time they can't go nowhere. We're con­fid­ent we're go­ing to get it done." Feal was right.
Obamacare taxes
Repealing the Cadillac tax levied on pricey employer-sponsored health coverage has netted bipartisan and bicameral support—and lawmakers looking to include a two-year delay of the Cadillac tax in an omnibus bill got their wish.
Originally slated to start in 2018, the Cadillac tax has seen both Democrats and Republicans opposing the measure. For example, an amendment to repeal the tax easily passed the Senate in a 90-to-10 vote earlier this month (though it was tacked onto a reconciliation bill, which Obama won't sign). But as recently as last Wednesday, White House Press Secretary Josh Earnest said the administration strongly opposes repealing the Cadillac tax.
Sen. Mark Warner's worries on the Cadillac tax focus on making sure the financing remains to support the pricey parts of the law, such as Medicaid expansion. "In a state like mine, where we haven't ex­pan­ded Medi­caid, … you give a lot of fod­der if you start tak­ing away the pay-fors," the Virginia Democrat told National Journal earlier this month.
Additionally, the tax-extenders deal includes a two-year moratorium on the medical-device tax, and the omnibus contains a one-year moratorium on the annual excise tax on health insurers for 2017.
Risk corridors
The risk-corridor program will again be handicapped if the omnibus passes and is signed into law as stands, as a provision stuck in last year's bill was again included.
Risk corridors compensate insurance companies that sign up sicker patients than they anticipated and, in turn, are faced with hefty costs. In part, this is because the Affordable Care Act contains pricing restrictions—such as banning insurers from charging more based on a consumer's medical history. So some companies are required to pay into the risk-corridors program, and others can collect.
Republicans view this as a bailout for insurance companies. Last year's cromnibus contained restrictions for the program, which is slated to last until 2016. And in October, the Centers for Medicare and Medicaid Services announced it would be doling out only a fraction of what insurance companies asked for: $362 million of the $2.87 billion in insurance claims.
Sen. Marco Rubio's campaign is touting last year's risk corridors restrictions as a Rubio victory. A tweet last week from Rubio's account read: "Everyone running wants to dismantle Obamacare. I've actually done something toward achieving that goal," linking to a post on his site with a New York Times story titled, "Marco Rubio Quietly Undermines Affordable Care Act."
But an Associated Press story has a different take. It looks at last year's cromnibus negotiations, saying that although Rubio was one of the first lawmakers to rail against risk corridors, he wasn't solely or necessarily the one responsible for last year's deal.
A summary of the omnibus bill praises last year's bill for being "able to save over $2.5 billion from potentially being transferred out of priority discretionary HHS programs funding in the Labor/HHS appropriations bill to bailout the Risk Corridor program established by the Affordable Care Act."
National Institutes of Health
The nation's medical-research agency could see the largest boost in funding since fiscal 2003 with the inclusion of a $2 billion increase in funds.
While funding NIH isn't generally contentious, how much the agency receives comes down to Congress's priorities. Over the course of five years, Congress doubled NIH's funding to $27.1 billion in fiscal year 2003, according to the Congressional Research Service. But funding hasn't increased at the same pace since, and some Democrats and Republicans alike had called for that to change, a call that was answered in the omnibus bill with NIH slated to receive $32 billion.