The Bid to Delay Obamacare's Cadillac Tax Is Stalling
A repeal of the health care tax is unlikely to appear in a tax-extenders package currently being negotiated.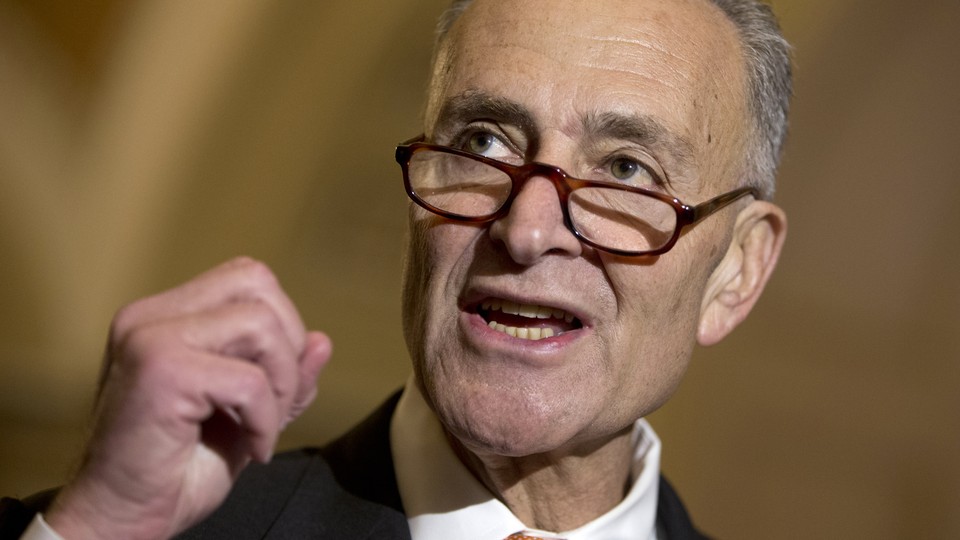 As Congress works to negotiate a tax-extender package deal, one of the many ideas in the mix has been to include a delay of Obamacare's Cadillac tax, which has drawn the ire of both lobbyists and lawmakers. But even if a final deal gets struck, the Cadillac-tax delay is increasingly unlikely to be included.
Although at some point there was talk of trading a delay of the Cadillac tax, in theory favored by Democrats, for a delay of the law's medical-device tax, which Republicans want, any action on the health care law's taxes is looking increasingly unlikely to happen. Opposition to delaying (or repealing) the Cadillac tax in both parties is, in part, to blame.
On Wednesday, Senate Finance Committee Democrats met to discuss negotiations, and several senators voiced concerns with delaying the implementation of the taxes, particularly the Cadillac tax.
"I think it would be a mistake to do this," Sen. Thomas Carper said in an interview. "It would put us on a slippery slope to dramatically undermine the ability to pay for the Affordable Care Act. For people who want to undermine the Affordable Care Act, this is a good way to get started."
Even Democrats who favor getting rid of the tax are unsure whether the move will make its way into a tax-extenders deal.
"I think we have to do something about the Cadillac tax. It's falling on too many middle-class people, and we have to do something," said Sen. Chuck Schumer, the No. 3 Democrat in the upper chamber and a member of the Finance Committee. Including a delay of the tax in a tax-extenders package, he said, would "be fine by me."
But when asked whether he was optimistic about a delay of the tax getting done, he had a short reply: "Don't know."
And although Republicans generally oppose repealing the medical-device tax, the Senate's No. 2 Republican said the Cadillac tax is too important a negotiating chip against the health care law to throw away without serious consideration.
"I don't think the Cadillac tax is going to be part of any of this end-of-the-year negotiation. I think, frankly, it's pretty good leverage to do some more systemic reforms for the Affordable Care Act," Majority Whip John Cornyn told reporters. "It's too valuable to be trading off for other smaller, less valuable items here at the end of the year."
The Cadillac tax is a 40 percent excise tax on employer-sponsored health benefits that go above a certain limit. Although it doesn't kick in until 2018, lobbyists say the tax burden is already being shifted to workers, and not just those with exceptionally generous health plans.
Opposition to the tax has come from both parties in both the House and the Senate, although two separate bills repealing it have been introduced in each chamber, and cosponsors fall largely along party lines. Leading the charge in the upper chamber are Republican Sen. Dean Heller and Democratic Sen. Sherrod Brown, both members of the Finance Committee and both heading a different bill. Although neither party has put forth a way to pay for the repeal, Democrats say that a repeal would need to be offset.
But any talk of trading health care taxes in the tax-extenders package may also become less relevant as negotiations over the extenders themselves go south.
"I think everything is in the mix, but the last word I heard was, outside of the two-year extension on what's already been voted on, everything else looks like it's dead," said Sen. Richard Burr in an interview. He said he would have been interested in trading the medical-device tax for the Cadillac tax, and "that's what talk was about, but I don't think it worked out."
Sen. Orrin Hatch, chairman of the Finance Committee, declined to comment on the content of the ongoing negotiations, but said he remains optimistic: "Don't count us out," he said.
Brown also remains confident that a Cadillac-tax delay will be included in the final tax-extenders package, according to a Brown aide.
The Cadillac tax was included in Obamacare to help pay for the law, but also as a way to deal with the employer-sponsored-coverage tax exclusion. It also was supposed to help control rising health care costs.
Thus, economists are among the tax's handful of supporters, which Carper gave as a reason for his concern.
"The idea of forever providing tax-free health care benefits, regardless of the cost of the benefits—that doesn't slow down the growth of health care costs," he said. "[Economists] all agreed at some point in time there has to be a limit above which it becomes taxable income."
Sen. Mark Warner, a Virginia Democrat, said his concern centers around ensuring that financing remains to support the law's costly components, including Medicaid expansion, which Virginia has not accepted.
"In a state like mine where we haven't expanded Medicaid ... you give a lot of fodder if you start taking away the pay-fors," he said.
And Democratic Sen. Bill Nelson expressed a similar concern.
"My position on it is not for it to be delayed unless it's part of an overall package that makes sense," Nelson said. "For those who are using this just as a means to undermine the ACA, obviously I'm not going to be in favor of that."