Texas Tweaks Its Anti-Refugee Lawsuit, But It's Still a Long Shot
The state is suing the Obama administration and a local non-profit group, but legal experts say the bid is unlikely to make a difference.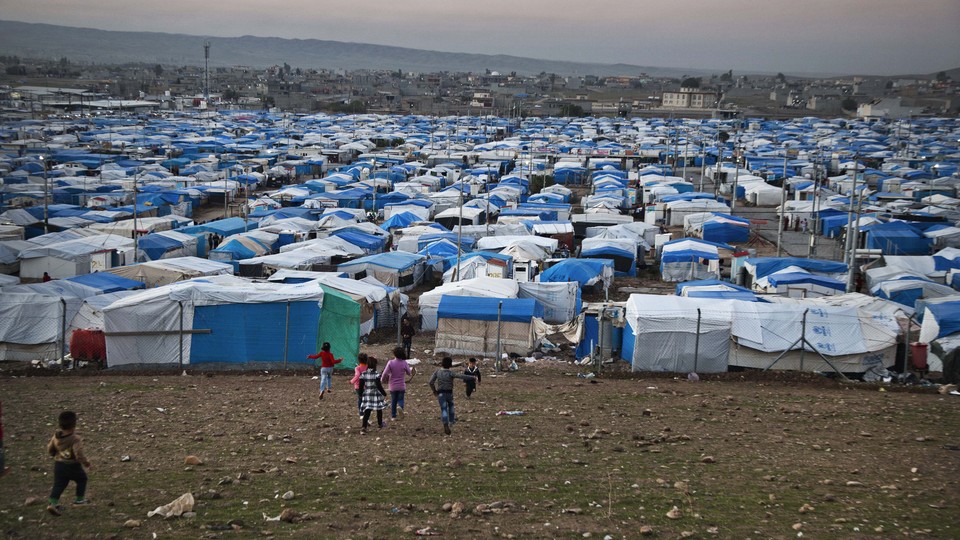 Texas slightly softened its stance Friday in a lawsuit that aims to block Syrian refugees from settling in the state, but legal experts say the challenge is still a long shot.
Texas is one of several states that don't want Syrian refugees to settle within their borders, but the only one to take its case to court. The state filed a suit earlier this week arguing that the Obama administration had not adequately consult with state officials before making plans to help six Syrian refugees settle in Dallas.
Lawyers for the state backed down slightly on Friday, dropping a section of their lawsuit aimed specifically at family of refugees slated to arrive next week. But the state is still asking the courts to block additional refugees — and legal experts say that will be an uphill battle.
"The state's desire to prevent refugees from settling here is pretty clearly unconstitutional -- violating the right to travel (or migrate) from state to state," said Jason Steed, a Dallas-based attorney with the firm Bell Nunnally who has offered free legal aid to Syrian refugees "facing adverse action from the State of Texas."
In its complaint, Texas cited a section of the federal Refugee Act of 1980 that says the federal government "shall consult regularly (not less often than quarterly) with State and local governments and private nonprofit voluntary agencies concerning the sponsorship process and the intended distribution of refugees among the States and localities before their placement in those States and localities."
The state claims it never received such a consultation about President Obama's plan to accept an influx of Syrian refugees, and therefore can't be sure that it will be able to protect its residents from possible terrorists.
However, the state's complaint says it did receive advance notice that six refugees were headed to Texas, at least from the International Rescue Committee.
And in a reply brief filed Friday, the Justice Department said it had provided all the information it needed to. The Refugee Act only requires consultation about the broad strokes of refugee policy, and the government provided its usual quarterly update about how many people were likely headed to each state, and where they were coming from.
The law doesn't require the kind of detailed briefing about individual refugees, as Texas demanded, the brief says.
"It's not even clear what, as a matter of law, Texas is complaining about here," ThinkProgress legal blogger Ian Millhiser wrote.
Furthermore, Steed and Millhiser said, that section of the Refugee Act comes from its preamble, which lays out Congress' goals in passing the statute. It's not included in the section that lays out the government's technical responsibilities.
And it's also not clear that Texas would have a right to sue if it were not consulted over a refugee's settlement, or that the appropriate remedy would be to halt refugees' settlements.
"Under our Constitutional structure, States may not interfere with the Federal Government's execution of the immigration laws or its ordering of immigration priorities," the Justice Department wrote in its brief Friday.
The federal government controls immigration policy, and refugees are inside the United States legally — which means they should have the same right as any other legal resident to travel within the country, legal experts say.
"There's also an obvious equal-protection problem, targeting a certain group for different treatment based on nationality," Steed said.