Texas Showdown Will Test Green's Hispanic Support
The white, 12-term Democrat hasn't faced a tough primary in this Hispanic-majority district in two decades.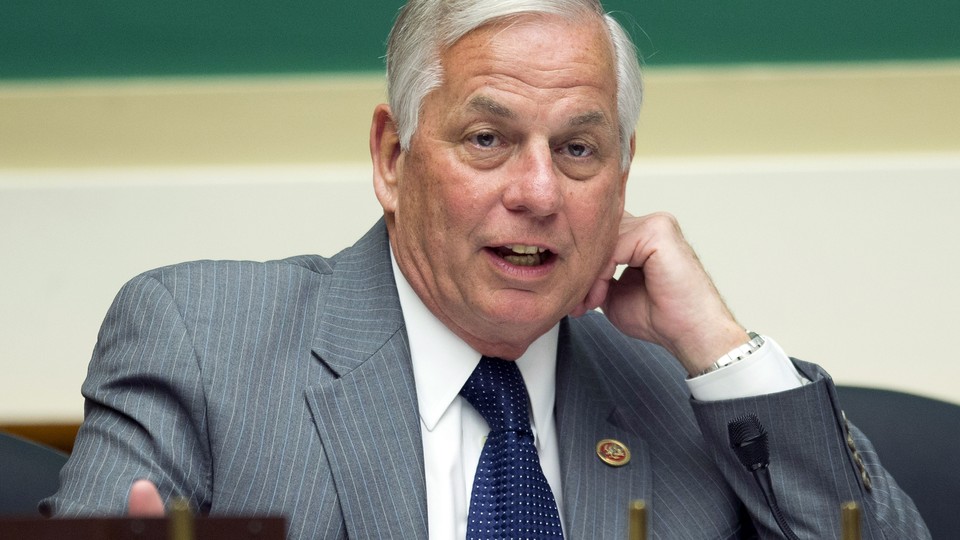 Latinos' fight for greater representation in Congress is coming to Houston in a race pitting two close friends against each other.
Rep. Gene Green faces a Democratic primary challenge from former Harris County Sheriff Adrian Garcia, a longtime ally who is testing whether voters in the majority-Hispanic district will trade in a popular incumbent for one of their own.
Houston remains the most Hispanic major city without a Latino representative in Congress, and this race will decide whether that will change.
"If you are looking at congressional seats in terms of where Hispanics can be elected to Congress, this is as good a seat as any," said Oscar Ramirez, one of the Democratic Party's top Latino donors. "From that perspective, it is a missed opportunity if Adrian doesn't win."
A potential challenge from a Hispanic candidate has long lingered for Green, a 12-term, white Democrat whose district is three-quarters Hispanic. The district was drawn in 1991 to elect a Latino, but Green has faced little significant primary opposition since winning a hard-fought primary against a Hispanic candidate in 1992.
Garcia's bid, which comes on the heels of his third-place finish in the Houston mayoral race, signals a recognition of the growing electoral power of the Latino vote. But it also highlights the difficulty Hispanics have had converting population gains into political power: Latinos account for about 17 percent of the U.S. population but hold just 7 percent of the seats in Congress.
"It was designed to be a Hispanic-opportunity district," Garcia said in an interview. "And I am simply exercising my right to that opportunity."
For Garcia, securing resources is critical to countering Green, who already has nearly $1.2 million in the bank. But another barrier is overcoming an opponent with a positive record on Latino issues.
That has kept potential opponents on the sideline for two decades—until Garcia's challenge.
"It's a concerning obstacle," Green said in an interview. "But if most people thought I could be beat, they probably would have tried by now."
Over the years, Green has shrewdly forged ties with the Hispanic community, hiring many well-known Latinos and building personal relationships with them. On Tuesday, seven Hispanic elected officials in Houston will publicly endorse Green, including two state senators and four state House members.
"Gene has been extremely loyal to the Latino community," said one of those endorsers, state Rep. Carol Alvarado, who is a former staffer in Green's Capitol Hill office. "He spends probably every moment when he's in Houston in the district with his constituents."
Green's last close primary came after his first term, when he defeated Ben Reyes in a rematch of the 1992 open-seat primary. Last week, The Texas Tribune reported that José Borjon, a top adviser to Democratic Rep. Filemon Vela, is working for Green, a sign that Green's camp views the Garcia bid seriously.
Green is also close to many members of the Congressional Hispanic Caucus and regularly attends the group's events. The CHC's fundraising arm, BOLD PAC, could play in the race. Spokesman Paul Kincaid said the group looks at all districts with large Hispanic populations or where a member has advocated for Latino issues—a position that leaves the door open to a Green endorsement.
Some Democrats say a presidential-election year with higher turnout could hold more promise for a Hispanic candidate. And some Latino groups are already talking up Garcia's bid, eager to elect a representative who matches the district demographics. In the mayoral race, Garcia proved his fundraising mettle, raising more than $2.5 million in six months.
"We have a leader in Adrian, with a proven track record, who is admired in the community and reflects the community's values," said Cristóbal Alex, pres­id­ent of the Latino Vic­tory Pro­ject, whose endorsement could lead to ground support for Garcia. "We are extremely excited about that race."
Green supported Garcia when he ran for city council, sheriff, and then for mayor—a race in which Garcia earned 17 percent of the November vote in a 13-candidate field, missing the runoff. Garcia, a one-time presumptive front-runner in that race, came under attacks for his alleged mishandling of cases of inmate abuse at the Harris County Jail, which he led as sheriff.
"The district still has challenges with individuals who have a lack of access to mental-health care," Garcia said, emphasizing that criminal-justice issues are part of his bid. Garcia also said real estate mogul Donald Trump's controversial comments on Hispanics are a chief reason for his campaign.
In San Antonio, another Hispanic-heavy city in Texas, Hispanic candidates haven't fared well recently. In the San Antonio mayor's race this year, for example, voters elec­ted their first black may­or, Ivy Taylor, over Leti­cia Van de Putte. Last year, Rep. Will Hurd, a black Republican, defeated former Rep. Pete Gallego, a Hispanic Democrat, in a district that stretches from San Antonio to El Paso.
In Green's 29th District, where the incumbent's name recognition and Garcia's Latino background will be assets, observers said neither should bank on those advantages.
"I wouldn't want Gene Green to take his reelection for granted because he's an incumbent," said Arturo Vargas, the executive director of the National Association of Latino Elected and Appointed Officials, which is staying neutral in the race. "And I wouldn't want Adrian Garcia thinking Latinos are automatically going to vote for him because he's Latino."