Ted Cruz's Plan for Toppling Donald Trump in South Carolina? Divine Intervention
The two are close now, but they're both looking to win the primary, and Cruz is hoping religious voters will help him do it.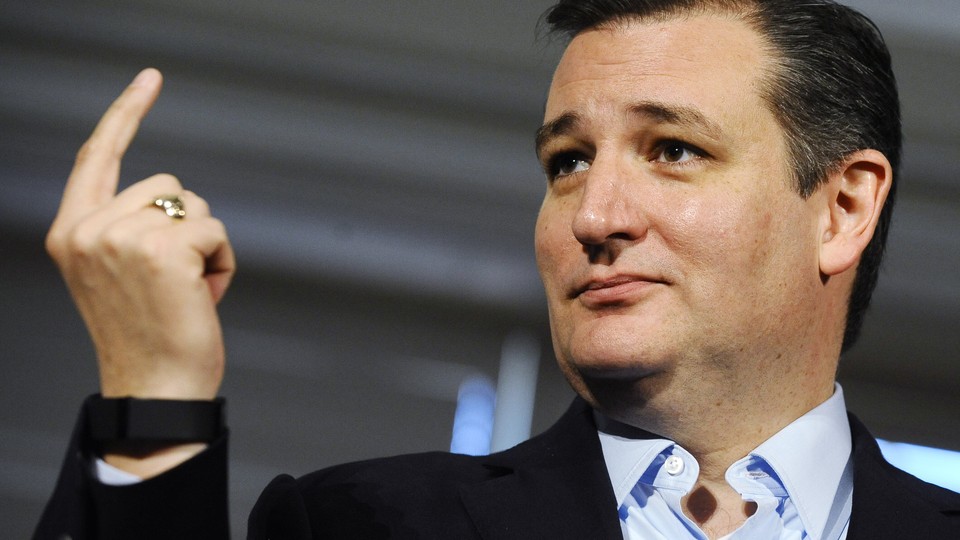 GREENVILLE, South Carolina—On my way out of town, I hear an old joke about how you can tell where you are in South Carolina by the questions asked: "If you're from the Upstate, it's, 'What church do you go to?,'" explained Thomas Hanson, a local conservative journalist and part-time Uber driver. "In the midsection—near Columbia—it's, 'Where do you work?' And in Charleston, it's, 'What's your drink?'"
Ted Cruz's hopes for winning South Carolina's Republican presidential primary rest on voters taking that first question with them when they head to the voting booth in February.
South Carolina's primary is pivotal for Cruz. It follows the caucuses in Iowa, where he has recently surged on the backs of evangelicals, and the first-in-the-nation New Hampshire primary, where he can't rely on the same constituency. For Cruz, the South's first primary could reaffirm early support or provide a needed boost just 10 days before the critical seven-state "SEC primary" where he hopes to build his so-called "firewall."
"Obviously, if you do well in South Carolina and then you go into that tranche of Southern states, that's a positive thing," said Dan Tripp, who helms a pro-Cruz Super PAC in the state. "It helps with fundraising. It helps build excitement among your supporters. … It's a springboard. It's the Big Mo—the big momentum."
Standing in the way of Cruz is Donald Trump, whose campaign drives nearly every news cycle. Trump has dominated the early-state polls—one conducted by CBS in late November showed him with a 16-point lead among likely primary voters. So far, Cruz's strategy has been to refrain from criticizing Trump in the hope that Trump will eventually fade and the senator from Texas can inherit his supporters.
But if he's going to overtake Trump, at some point Cruz has to set himself apart—and that's where God comes in. South Carolina, particularly in its northern stretch, has a large population of Christians (many of them evangelical), and Cruz is working fervently to get them to turn out for him on Feb. 20. LaDonna Ryggs, Cruz's South Carolina campaign chief, is a key political operative there as the former chairman of the Spartanburg County GOP.
On Monday, Cruz again and again made the Christian connection at a town hall hosted by Furman University, which this time of year plays "Santa Claus Is Coming To Town" in its Barnes and Noble gift shop, which sells on a fake Christmas tree $12.98 Santa Claus ornaments in the school's colors of purple and white.
Responding to questions from fellow Sen. Tim Scott and Rep. Trey Gowdy for about 90 minutes before approximately 350 people, Cruz referenced Scripture regularly—"You shall know the truth and the truth will set you free." He spoke of a center-right country built on Judeo-Christian values. He praised the "powerful Christian testimony" of those who forgave the man who killed nine people in Charleston's Emanuel church in June—and charged that President Obama had tried to use the tragedy for his own gain, tearing the country apart.
He joked that Scott "is really a pastor hiding in the Senate" and when Scott interjected—"but please keep me in the Senate, thank you very much"—Cruz replied, "Jesus told us you don't send a physician to the healthy, you send him to the sick."
After it was over, his supporters repeatedly cited Cruz's faith as a major reason why they supported him: "He stands for Christian values," said Rufus Smith, an elderly Marine Corps veteran, before turning to the subject of Cruz's father, Rafael, an evangelical pastor. "I was decided when I first heard his daddy speak—that was up in North Carolina [6-8 months ago]. I figured if he was one-tenth of his dad, we've got one hell of a president."
Gary Abbe, 61, thumped his chest when describing why Cruz is stealing his heart from Trump and Ben Carson, another antiestablishment candidate who has appealed to the evangelical base. "I would probably say because of Ted Cruz's godliness," he said. "He's not afraid to talk about spiritual things. In my belief system we are a spirit. We have a soul, our mind, our will, and our emotions, and we live in this thing called our body … It has to be a higher power and you have to have that connection with what I think is God. And if you don't, then it's just man's ego, man's 'look at what I did.'"
Many at the rally questioned whether Trump could match Cruz's devotion. Jim Hargett said he believed a President Cruz would get down on his knees and pray each morning in the White House. But Trump, Hargett said, "struggled as to when he may have been actually a true believer in God—and saved, as we call it, through Jesus Christ."
"It's hard to refocus on somebody that doesn't make as much of a presentation about his faith," he added.
Cruz's campaign confirms that the religious outreach is no accident: "We are making a concerted effort to reach out to people of faith [because] Cruz's convictions and policies resonate among these voters," says Catherine Frazier, a campaign spokeswoman.
The Furman rally wasn't the first such event for Cruz in South Carolina. Last month, he not only held the religious-liberty rally in Greenville, but also trekked to the Florence Baptist Temple, where about 1,500 people attended, according to the campaign.
Indeed, Cruz seems to have an easier route to unifying religious voters behind him than he did at the primary's start. After the fall of Scott Walker, Rick Perry, and Bobby Jindal—and the floundering of others such as Mike Huckabee and Rick Santorum—Cruz's campaign could coalesce the Religious Right. The latest polls show him surging with heavy evangelical support in Iowa, as he's on the way to all 99 counties.
But whether that will be enough to boost him to victory in South Carolina (and beyond) will also depend on a host of other factors, including how Cruz handles his campaign in the months to come.
And it's not just Trump that Cruz has to worry about: The race in the state has crystallized into a top four of Trump, neurosurgeon Ben Carson, Sen. Marco Rubio, and Cruz, according to the state GOP chairman, Matt Moore, with the senators on the upswing.
Many GOP voters in the state haven't made up their mind, the candidates must deal with a crucial mid-February South Carolina debate, and Gov. Nikki Haley and Scott have yet to endorse a candidate. There's also Sen. Lindsey Graham of South Carolina, who is running for president himself but is a virtual nonfactor in national polls. Graham has long feuded with Cruz and his ilk over differences on how to run the Senate, and he is pulling no punches on the campaign trail.
He told National Journal that Cruz and Trump are "completely unelectable," calling Trump a "disaster" and Cruz "one of the most bellicose voices" on immigration, an issue on which upstate South Carolina is more likely to agree with Cruz than with Graham, who favors a pathway to citizenship for immigrants who come to the country illegally. Graham also referred to Cruz's positions on abortion, saying, "It'd be a pretty hard sell for the nominee of the Republican Party to not have an exception for rape or incest," and ripped Cruz's failed effort to defund Obamacare in the government-shutdown battle two years ago.
"I think he wants to shut the government down every week for some different reason; I'm not so sure that's what we're looking for," said Graham. "I don't see a guy bringing us together who calls his own majority leader a liar. So that may play well in certain corners of the Republican Party, but I don't think that gets you to the promised land of winning an election."
Likewise, it remains unclear whether Trump and Cruz—neither known for excessive civility—will keep playing nice should they emerge as South Carolina's top two contenders.
On Monday, when other candidates slammed Trump's call for a ban on Muslims entering the U.S., Cruz was less hostile, but he did make a clear break from Trump's policy. "That is not my policy," Cruz told NBC, adding, "I believe the focus should focus on radical Islamic terrorism."
And in South Carolina, which has a long history of nasty primaries—the brutal struggle between John McCain and George W. Bush in 2000 being among the most notorious—many anticipate a colossal struggle.
"It's why we love politics in South Carolina—because it's going to get rough and tumble," said veteran South Carolina Republican strategist Katon Dawson. "As soon as you get through singing 'Auld Lang Syne,' I think you can watch it come pouring down the street in South Carolina."