Ted Cruz Plays The Victim Card As A Climate 'Heretic'
Presidential contender uses hearing to promote climate skepticism.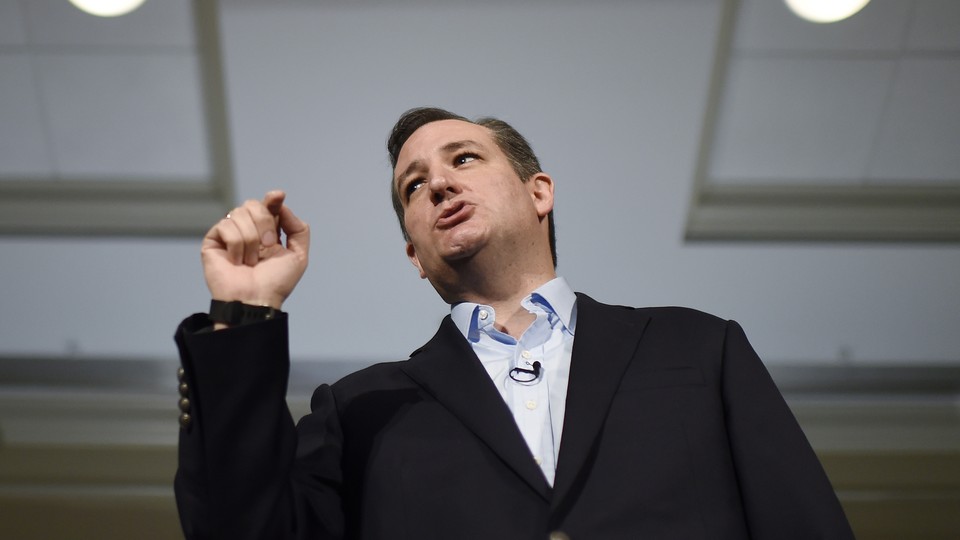 Backed by a panel of scientists and authors who question the mainstream consensus on climate change, presidential candidate Ted Cruz sought to use his perch atop a Senate subcommittee to tout his own climate denial credentials Tuesday.
At a hearing of the Senate Commerce Committee's subcommittee on Space, Science and Competitiveness, the Texas Republican repeatedly railed against climate change "alarmists" that he said are embracing an unproven science. Comparing himself to a persecuted "heretic" like Galileo, Cruz charged that he was fighting against a "dogma" that had squelched scientific debate.
"I believe that public policy should follow the actual science and the actual data and evidence, and not political and partisan claims that run contrary to the science and data and analysis," Cruz said.
Democrats, however, said Cruz was simply standing in the way of action on climate change. Commerce Committee ranking member Bill Nelson of Florida held up pictures of flooding in his home state and said that action was necessary now to stop future damage. Nelson added that it was "ironic" to talk about skeptics not getting a voice, when in his own home state, Republican governor Rick Scott had put the kibosh on state scientists even using the words "climate change."
And subcommittee ranking member Gary Peters of Michigan said that "knowing that there's more to learn shouldn't stop us from acting on what we know now."
The three scientists called by Cruz are well-known climate skeptics, not unfamiliar to Capitol Hill hearings. Presenting data and questioning government reports, the panel also discussed what they said has been a freeze-out of any skepticism. Judith Curry, a Georgia Institute of Technology professor, said there's been a "chilling effect" on her own research and that she no longer applies for government grants because she thinks they won't get funded.
The vast majority of scientists agree that climate change is real and is caused by manmade causes, although the Republican party has made skepticism a staple of its recent work.
Cruz denies that global warming is happening or that man has played a role and has made his "full-out denial" a key point in his presidential campaign, accusing Democrats of lying about climate science to promote a regulatory agenda. According to an Associated Press review of the 2016 candidates, Cruz had the lowest understanding of climate change science.
It's not the first time Cruz has used his Senate post to pound the climate agenda. He hosted an October hearing in the Judiciary subcommittee on oversight on the threat of overregulation to minority communities, which included discussion of climate change policy.
Democrats were primed to attack Cruz -- several members of the subcommittee held a press conference hours before the hearing even began to condemn the chairman's approach and call for action on climate change.
During the hearing, however, Democrats appeared to have little interest in the witnesses Cruz had called, instead using their time to talk about the importance of getting a climate change agreement at the ongoing United Nations talks in Paris. "The only thing that needs a serious investigation is why we are holding this hearing in the first place," said Sen. Ed Markey, a Massachusetts Democrat.
Most questions were sent to the sole Democratic witness, rear admiral David Titley, a Pennsylvania State University professor who has worked on the national security implications of climate change.
However, author Mark Steyn and Curry challenged Markey after his question time had expired for not giving them time to respond, launching a spirited back-and-forth about what data sets and studies were reliable for studying climate change.
Despite the hearing coming as Cruz is rising in the GOP polls, he kept explicit presidential campaigning out of the chamber and instead focused on promoting climate skepticism. He even said that he took Democrats' criticism as a "backhanded compliment."
"What does it say when members of the United States Senate are protesting, how dare the science subcommittee in the US Senate hear testimony from scientists about actual science. How dare we focus on such topics?" he said. "I think that is indeed exactly what we were elected to do."
Still, critics were quick to paint the hearing as a political tool. Hillary Clinton campaign chairman John Podesta said in a statement that Cruz "may be the latest candidate to use his office to stoke doubts about climate change, but virtually all the Republicans running for president share his commitment to denial and defeatism about America's capacity to lead the world in confronting this challenge."
And a Greenpeace protester was even escorted out of the room shortly before the hearing started after he approached the witness table to confront Princeton University professor William Happer.
Another of Cruz's presidential opponents, Marco Rubio, is on the subcommittee but was absent from the hearing.
One of the most-talked about witnesses was one that wasn't even in attendance. Cruz said that he had invited Sierra Club president Aaron Mair after Mair appeared in his Judiciary hearing and did not answer questions about global warming to Cruz's satisfaction. Cruz mentioned Mair's absence several times -- even putting up a nameplate for him -- and said the Sierra Club's "refusal to engage in even the discussion of the science should speak volumes."
In a statement, Sierra Club legislative director Melinda Pierce said that Mair just returned home from the Paris talks—"critical negotiations at which Ted Cruz's absurd conspiracy theories would be summarily dismissed, a problem he faces any place where serious discussions are happening to solve real issues."