Stumbling Toward Greatness: One Young Black Man's Story at an Elite University
Tai'Lon Jackson left his neighborhood in D.C. with a full ride to George Washington University, then life got complicated.
On a spring day last year, Tai'Lon Jackson, then a Ballou High School senior, struggled to feign excitement for a surprise pep rally. Though he was in the band, often leading a cheering crowd, that day Jackson was depressed. Earlier that school year he had trounced a cheerleader in the race for senior class president. He was on the chess club, the poetry club, and the marching band. He had a 4.2 GPA. But he had not heard from any of the colleges he'd applied to.
Jackson never believed he was the smartest kid at Ballou. He did believe, however, he'd worked the hardest. As a child, he and his mom would stand on the balcony of their red-brick apartment complex and gaze at stars through binoculars because they couldn't afford a telescope. Each morning, as he and his younger brother left for school, his mom's voice echoed into the concrete stairwell:
"What are you?!"
They'd begrudgingly respond, "Leaders. Not followers!"
As the band marched that day in the gym to the clackety-clack of drums and blowing horns, an older white man stepped to the lectern. "That's weird," Jackson thought. "Why's the George Washington University mascot beside him?"
"Wait," Jackson thought as the band stopped playing, his trombone still in hand. "I applied for a scholarship to George Washington."
The man's voice boomed over the mic. "It is my pleasure, my honor," George Washington University President Steven Knapp said from the lectern, "to announce the recipient of the Stephen Joel Trachtenberg scholarship: Mr. Tai'Lon Jackson!"
Jackson's right leg folded as he broke line with the band and stumbled forward. After local news broadcast that Jackson would receive a full ride to George Washington, a woman in Jackson's building sobbed in front of her TV. He wasn't her child, but hope visited here so rarely.
The Washington, D.C. area where Jackson grew up was labeled one of America's most violent neighborhoods last year. Murder, rape, robbery, and a 1-in-14 chance of being a victim, all just a 10-minute walk from Ballou. It was crime that frequently spilled into the school; in 2014, two Ballou students and one former student were shot at a bus stop across the street. In January, a 17-year-old student was shot and killed after leaving a basketball game. Ballou is 98 percent black, and 99 percent of students take free and reduced lunches, a measurement of poverty. Jackson's mother, Hellina Jackson, a woman so cheerful you'd think she'd never wanted for anything in life, became a neighborhood celebrity. Mother of the genius, they called her. And as D.C. schools erected a new Ballou High School that summer—one that looks more like a mall with a glass facade—it included a painting of Jackson in the lobby. He hangs there in a navy blue band uniform and a smile, black strokes of teenage whiskers, a reminder to students who pass below: That's Tai'Lon Jackson. He did it. Anything is possible.
D.C. Public Schools lists Ballou as a "priority school," meaning it needs "intense support to address overall low student performance." Until the renovations last year, the old building was "falling down around us," said former teacher Alli Baugher. One classroom, Baugher said, had a squirrel's nest in the ceiling; teachers had to buy their own copy paper; they jammed old books under doors because the school didn't supply doorstops, and after years of using a dirty chalkboard, Baugher paid $20 for a shower board that she duct-taped to the wall to double as a whiteboard.
"I remember taking one of my students to a meeting for an organization in D.C., a leadership program at School Without Walls [a magnet high school near George Washington], and it hit him hard," Baugher said, "in the sense that he didn't know how disadvantaged he was. He thought that his experience at Ballou was what was being offered in D.C."
Fights in the hallways and cafeteria were common at Ballou. Even in Advanced Placement classes, a teacher might be dealing with 30 students who ranged from an 11th-grade reading level down to a 5th-grade reading level. Teachers burned out quickly. Those who stuck around eventually brittled to hope and sometimes kicked their feet up on the desk to read the paper during class. After seven years at Ballou—considered a veteran—Baugher quit last January after a series of panic attacks sent her to the ER.
It can't all be blamed on the school system, though, Baugher said. These kids grow up where unreliability is normal, so they learn to depend on themselves. "The most successful students at Ballou are the ones who are incredibly resilient and are doing things on their own, so there's this mind-set that I'm going to make it, and I'm going to make it on my own."
In the fall, Jackson moved into a dorm at George Washington, a private school where students dress like they're headed to a summer internship at dad's law firm; where more than once, Jackson would overhear students remark, "Oh my God, there are so many black people in D.C."
More students of color graduate high school and enroll in college than ever before. From 1996 to 2012, the number of Black students enrolled in college nearly doubled, headed toward equal rates with Whites. But what hasn't changed over that time is the percentage of Black students who graduate. Nationally, about 62 percent of White students earn a bachelor's degree within six years of enrolling, compared with 40 percent of Black students.
Part of the problem is that Black and Latino students tend to "under-match." They choose less selective four-year schools or enroll in community colleges where graduation rates can be abysmal (20 percent nationally for an associate degree over three years). Selective schools, and more so elite schools, tend to have much higher graduation rates and much smaller gaps between White and Black graduates. At George Washington, the gap is 9 percent (82 percent for graduation rate for Whites, 81 percent for Latinos, 78 percent for Asians, 73 percent for Blacks). But despite declarations that they'd like to attract more low-income and minority students, selective schools still struggle to enroll and graduate them. What happened to Jackson his first semester demonstrates one reason why.
George Washington is labeled an "engine of inequality" by the Education Trust, a nonprofit focused on education, because it accepts few students from "working-class and low-income family backgrounds." Jackson's scholarship covered the nearly $45,000 tuition (higher than his native D.C. Ward 8's annual median income), books, his dorm, and also put $1,700 on a student card for food and household supplies each semester.
Over the last four years, 29 students received the same scholarship, given to D.C. seniors from a variety of backgrounds. Of those 29, five are from Ward 8. Even so, three of those five attended Thurgood Marshall Academy, a law-themed college-prep school, where just about everyone continues on to college. Nothing like Jackson's high school.
Jackson had planned to study astronomy all his life. His mother pushed him toward science in part because she'd always loved it. As a child, her Styrofoam and coat-hanger replica of the solar system won the school science fair. She pushed him to explore the world—the universe—in hopes that he'd understand that it had more to offer than the short reaches of Southeast D.C. But in tenth grade, Jackson looked into job prospects for astronomers.
Before senior year, Jackson had attended a summer program at Stanford University, where he found that astronomers spend little time staring into space. Ever the pragmatist, he decided to study aerospace-engineering, which offered a median salary above $100,000, some reaches into the sky, and held plenty of job opportunities. So at George Washington, Jackson enrolled in 17 credits his first semester. He had calculus, Japanese, chemistry, and two engineering courses. All his life, he'd waited to be here, among the elite.
On the first day of school last fall, Jackson sat in his calculus class among some 15 other students. None were Black. Jackson wore a striped hoodie, jeans, and old blue sneakers. He didn't have money for "first-day" clothes, but he'd grown used to that.
As the teacher's assistant discussed the lesson plan, Jackson thought, "OK, I'm gonna be alright." Much of the material outlined for the first week seemed to be a review of his senior math class. He sat through his chemistry lecture, Japanese, and afterward met up with his roommate, Llewellyn "Xavier" Richie. Richie was the other student on scholarship from Ward 8. He was Black, from a similar background, and the two had hit it off immediately. Around 8 p.m., the two headed to CVS. As they talked about the first day, Jackson got a call. His girlfriend's sister, only in her 30s, lay dying of a heart condition at United Medical Center in Southeast. He and Richie hopped on a train. They offered to spend the night, but Jackson's girlfriend, a senior at Ballou High School, told them to get back to school. Soon, his grandfather would die. Soon after, someone would gun down his cousin.
Within weeks of starting, Jackson dropped his calculus class. When he'd enrolled, he'd copied George Washington's recommended first-semester courses for his major. But the engineering department had made him take a math placement test. He did not do well. He was was supposed to sign up for a lower calculus class, a prerequisite to the one his major required. His first week, he was already behind.
It was around this time that Jackson noticed the other students, at lunch, in halls, in class, staring at him. They eyed the missing wood tassels on his blue winter coat—the only coat he owned—the specks of bleach stains on his pants, sneakers that lacked a name-brand logo. But it wasn't only the eyes. In the dorms, first-year students made friends and Jackson joined along, but whenever someone couldn't remember who sung a certain rap song, everyone looked to Jackson. As if by being Black he knew. Some students called him "Dawg," as in, "What's up, Dawg?"
White students weren't dawgs.
Once in the common room, a friend of a friend told him, "You don't talk like most Black people."
"Like most Black people?" he thought.
He'd sit in his calculus or chemistry class, the professor in midlecture, and he'd sense the eyes pausing on him. He'd quiet his anxious mind and think, "Me being Black is not the most important thing in their lives."
Everyone here had made it to the same school, but something always reminded him he was an outsider. Like when he and Richie would see the receipts students left behind after they withdrew money from ATMs—one account held a $10,000 balance. "These kids are the same age as us," Jackson would say to Richie. "What's going on?" Meanwhile, Jackson cut back on trips to the cafeteria. He kept microwavable meals in his dorm. As snow fell on the city, he layered hoodies beneath his thin winter coat.
His mother, Hellina, however supportive, had never finished high school. She'd grown up in Southeast and hoped to travel the world as a young girl but found herself stuck. She encouraged her kids by saying, "Just because we live in the ghetto, doesn't mean we have to be ghetto." She kept them in after dark. On weekends, they traveled downtown to the museums. She scrimped. She did without new clothes so she could afford science books and a fancy chemistry set. When Jackson reached high school, she wanted to hire a private tutor. She knew that Ballou, where 20 percent of students score above proficiency in math and reading, could only help so much. But she couldn't afford a tutor.
As midterms approached, Jackson's grades slipped. His chemistry class outpaced him. In calculus, something didn't click. On Thursdays, when friends hung out at night, Jackson stayed in his dorm to finish math work. He stayed in Fridays, too. He didn't know who to ask for help. Midterms came out. He had a D average. One night, Jackson returned to his dorm with his head lowered, despondent.
"Are you OK?" Richie asked.
"I think I'm just not ready for this."
"You wouldn't be here if you weren't ready for this."
"Man, I don't know."
Jackson thought about his SAT score, a 1630, which is above the national average, 1500, but 300 points below George Washington's average. He'd gotten straight A's at Ballou. But did that mean anything?
"I'm not on the same level as everyone else," he thought. "The people here had better teachers than I had. They had more in-depth classes. More preparation. The only reason they picked me is because of my GPA and my ethnicity. If I'd applied through general admission, I wouldn't have gotten in. 'Oh, he's Black, it makes our school look diverse. That makes us look good. Let's let him in.' I'm a failure. I'm going to let everyone down."
Finally, he thought, I should drop out.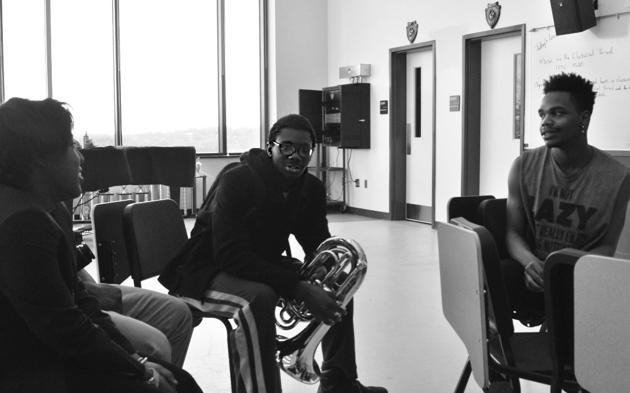 His failure that first semester overwhelmed him like a sin he needed to confess. But who could he tell?
George Washington has a Multicultural Student Services Center. Jackson had even met an associate director there. He thought about his friends, uncles, former counselors, Ballou High School's band director who thought of him like a son. "I didn't want to disappoint them," Jackson said. "I figured, I'm an adult now. I have to solve my own problems."
About two weeks from fall semester's end, on a gray and snowy day, Jackson's old band director, Darrell Watson, called to ask if he needed groceries. Watson is the type of teacher who students talk to after school. They gather in his band room just to feel part of something. Watson sensed Jackson needed help, so he drove 20 minutes from Ballou to George Washington. On the ride to the grocery store, Jackson said little. As they walked the aisles, and as Watson prodded, the low grades, the thought of quitting, the feelings of failure, all spilled out.
"Why didn't you talk to anyone?" Watson asked.
"I didn't want to disappoint anyone," Jackson said.
"You know what to do," Watson told him. "We talked about your support system. And you have to call on us when you have days like that, because there are going to be days like that."
Near the end of the semester, Jackson reached out to George Rice III, associate director of the Multicultural Student Services Center at George Washington. Rice is Black. And that was important. "It's not to say that other people can't help," Jackson said later, "but there are some things they just can't empathize with."
In the office, after he'd listed to what had happened, Rice told him, "I've been where you've been."
Jackson then called anyone who might have helpful advice. He meditated mornings and nights. Two days before a calculus midterm his second semester, around 2 p.m., Jackson sat alone at a piano in a room in the basement of the music department. The room was just large enough to fit the piano, and on the wall to his right hung a fire hydrant-red phone--it looked like something from a movie, like the phones Cold War presidents used only in moments of dire emergency. He set his three-inch-thick, $300 calculus book on the piano keys. He copied the first problem into his notebook.
He studied all night, and set his phone's alarm to remind him to take a break every few hours. The next day he treated himself to cinnamon sugar-covered doughnut holes in the cafeteria, and the crumbs fell onto the open calculus book. He studied late again. Around 1 a.m. he finally climbed into bed.
After his first semester, Jackson accepted that he was a type of foreigner at GW. He decided that if George Washington gave him the scholarship because he was poor and Black, fine, they had their poor Black student. So what? He had a scholarship. If students stared at him, or acted awkwardly because they'd never been around someone like him, "OK," he told himself, "let's move on."
Another change came in the way he viewed friends, his mother, Watson, and former teachers. Growing up had required independence, and now he'd need to rely on help from others. He stopped thinking of how he'd disappoint everyone if he failed, and started looking at them as resources.
As he sat in bed, 20 minutes from home, but almost an alternate reality, he'd look at a poster his girlfriend had given him when he began at George Washington. On it were  dozens of signatures from friends and family wishing him success. "All those people who signed it," he'd think. "All those people care about me."
On the day of the calculus test, Jackson sat among some 40 students. At the front, the professor passed around the exams. There were about 20 problems, and it counted for 30 percent of his grade. The other students scribbled on the pages, seemingly confident, heads down. Knowing. They stood to pass in their exams and still Jackson worked away. After he'd finished, Jackson left school and walked down into the metro station and headed toward Southeast to visit his mother, to see his girlfriend, and to talk with Watson. He sat alone and stared out the window into the black tunnel. He thought he'd gotten a "C" on the test. That didn't bother him. There'd be more tests. More opportunities. He slipped in his earbuds as the train bored into the dark tunnel that led home.
Jackson stepped of the train at the Anacostia stop in Southeast, where a man shouted, "Single, single, single Newports!" He stepped onto a bus where everyone was Black. He left the bus and climbed three flights of stairs to his mom's apartment, where the door still bore a elementary honor-roll sticker he'd won. He talked with his mom about the test, and later about how she'd enrolled to finally get her own diploma. He'd inspired her to do so, she said. Then Jackson walked down the stairs and out the door. He cut through the apartment complex where bars covered all the windows, passed vacant buildings and hopped a chain-link fence, just has he'd done as a kid when his mother asked her two sons each morning, "What are you?"
In the high school's lobby, Jackson stopped in front of a security guard. He walked through the metal detector. Above, a painting of himself smiled.