Spending Talks Will Drag on Another Week
Congress will approve another CR to give negotiators on omnibus and tax packages more time.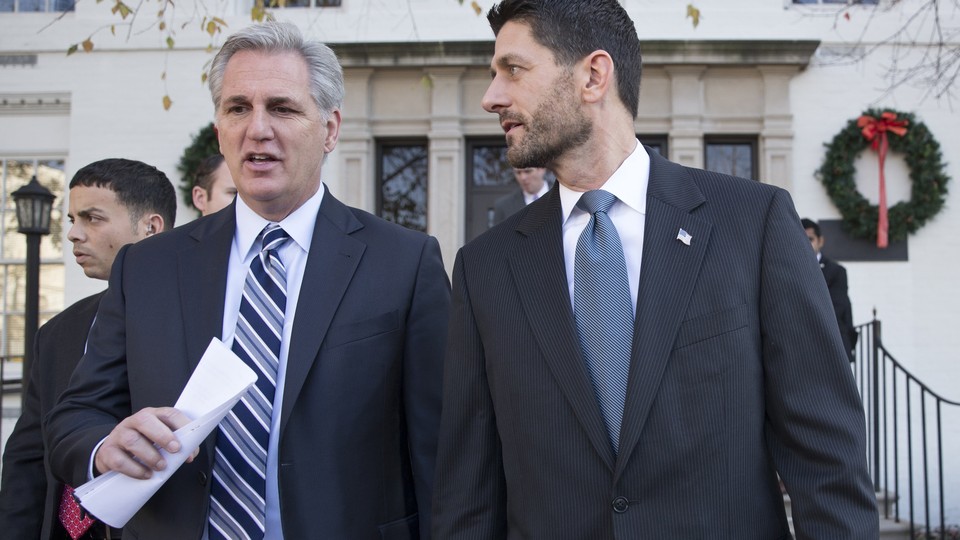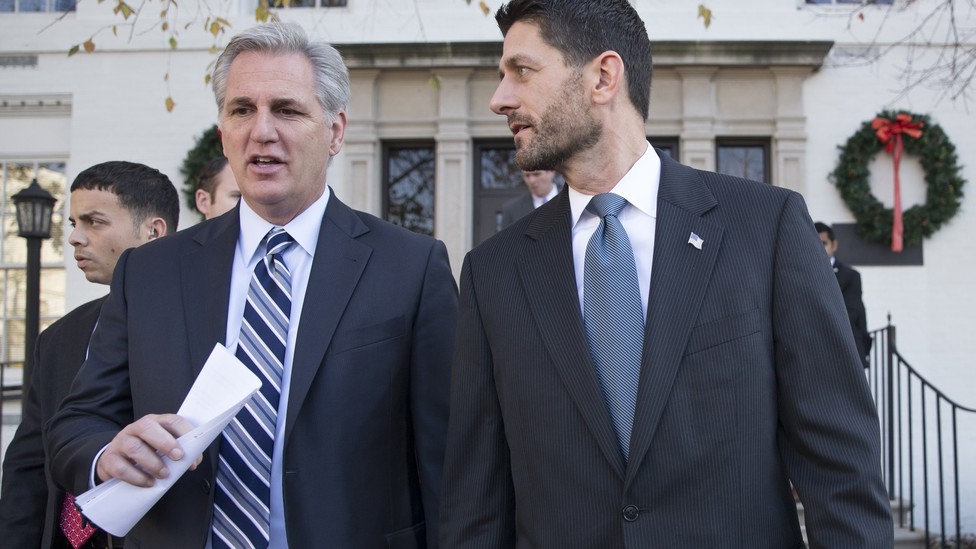 The House will vote on a short-term funding bill Friday morning that will keep the government open through Dec. 16, giving negotiators time to strike a wide-ranging agreement on tax and spending policy and avoiding a rare weekend session.
"Votes are no longer expected in the House this weekend," House Majority Leader Kevin McCarthy told members on the House floor, to applause. "You could applaud louder," he responded.
While members will head back to their districts for the weekend, party leaders, appropriators, and their staff will continue to work to finish a $1.1 trillion spending bill, which has been stalled largely over policy riders. The Wednesday deadline means the House can file a bill no later than Monday in order to stick to their promise to give members three calendar days to review the bill before a vote.
"While progress is being made on negotiations for a full-year omnibus appropriations bill, it is clear that more time is needed to complete the package," House Appropriations Committee Chairman Harold Rogers said in a statement. "This short-term funding resolution will keep the lights on in government and maintain current operations for a few days so Congress can complete and pass an agreement. It is my hope and expectation that a final, year-long bill will be enacted before this new deadline."
The Senate will also need time to consider and pass any final deal. With the unanimous consent of all members, an omnibus could be passed Wednesday, but absent an agreement the upper chamber could require nearly a week for full passage, potentially necessitating another short-term CR. With the holidays and the start of an election year fast approaching, however, many members are eager to return to their states and districts for a few-week recess.
Several issues remain unsettled. For one, Republicans are still pushing to include the House-passed Syrian-refugee legislation in an omnibus package. That comes even though the House easily passed a bill to tighten the visa-waiver system.
House Homeland Security Committee Chairman Michael McCaul said Wednesday that he met with House leaders and they told him the refugee bill, which he sponsored, was still in the bill. He said the visa language would likely be added as well, but he is not sure his refugee legislation will ultimately make the cut.
"That's definitely going to be on it. The question is about the Syrian-refugee bill," he said. "As of now it's on the omnibus. Whether it survives the negotiations, I don't know."
Senate Majority Whip John Cornyn said Tuesday that the Syrian-refugee issue would be handled in the omnibus in one way or another.
The fate of a massive package of tax breaks remained uncertain, as well. Ways and Means Committee Chairman Kevin Brady said he and party leaders are still deciding whether to file a smaller scale two-year bill, and whether to include delays to two soon-to-be-enacted Obamacare taxes on the smaller bill.
"Discussions are ongoing. I'm very hopeful we're able to move the permanent package," Brady said. "We just haven't made a decision yet about going to rules and having the two-year package, or having the pause on [medical-]device tax and Cadillac [tax].
House Minority Leader Nancy Pelosi has been insistent that negotiators index the child tax credit to inflation, but Republicans believe that is a nonstarter. Meanwhile, negotiators are discussing whether to lift the de facto ban on U.S. crude oil exports through the year-end spending and tax package.
Democrats are demanding a suite of concessions in return for handing the oil industry a win on one of its biggest lobbying priorities, including long-term extension of renewable electricity project tax credits that have lapsed or will expire in a year.
North Dakota Republican Sen. John Hoeven, who along with North Dakota Democratic Sen. Heidi Heitkamp is an outspoken supporter of exports, said Wednesday that he sees a "good chance" of reaching a deal.
Sen. Martin Heinrich, a New Mexico Democrat who has been involved in the talks, told reporters in the Capitol that "there is a deal to be had here," but noted that Democrats want "long-term certainty" on green-power tax policy. They're also seeking revival of a lapsed conservation program called the Land and Water Conservation Fund.
The prospect of a year-end deal that opens the taps to crude-oil exports is dismaying environmentalists, who fear that allowing producers to tap into world markets—where they can generally fetch higher prices—will be a major catalyst for even more domestic fossil fuel production. They're trying to block an export deal, or, failing at that, ensure it has the strongest provisions possible on low-carbon energy.
Lobbyists with major environmental groups have been in the Capitol in recent days to lobby senators.
It all could depend on whether lawmakers can cut a deal on a big tax package that could be in the $800 billion range, or default to a shorter-term bill that extends a series of business and personal tax incentives for two years. "I think there is a good chance for export ban repeal if a larger tax package gets done. Don't know how it happens with just a two-year extension," said one oil industry lobbyist in an email.
---
Sarah Mimms contributed to this article