Senate Approves Bill to Weaken Obamacare, Defund Planned Parenthood
The chamber passed a reconciliation measure after some controversial amendment votes, but President Obama is sure to veto it.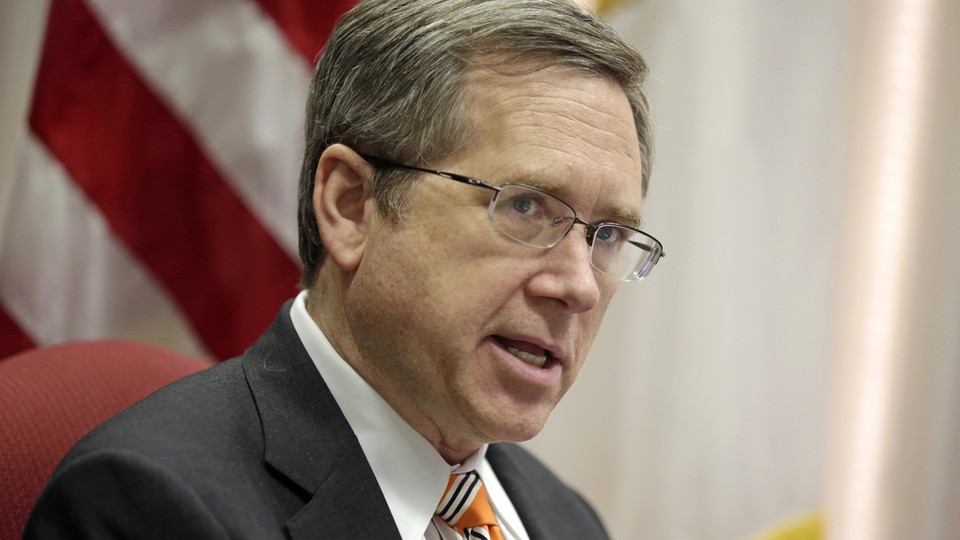 The Senate passed a bill repealing major provisions of Obamacare on Thursday, gaining the support of almost all GOP members, even the staunch conservatives who previously threatened to vote against a measure that didn't annul as much of the health care law as Senate rules allowed.
But the bill became even bigger in the upper chamber than the one the House passed, as the Senate added provisions, including the repeal of Medicaid expansion, to the legislation. And presidential hopefuls Sens. Ted Cruz and Marco Rubio, along with conservative Sen. Mike Lee, sided with most of their Republican colleagues in supporting the bill, which passed in a 52-47 vote (only 51 votes are needed under the rules of reconciliation). Moderate Republican Sens. Susan Collins and Mark Kirk voted against the measure, which would also defund Planned Parenthood. (Democratic presidential candidate Sen. Bernie Sanders was absent from the vote.)
To be clear, President Obama is sure to veto the bill. But Republican presidential candidates are running on their desire to repeal Obama's signature law—and Sen. John Barrasso, a very vocal critic of Obamacare, said this reinforces to the country where Republicans stand.
"This is a clear distinction between what the president is proposing and what Republican candidates running for president would do," the Wyoming Republican said. "This sends a message that we're committed to repealing this and replacing it with patient-centered care."
Yet, before final passage, senators participated in about seven hours of rapid-fire votes where members could show their true colors on some of Congress' more contentious issues. The votes were also chock-full of political risks.
That was especially true for GOP moderates. Before final passage, senators cast votes on a variety of amendments, including some on the most controversial issues Congress faces—even though everyone knows the process will end with President Obama killing the entire package with his veto pen.
Collins, Kirk and Sen. Lisa Murkowski—the latter two of whom have reelection races coming up in 2016—filed an amendment that would strike the language defunding Planned Parenthood. This wasn't surprising to antiabortion groups. "Those are not votes that we ever expect to get," Mallory Quigley, communications director of the antiabortion group Susan B. Anthony List, said of votes on antiabortion measures. "So it's no surprise that they've offered this amendment."
However, the amendment wasn't adopted—and no other Republicans joined forces with their three colleagues to vote for the measure. But red-state Sen. Joe Manchin voted against the amendment, the only Democrat to do so.
Sen. Dean Heller also put forward a controversial amendment repealing Obamacare's Cadillac tax. A repeal of the tax was also included in both the House and Senate versions of the bill. It passed 90-10 with three Republicans and seven Democrats voting against.
The Cadillac tax is a 40-percent excise tax on employer-sponsored coverage benefits exceeding a certain threshold. It is scheduled to take effect in 2018. Although it was designed to impact generous plans, opponents say its scope will be broader and workers will end up bearing the burden.
And in the wake of the San Bernardino shooting, the deadliest since Sandy Hook, Republican GOP Sen. Pat Toomey and Manchin teamed up on an amendment to that would ensure that all who are barred from buying a gun be listed in the National Instant Criminal Background Check System. The measure failed with one red-state Democrat, Sen. Heidi Heitkamp, opposing it. Four Republicans—Toomey, Collins, Kirk, and Sen. John McCain, voted for the amendment.
Sen. Jeff Flake downplayed the role that vote-a-ramas have, and said that while they can contribute to attack ads, it's overstated. "In the Senate, it's easy to get a vote up that's not germane," the Arizona Republican said. "I think if you cast enough votes, people will understand.
And presidential hopeful Sen. Lindsey Graham said he's never seen anybody lose over a single vote. His position: "we should vote more, not less."
"It's called democracy," the South Carolina Republican said. "I don't think you're vulnerable for taking hard votes as long as you believe in what you believe in."
This article has been updated.