Rob Maness Files for Louisiana Senate Race
The 2014 Senate hopeful is trying again, this time in a crowded, open-seat race.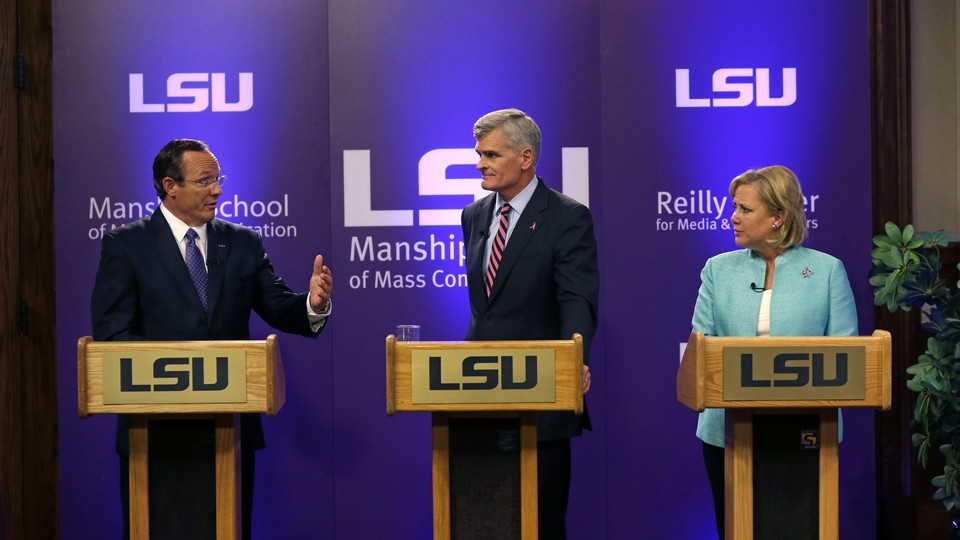 Retired Col. Rob Maness, who finished third in the 2014 Louisiana Senate jungle primary, filed for the state's open-seat Senate race, giving Rep. John Fleming competition for Far-Right support in what's expected to be a crowded race.
Maness filed a statement of candidacy with the Federal Election Commission last week, just days before Fleming formally announced his bid Monday.
In a race that's already drawn interest from more than a half-dozen Republicans, Maness and Fleming feature similar allies.
Fleming, a founding member of the conservative House Freedom Caucus, was endorsed by the Citizens United Political Victory Fund immediately after entering the race. Maness had the backing of the Senate Conservatives Fund and other national tea-party groups in his last race, and he told National Journal over the summer that he'd kept in touch with those connections.
An SCF spokeswoman said in a statement Tuesday that the group will "watch the race to see which candidate is the strongest conservative, who has the backing of the grassroots, and who is running a winning campaign."
John Brabender, a senior adviser to Fleming's campaign, acknowledged the overlap in their bases, but pointed to Fleming's tenure in the House as an asset for conservative groups.
"Fleming has a record," Brabender said. "A lot of people are going run and say, 'Here's what I'm gonna do.' He has the unique ability to say, 'Here's what I've already done and here's how I'm going to build on it.' ... I think there are people last time who supported Rob Maness based upon who he was running against, and some of those people, I expect, will be very supportive of Congressman Fleming this time."
A statement from Citizens United Monday seemed to underline that point, praising Fleming as "a conservative change agent" in the House, helping to lead the charge against former Speaker John Boehner.
Maness did not immediately respond to a request for comment.
The two candidates are expected to be joined in the race to replace retiring Sen. David Vitter by several fellow Republicans, including Rep. Charles Boustany and state Treasurer John Kennedy.
Boustany has already hired a Senate campaign manager and told donors over the summer he's running. Kennedy ran $1 million worth of positive ads for a noncompetitive reelection race this fall and has a super PAC set up by a former aide that could accept the nearly $3 million he still has in his state account.
But after a shake-up in the governor's race last month produced a victorious long-shot Democrat, a number of other lesser-known candidates have also begun considering the race. At least four other Republicans and one independent have expressed interest in the past two weeks.
Maness, who took 14 percent of the vote against Bill Cassidy and Mary Landrieu in 2014, essentially never stopped running. Within days of the runoff, Maness announced the formation of a grassroots super PAC, which could eventually be turned over to support him in another bid. He brought on Republican consulting firm Jamestown Associates over the summer to help with that.
Jamestown, known for its work with insurgent candidates like Sen. Ted Cruz and Kentucky Gov. Matt Bevin, could be an ally in resurfacing Maness's tea-party connections. Conservative strategists have indicated they're still interested in him as a candidate, depending on how much he's raised since the last race.
Fleming is sitting on more than $2 million in his House account and made a personal loan to his campaign over the summer.
It's unclear how much money Gator PAC, named after a catchy 2014 campaign ad in which Maness wrestled an alligator, has raised since then. Its last filing in June of 2015 showed only about $14,000. It did, however, receive fundraising help from Vitter and Cassidy, despite Maness poaching support from Cassidy in 2014. Maness also used the high-profile governor's race, in which he endorsed Vitter, to fundraise for the PAC throughout the past year.