Republicans Miss Chance to Kill Climate Agenda
As omnibus rolls out with no policy-killing riders, members look forward to next year.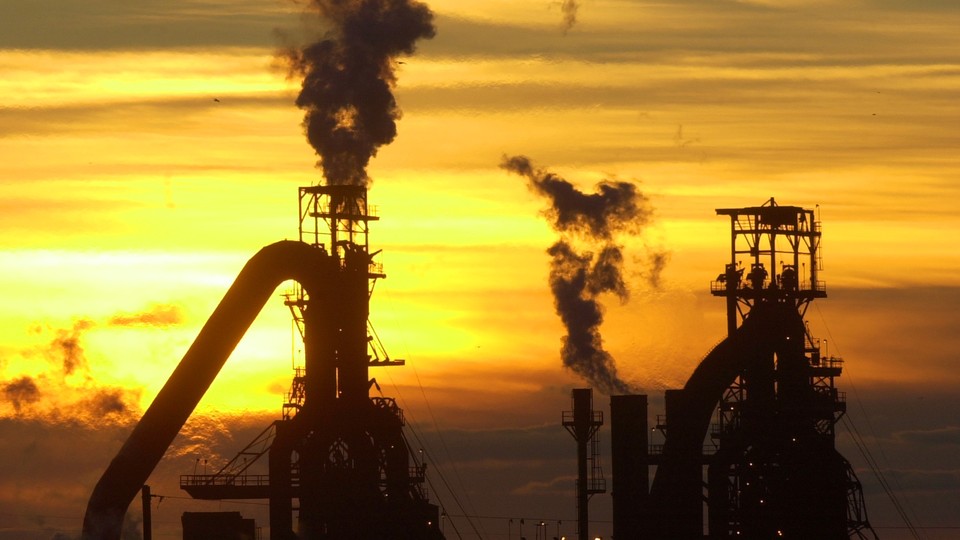 Congressional Republicans vowed at the beginning of the year to use their new Senate majority to kill President Obama's climate agenda.
But with a final agreement reached on massive spending and tax-extenders bills Tuesday, it appears the calendar year will have passed with Obama's climate initiatives still largely intact. While Republicans did secure a repeal of the nation's ban on crude-oil exports over the wishes of the White House, the deal has no riders to strip away the administration's environmental regulations.
Nothing on a controversial clean-water rule, nothing on ozone standards, and nothing to stop carbon-emission regulations on new and existing power plants.
And one of the Senate's biggest foes of the climate rules thinks he knows why.
"There's been so much pushback from the White House, it'll be hard to get the riders we want, not just the environmental" ones, said Sen. John Hoeven on Tuesday. "That's the problem with the omnibus, we should be doing this through regular order."
Hoeven pointed specifically to a much-discussed rider to kill the Waters of the United States rule, which gives the Environmental Protection Agency more power to regulate pollution in streams and inland waterways. A resolution disapproving of the rule passed with three Democrats on board, but strong resistance from Democratic leadership and the White House kept it off of the final funding bill. Even the finding Monday that EPA had violated federal lobbying laws in building up support for its water rule couldn't build any momentum for a WOTUS rider.
Anti-environmental riders would likely have made the bill a nonstarter with the White House. President Obama has threatened to veto individual bills killing his administration's environmental rules, and Democrats in both chambers would have surely walked.
The spending bill includes a provision that lifts the nation's 40-year ban on exporting crude oil, a priority for Republicans who say that domestic oil companies should have be able to sell on the global market.
Republicans were also touting what they said was a successful block of any new funding for EPA, keeping it at the lowest funding level since 2008. The agency's $8.139 billion budget would be the same as last year's enacted level, and above the $7.4 billion that House appropriators gave the agency in its spending bill. The bill also includes language blocking the Fish and Wildlife Service from listing the greater sage grouse under the Endangered Species Act.
In exchange, Democrats secured a five-year extension of tax credits for wind and solar projects, a boost for clean energy in the period before states have to start complying with Clean Power Plan emission reductions. There's also a reauthorization of the popular Land and Water Conservation Fund, which was allowed to expire in September.
And Democrats also used leverage to keep away policy poison pills. A summary distributed by House Democrats listed 24 riders that had been axed from the Interior and Environment bill alone.
Environmentalists are already griping about the deal, given the potential impact of lifting the export ban. Crude-oil exports, they say, would promote more domestic drilling and increase greenhouse-gas pollution right on the heels of the major United Nations climate agreement, although some experts say there would be minimal impact.
Democrats are following suit: Sen. Jeff Merkley of Oregon said in a statement that the repeal was a "huge mistake" and a "windfall for big oil at the expense of working Americans and our planet."
But ultimately, the climate agenda stays intact—for now.
Senate Majority Leader Mitch McConnell has promised to return the Senate to regular order and pass 12 individual appropriations bills, telling Politico this week that Democrats had no "rational basis" to continue objecting to the bills and that he'd much prefer to move individual bills than wrangle another large omnibus at the end of the year.
And if this year's process was any indication, that could be bad news for the climate agenda. The Senate's fiscal 2016 Interior and Environment appropriations bill was packed with riders—Democrats identified 11 as "poison pills"—that would have killed the power-plant regulations, the water rule, and a Bureau of Land Management hydraulic-fracturing regulation.
That bill passed the Senate Appropriations Committee on a 16-to-14 party-line vote. (Amendments to try to strip individual riders all failed.) A House bill that carried similar riders passed that chamber's appropriations committee 30-to-21.
Neither saw a floor vote: Senate Democrats blocked it from coming up over a dispute about funding levels, and the House bill was pulled during a flare-up over a Confederate-flag amendment.
But the bills provided a model of how appropriations bills, free of the back-and-forth debating that went into the omnibus package, could look. The Senate's Energy and Water bill would have killed WOTUS and blocked some clean-energy funding, while the State Department bill blocked spending on international climate funds.
All of those riders merited veto threats from the White House, but Republicans could claim more leverage under the open appropriations process to force at least a few through. And that's already got environmentalists, fresh off the omnibus fight, on high alert.
"The budget process continues to be hostage to extraneous policy demands," said Friends of the Earth's climate and energy campaigner, Lukas Ross. "Funding basic government services shouldn't involve bartering away basic environmental protections. Riders on everything from international coal finance to the crude-oil export ban simply have no place in a spending bill."