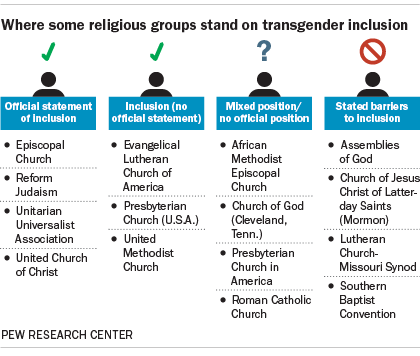 Religious institutions are starting to formally address the participation of transgender people in their congregations, much as they have with the issue of accepting homosexuals.
Just recently, the Union for Reform Judaism approved a far-reaching resolution on the rights of transgender and gender nonconforming people, affirming its "commitment to the full equality, inclusion and acceptance of people of all gender identities and gender expressions."
In addition to Reform Judaism, the United Church of Christ, Unitarian Universalist, and Episcopal churches have issued specific statements saying that transgender people should be fully included in the life of the church and that they can be ordained as ministers.
Lesbian, gay, bisexual, and transgender people generally see less social acceptance of transgender Americans than for lesbians, gay men, and bisexuals in the country, according to a Pew Research Center survey conducted in 2013. Eight in 10 LGBT respondents say there is only a little (59 percent) or no (21 percent) social acceptance for transgender people in society, while far fewer say there is little to no acceptance for gay men (27 percent), lesbians (14 percent) or bisexual women (21 percent) or men (46 percent).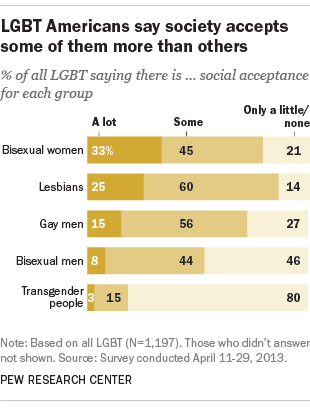 The 2013 Pew Research Center survey also found that LGBT adults are less religious than the general public in the U.S. And large majorities of LGBT Americans say that certain religious institutions—particularly Islam (84 percent), the Mormon church (83 percent), the Catholic Church (79 percent) and evangelical churches (73 percent)—are unfriendly toward people like them. LGBT adults have more mixed views of the Jewish religion and mainline Protestant churches, with 47 percent and 44 percent of LGBT adults, respectively, describing those religions as unfriendly, one in 10 describing each of them as friendly and the rest saying they are neutral.