The War Over the War on Crime
New York's police commissioner is feuding with his predecessor over whether the city is manipulating statistics.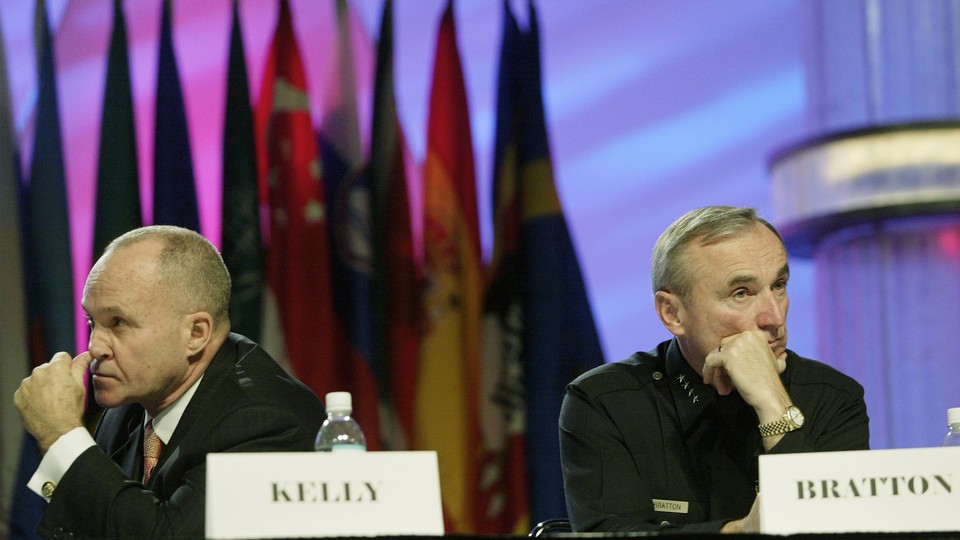 The Disraeli and Gladstone of American policing are at it again. There's Bill Bratton, the commissioner of the New York Police Department, currently in his second stint as the city's top cop, and crowing over a decline in crime in 2015. And then there's Ray Kelly, the man who Bratton has twice replaced at 1 Police Plaza, casting doubt on Bratton's accomplishments. As debates over the the role of law enforcement in America go, this may not be the most consequential, but it is among the most heated and personal.
The current flare-up in the rivalry came in the last weeks of the year, after the city released year-end figures showing a 2 percent drop in crime, measured (per FBI guidelines) through several key categories of infractions. While murders rose a smidgen—rising from 333 in 2014, to 339 as of December 20 of the current year—it was still one of the lowest totals in memory. That all came with a 13-percent drop in the number of arrests in the city. All in all, they were numbers that Bratton could be proud of, and he didn't hesitate to say so. "As we end this year, the City of New York will record the safest year in its history, its modern history, as it relates to crime," he said.
Kelly wasn't buying it. "I think you have to take a look at those numbers … because I think there is some issues with the numbers that are being put out," he said on a radio show. He suggested that the NYPD had changed its criteria in order to juke the numbers—not counting graze-wounds from bullets, for example.
Bratton denied that any changes had been made. "Those comments were outrageous," he said Tuesday. "My cops work ... very hard to reduce gun violence in the city. To claim in some fashion that we're playing with the numbers? Shame on him …. If you're gonna make [that allegation], stand up, be a big man and explain what you're talking about." Deputy Commissioner Dermot Shea, who heads up statistics for the department, said Kelly was wrong, noting he had worked for the former commissioner, and the department released a fact-sheet with more detailed rebuttals to Kelly's claims.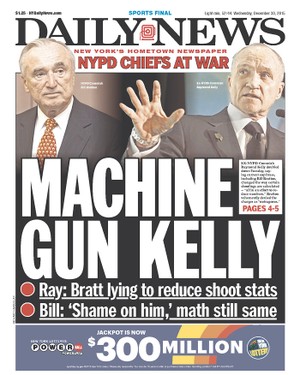 Kelly was undeterred: "It reveals an administration willing to distort the reality of what [cops] face on the street," he said. The Daily News put the feud on Wednesday's front page, with the headline "MACHINE GUN KELLY."
What's behind Kelly's fusillade? Bratton had one suggestion, accusing his predecessor of talking trash in order to sell copies of his new book. "It's amazing the comments you'll make when you're selling a book," he remarked—to which Kelly tartly replied, "I appreciate the promotion for my book. I mean, it's nice of him." Another idea comes from the New York Post, which promoted Kelly's critique and has also promoted the idea that he would run against Mayor Bill de Blasio in 2017.
But the feud between New York's two most-famed commissioners since Teddy Roosevelt seems to be in large about their respective legacies, and about how best to conduct police work. It's a fascinating battle that cuts across decades and political parties.
Bratton returned to the department at the behest of de Blasio, a Democrat who had campaigned on reducing excessive, racially targeted use of stop-and-frisk techniques under Mayor Michael Bloomberg (a Republican-turned-Independent) and Kelly, who led the department throughout his tenure. When de Blasio appointed Bratton—a triumphant return for a man who'd been forced out of the gig after clashing with Mayor Rudy Giuliani—the commissioner immediately focused on reducing the number of police stops.
"The No. 1 issue we heard over and over again was that the black community—rich, poor, middle class—was concerned about this issue," Bratton told The New Yorker's Ken Auletta. "The commissioner, whom they liked quite a bit, and Mayor Bloomberg, who polled well for a long time, just weren't listening. They were kind of tone-deaf to this issue. So we worked really hard, myself and Mayor de Blasio, to respond."
Kelly didn't like that, telling Auletta, "He ran an anti-police campaign. He parsed the electorate. He did it very skillfully. He aimed at the fringes." The two men have engaged in an on-and-off war of words over the last two years.
The stakes are clear enough: Bloomberg and Kelly argued that the stop-and-frisks were essential to driving down the crime rate. De Blasio and Bratton argued that they were antagonistic to people of color and pointless besides. If the crime rate continues to drop even as the arrest rate drops, too, it risks making Kelly look hamhanded. The Harvard-credentialed cop takes pride in his image as a modern, smart, innovative commissioner, and that undermines his reputation. Worse, he risks looking racially divisive at best, and racist at worst, if he turns out to have been pursuing antagonistic tactics that didn't make a difference. Thus Kelly has a vested interest in questioning the validity of the crime drop.
There's also a legacy question. Kelly no doubt feels that the work he did for 12 years running the department went a long way toward producing the low levels of crime that Bratton is enjoying today. Certainly it's true that the crime rate in the city dropped during Kelly's second tenure, despite a small bump at the end:
---
Violent Crime in New York City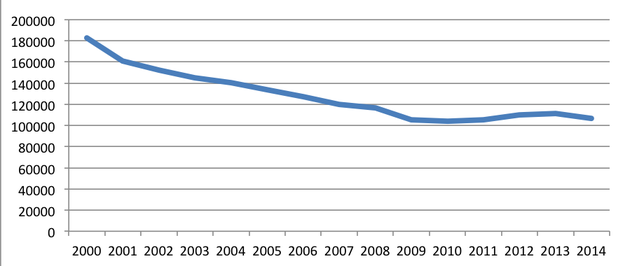 Moreover, the steady drops in New York may owe something to the leadership of Kelly and Bratton, but other commissioners might have been similarly successful. Crime is decreasing around the country, a historic decades-long drop, and one not easily attributed to any single cause.
Finally, as Andy Cush pointed out, it's a bit rich for either Kelly or Bratton to be lobbing accusations of statistical manipulations anywhere. Kelly might point out that during Bratton's tenure at the Los Angeles Police Department, the city underreported the crime rate, according to the Los Angeles Times. But as Andy Cush notes, that would take some serious chutzpah—since Kelly's NYPD was also forced to settle lawsuits over juking the numbers. There may be honor among thieves, but you can't put as much faith in the people paid to count them.