Rahm Emanuel Feels the Heat
Facing continued criticism, the Chicago mayor apologizes for Laquan McDonald's death in a speech to City Council and vows to do better.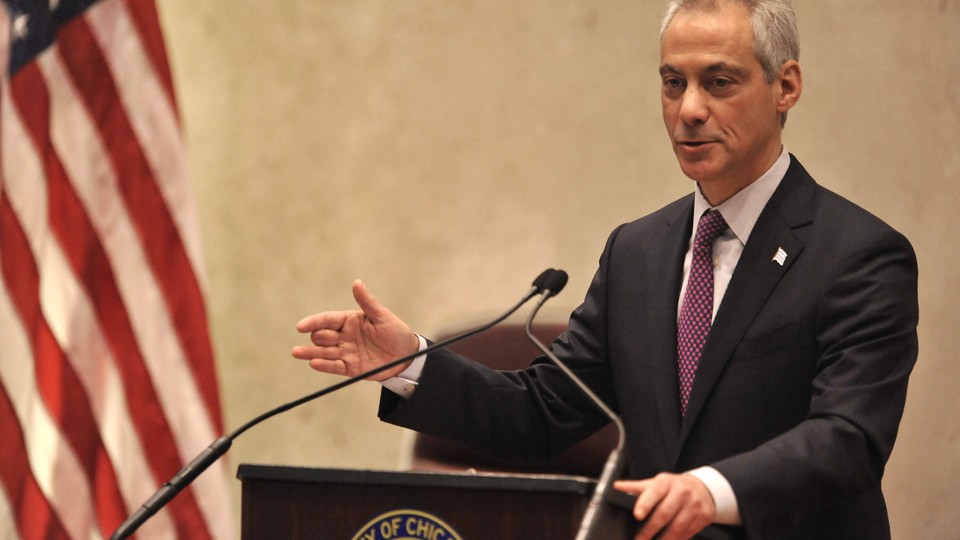 First, Chicago Mayor Rahm Emanuel tried to bury the video of Laquan McDonald's shooting. Then he stalled, successfully pushing it past the April election where he won a second term. Then he tried some more to bury it. When he lost that battle and the video was released, he fired his police chief. Then he fired the head of the body in charge of the Independent Police Review Authority, which is charged with handling complaints about officers but has been attacked as unwilling to seriously discipline cops.
But Emanuel is still feeling the heat, including calls for his resignation. So on Wednesday, he gave a 40-minute speech to the City Council, apologizing for McDonald's death and vowing changes. (Officer Jason Van Dyke has been charged with first-degree murder in the shooting, the first such charge for an on-duty Chicago cop in decades.)
"If we're going to fix it, I want you to understand it's my responsibility with you," Emanuel said, according to the Chicago Tribune. "But if we're also going to begin the healing process, the first step in that journey is my step, and I'm sorry."
He also said, "Nothing, nothing can excuse what happened to Laquan McDonald." Emanuel described a lunch with young men who'd been in trouble with the law:
So I asked them, tell me the one thing I need to know. And rather than tell me something, one young man asked me a simple question that gets to the core of what we're talking about. He said, "Do you think the police would ever treat you the way they treat me?" And the answer is no, and that's wrong. And that has to change in this city. That has to come to an end and end now. No citizen is a second-class citizen in the city of Chicago. If my children are treated one way, every child is treated the same way.
Protesters chanted outside as Emanuel spoke. Aldermen's reaction to the speech were mixed, the Tribune reported. Emanuel critics remained critical; his allies, meanwhile, seemed subdued, noting the test will be what sort of reforms Emanuel is willing and able to produce. Even that is a vast shift from just a few months ago. In his first term, even as citizen frustrations grew with the mayor's administration, the council had become an almost-automatic rubber stamp for his ambitious plans for the Windy City.
Emanuel is probably wise to feel pressure. He squeaked by in a tight reelection battle this spring, and only after some of the most promising challengers decided not to run; even then, he had to withstand a runoff. His reaction to the McDonald case has been wooden, peevish, and widely criticized. For a man famous for putting his political opponents (and often his allies) in a vise-grip, it's an unusual role reversal. The problems with Chicago's police force are both deep and broad, and the Department of Justice has just announced—over Emanuel's objections—that it will investigate the CPD.
Similar police-related outcries have been bad for mayors. Baltimore Mayor Stephanie Rawlings-Blake, viewed as a rising Democratic star, fired her police chief but ultimately decided not to run for reelection months later, as pressure remained high on her. Ferguson, Missouri, Mayor James Knowles remains in office, but much of the city government was swept out. In New York, Mayor Bill de Blasio is facing low polling as he heads toward re-election, though his criticism of the police has generally gotten high marks.
Emanuel retains his reputation as a savvy political operator. But the crisis in Chicago will put to the test not only his retail political skills but also his strategic wisdom.