Disappearing Presidential Candidates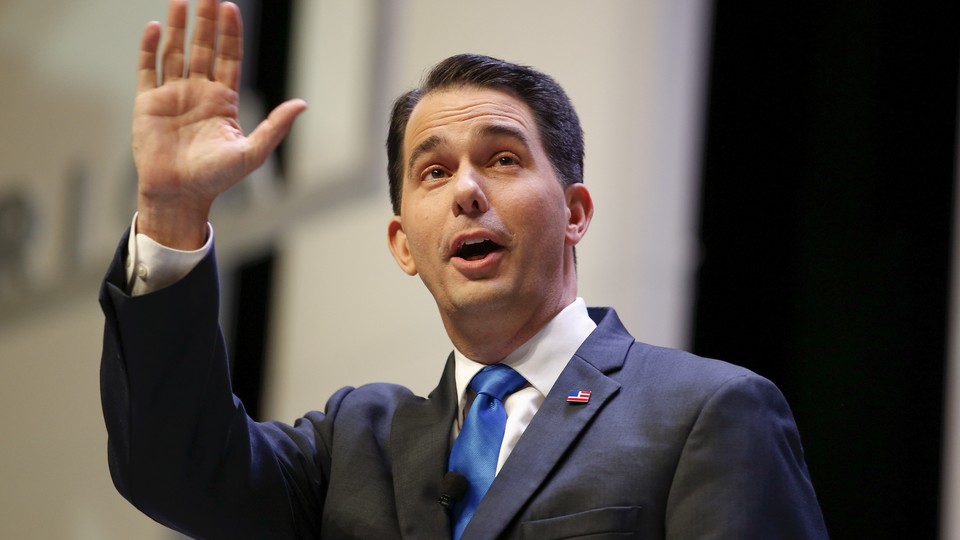 Hey, remember Scott Walker? That corn-fed, Kohls-shopping, union-busting, unintimidated governor of a blue state who had a real shot at next July's nominating convention?
He's probably sitting in his Madison, Wisconsin, office right now reading the same stories about Donald Trump that you are.
Walker was one of several casualties in the 2015 leg of the presidential-primary contest, a brutal stretch that saw candidates who were expected to make their mark gone from the race or gasping for air. As Trumpmentum and Clintoninevitability rage on, some contenders who looked like they'd fill a void in the field haven't seen much success, while others haven't lived up to their early, favorable reviews.
SCOTT WALKER
Walker survived a Democrat-backed recall in Wisconsin and had a wide donor base at the outset of his campaign. By the time his presidential announcement rolled around, Walker appeared set to have a real influence on the primary field. CNN called him a "political phenomenon" who could deliver the Midwest to the GOP. Meredith Shiner noted on Yahoo that he'd positioned himself "as an establishment-money-backed Republican who social conservatives also can support, an approach that could give him momentum in an early primary state like Iowa."
Although that strategy initially worked—he was in first place in Iowa at the start of the cycle—it didn't carry Walker through for very long. The rise of Trump and Ben Carson can take part of the blame. Even though Walker tried to pitch himself as the true outsider in the campaign, he couldn't beat the outsiders who'd never held elected office. Trump's rhetoric on immigration also caused trouble for Walker: The governor seemed to latch onto Trump's own plan, even adopting, for a brief window, the mogul's position on ending birthright citizenship. (His campaign later walked back that position.)
That flub wasn't the only one: Walker didn't perform well under the glare of the national spotlight, as my colleague Molly Ball noted in a campaign postmortem. Nor did his debating style stand out. By the late summer, his campaign was running out of dollars—even as his super PAC still had cash—and Walker decided he'd run out of time.
RICK PERRY
The former Texas governor launched a post-"oops" rebrand to convince voters and GOP leadership that he was a serious contender this time around. Perry got new, smart-guy glasses; he reportedly spent 20 months studying up on policy; and he tried to carve a place for himself in the national debate over the border crisis. In a 2014 National Journal profile, my colleague Michelle Cottle described his initial reframing this way:
He's also seek­ing to oc­cupy a dif­fer­ent polit­ic­al space. Last time, Perry ran as a con­ser­vat­ive firebrand. This time, with Cruz and oth­ers suck­ing up all the oxy­gen on the right, he is try­ing out a new mes­sage. For­get the wild-eyed cow­boy squawk­ing about how Texas might be forced to se­cede from the uni­on. Today's Perry is pitch­ing him­self as a thought­ful, seasoned eld­er states­man.
"Elder statesman" might seem like a stretch for a candidate whose campaign announcement featured his own country-rap song. But in a race featuring several political outsiders and a handful of U.S. senators, Perry should've filled a niche in primary: a long-serving Republican governor of a big state. (Yes, Jeb Bush and Chris Christie also fit that mold, but they weren't his primary competition.) Perry wasn't predicted to have great success in the crowded field. In a story about Perry's presidential announcement, The Washington Post's Dan Balz described how Republican strategists didn't see him as "genuine competition," even though they found him likable and thought he could be a troublemaker for others in the field. But Perry wasn't supposed to be the first candidate to drop out either, after only three months in the race.
His 2016 campaign suffered from financial issues and low polling numbers—the latter a common weakness in a once-17-strong GOP field. But he was also hampered by the same problem other governors in the race have had: The Republican primary voters on whom Trump's ambitions rely don't care one lick about executive experience, or policy experience, or whether a candidate has ever earned a single vote before. Last time, Perry's inability to summon the name of the third executive agency he wanted to eliminate helped brand him as too inexperienced for the job. That was then. This time, inexperience seems to be a virtue. A similar gaffe from Ted Cruz back in November didn't affect that candidate's long-term success; he's now rising in the polls in early primary states.
MARTIN O'MALLEY
In 2013, Washington Monthly called Martin O'Malley "arguably the best manager working in government today," and said "every pundit in America has predicted he's going to run" in 2016. The next year, U.S. News & World Report predicted a run "would inevitably elevate [him] as a national player and perhaps position [him] for a slot in a Clinton cabinet." And when O'Malley formally announced his campaign in May, The New York Times noted that his "good looks" and resume would be "irresistible" to his party in any other campaign cycle.
But not this time, and not with the Democratic National Committee making it difficult for O'Malley and Sanders to raise their profiles through debates. While Sanders has seized on the populist anger within the party, O'Malley has yet to lay claim to any significant slice of the electorate. He was supposed to take on Clinton squarely from the left, but Sanders has taken his spot.
Nor is O'Malley's identity as a policy wonk—a role more often attributed to bookish senators—enough to put him ahead of his opponents. An analysis earlier this year from Bloomberg Politics describes his strategic problem:
Some 20 major candidates are running for president in 2016, but just one of them has put his name to a series of detailed policy proposals that activists in his base call "fantastic" and "great" and "moving the debate forward."

The problem? That candidate is stuck at 1 or 2 percent in the polls. … The approach suits the former governor and ex-Baltimore mayor, a policy nerd at heart who speaks fondly about his love of "data-driven governing." He boasts about the initiatives he took to reduce storm-water runoff and improve sewer treatment plants. Excited yet?

Well, that reveals the limitations for O'Malley. He has yet to communicate his ideas in a way that strikes a chord with voters who don't follow the minutiae of public policy, progressives say.
In some ways, O'Malley's problems are similar to those of the longtime public servants on the GOP side. He's put the time in to gain voters' trust as a city councilman, mayor, and governor; but that's not enough to combat the more magnetic candidates running alongside him.
RAND PAUL
When the "maverick" Kentucky senator launched his presidential campaign in April, he did so with big-tent ambitions, angling himself as a welcoming figure to Americans disillusioned with Washington. Paul framed himself as the opposite of a "Washington machine" insider, and the candidate who wouldn't go easily to war. Campaign watchers didn't really have any doubt that Paul—with his conservative pedigree, fondness for quasi-filibusters, and appeal to young people—would have trouble attracting attention. The American Prospect reported in late 2014 that "[f]ew in American politics know how to seize a political moment like Paul does." Earlier that year, CNN wrote that Paul "quickly distinguished himself as unwilling to take the traditional freshman role of keeping quiet" when he was elected to the Senate, and cited his anti-NSA activism and outreach to minorities as assets for his political future.
But in the months that followed, Paul faded into the background of the primary contest. A July CNN story—titled, amusingly enough, "Where is Rand Paul?"—noted Paul had "been working the campaign trail quietly, taking a deliberate approach to national media and choosing his battles carefully ... While Donald Trump has sucked up much of the media's gaze, the Kentucky senator's recent efforts have not stood out like they once did."
That story suggests Paul's low-key approach was intentional: He was focused on his ground game in early primary states; and he was possibly aiming to avoid his own dovish foreign policy in the age of the Islamic State. But Paul must've quickly decided it wasn't working. He soon signed off on a please-go-viral video—in which he lit the U.S. tax code on fire—and he also gave that old-standby, the filibuster, a half-hearted try in October. Those efforts, though, didn't give his campaign a spark. Neither did a solid performance at a November debate.
And Paul barely squeezed into the latest GOP primetime contest, amid rumors his campaign was closing up shop. As The Washington Post noted in a story about his impending performance, "[f]ew candidates received as much interest in the run-up to the primaries; few have been subjected to as many stories about 'what went wrong.'"