Presidential Candidate Travel Tracker: Year in Review
The most frequent visitors to Iowa and New Hampshire failed to gain traction in the race for the White House this year.
Campaigning hard in the early-voting states has been no guarantee for success for presidential candidates this year.
That's the main takeaway from a review of all the out-of-state campaign trips compiled in National Journal's Travel Tracker from Jan. 1 through Dec. 23, 2015. In fact, the White House hopefuls who have spent the most time this year in Iowa and New Hampshire, the two states that kick off the presidential nominating contest, have dropped out of the 2016 race: Bobby Jindal and Lindsey Graham.
It's a similar trend in South Carolina, the third GOP primary state, where Mike Huckabee and Rick Santorum have campaigned more than any other candidate from either party. The two most recent Republican Iowa caucus winners have barely made a dent in the early-state or national polls, and both were relegated to the undercard event of the last two debates. Meanwhile, Donald Trump continues to top the field, despite keeping a relatively light early-state travel schedule.
"There's no question that this cable-news, reality TV dynamic is playing a bigger role in this election than any before it," Henry Barbour, a Republican National Committee member who served as an informal adviser to Rick Perry's campaign, told National Journal after Jindal ended his campaign last month. "I'm still convinced you have to spend the time on the ground, but that's not the only factor."
Since the beginning of the year, National Journal has tracked roughly 2,500 days that 18 presidential candidates have spent on the campaign trail. (George Pataki, Jim Gilmore, Jim Webb and Lincoln Chafee, who all posted limited public campaign schedules and/or missed ballot-filing deadlines in several states, did not make the cut for this analysis.) Events that candidates hold in their home states, or that the sitting senators hold in Washington, are not included in the Travel Tracker.
Listed in the table that follows is how many days each candidate spent in the first four primary and caucus states, as well as the March 1 Super Tuesday states, from New Year's Day through the holiday break:
IOWA
Jindal may have dropped out the race more than a month ago, but he still tops all presidential contenders from both parties with a total of 70 days spent in Iowa. Santorum and Huckabee, the reigning champions in Iowa, also rank in the top four, but their chances of a repeat performance in 2016 appear slim. Ted Cruz, who has emerged as the favorite to win next February's caucuses, has begun to spend more time in the state, but is still only sixth in the GOP field. Rick Perry ended his campaign on Sept. 11, but his 26 days in the state still rates higher than four current candidates: Donald Trump, Chris Christie, Jeb Bush, and John Kasich. And despite spending more time in Iowa than both Hillary Clinton and Bernie Sanders this year, Martin O'Malley still lags well behind in the single-digits in every poll in the state.
NEW HAMPSHIRE
With Lindsey Graham's exit, Chris Christie becomes the king of New Hampshire travel. The legwork does appear to be paying dividends for the New Jersey governor, as he's experienced a recent uptick in the polls and is picking up key endorsements. Two other candidates who are banking on a strong New Hampshire showing, Bush and Kasich, are also in the top five. Meanwhile, Carly Fiorina and Rand Paul have split their time more evenly between the two early states. Fiorina ranks third in Iowa and fourth in New Hampshire, while Paul finishes sixth overall in both states. Trump is well ahead in the New Hampshire GOP primary polls, but has logged only 17 days in the state. On the Democratic side, Hillary Clinton, Bernie Sanders, and Martin O'Malley have spent roughly the same amount of time in the state.
SOUTH CAROLINA
There's a major drop-off in the total amount of days spent in Iowa (588) and New Hampshire (457), compared to South Carolina (230), which is the third primary state for Republicans and the fourth for Democrats. Santorum and Huckabee lead the way, followed closely by six Republican candidates who have all campaigned between 15 and 18 days there this year. All three Democrats have spent about the same amount of time in South Carolina so far. The outcomes of Iowa and New Hampshire will play a major role in shaping South Carolina's primaries.
NEVADA
Nevada, whose caucuses are crammed between the South Carolina and SEC primaries on the GOP calendar and the New Hampshire and South Carolina primaries on the Democratic calendar, continues to be the forgotten early state. The 18 presidential hopefuls have spent only a combined 89 days there in 2015. The Republican debate in Las Vegas earlier this month was the first visit for a handful of candidates. Jeb Bush and Marco Rubio, who were beginning to make inroads with the state's Mormon voting bloc this past summer, are the only candidates in double-digits. Clinton, Sanders, and O'Malley have all spent less than a week total in Nevada.
SUPER TUESDAY
Some candidates already have their sights set on March 1, when 14 states will hold their primaries and caucuses on the Republican side and 11 on the Democratic side. Bush has spent the most time in Super Tuesday states, thanks to a series of fundraisers he's attended in Texas, as well as several SEC football tailgates this fall. Three conservatives who see the Southern states as key to their path to the nomination, Ben Carson, Ted Cruz, and Huckabee, are next on the list. Cruz recently wrapped up a swing through eight Super Tuesday states following the fifth Republican debate. Clinton, who views Super Tuesday as a firewall of sorts, has spent twice as much time in those states as each of her Democratic opponents. (Note: Cruz's Texas events, Huckabee's Arkansas events, and Fiorina's Virginia visits were not included.)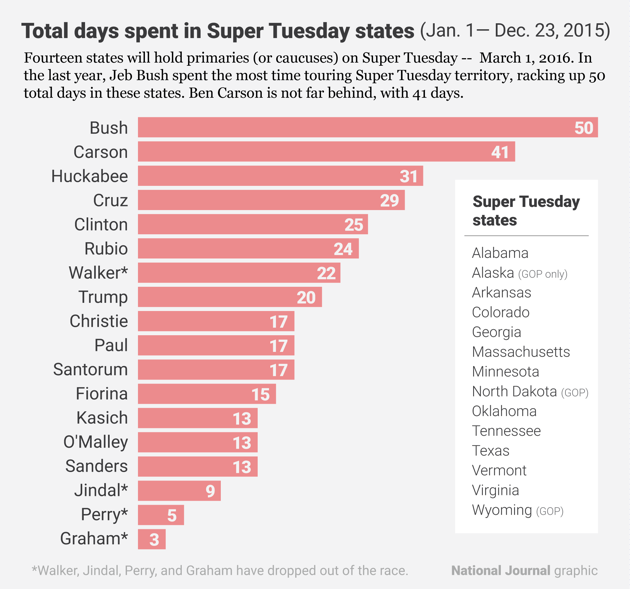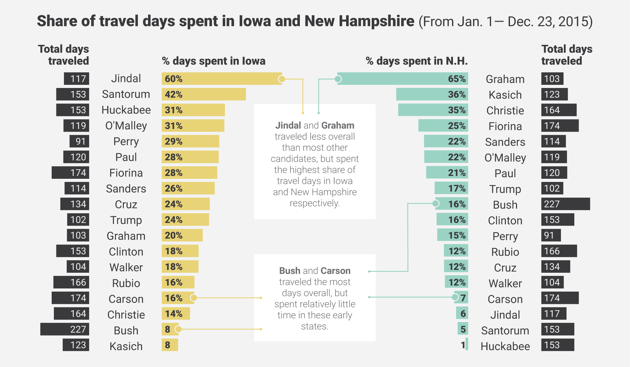 Jindal spent about 60 percent of his days on the campaign trail in Iowa, while New Hampshire accounted for 65 percent of Graham's total time. Early-state percentages for candidates like Bush and Clinton are lower than other candidates in part because their private fundraising schedules receive more coverage than other candidates, driving up their travel totals to big-money states like New York, California, and Texas.