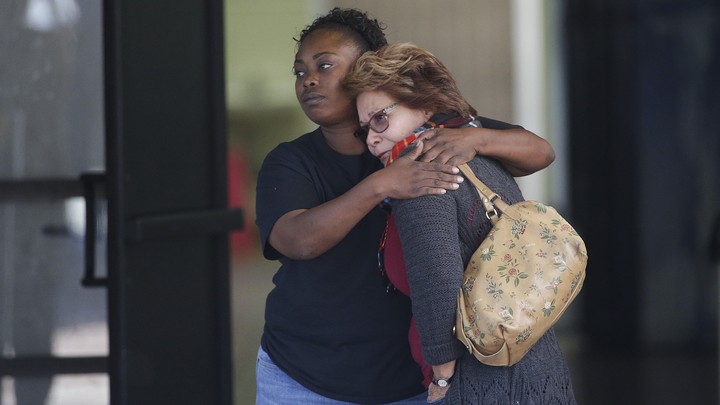 Updated December 3 at 9:11 a.m. ET
Directly after a mass shooting, in the minutes or hours or days between the first trickle of news and when police find a suspect or make arrests, it is very difficult to know what to do. Some people demand political action, like greater gun control; others call for prayer. In the aftermath of a violent shooting spree in San Bernardino, California, on Wednesday, in which at least 14 victims are reported to have died, people with those differing reactions quickly turned against one another.
For example, here's the Washington editor at the liberal publication The Nation, George Zornick, on reactions from the 2016 presidential candidates:
Compare + contrast: pic.twitter.com/vWXoIHd1Uy

— George Zornick (@gzornick) December 2, 2015
There's a clear claim being made here, and one with an edge: Democrats care about doing something and taking action while Republicans waste time offering meaningless prayers. These two reactions, policy-making and praying, are portrayed as mutually exclusive, coming from totally contrasting worldviews. Elsewhere on Twitter, full-on prayer shaming set in: Many turned their anger about the shooting not at the perpetrator or perpetrators, whose identities are still unknown, but at those who offered their prayers.
Think and pray about passing sensible gun reforms, Dr. Paul https://t.co/16czqfbH8n

— igorvolsky (@igorvolsky) December 2, 2015
Try this: Stop thinking. Stop praying. Look up Einstein's definition of "insanity." Start acting on gun violence prevention measures.

— Zack Ford (@ZackFord) December 2, 2015
This is not the first time this idea—that prayer is not enough—has come up in the Twittersphere, or in politics. "As I said just a few months ago, and I said a few months before that, and I said each time we see one of these mass shootings, our thoughts and prayers are not enough," said President Obama following the October shootings at Umpqua Community College in Oregon. He was not denigrating prayer—in the same speech, he went on to ask God for strength and courage for the victims.
Others have been less nuanced. After Wednesday's shootings, The Huffington Post quickly rounded up a list of tweets from politicians offering their prayers. "In short, basically anyone with a Twitter account shared thoughts and prayers in the immediate aftermath of the latest shooting," the reporters wrote. "Which is kind of them to do, of course, but probably not enough to stop the next one."
This cynicism offers a view into just how much religion and politics have changed in the United States. Prayer and political action have a deeply entwined history in America. From civil rights to women's suffrage, nearly every social-justice movement has had strong supporters from religious communities—U.S. history is littered with images like the one of pastors and rabbis marching on Selma, side by side with political activists.
But now, even in the absence of information about the shooter's identity and motivations, people have jumped to conclusions like this, from Democratic Senator Chris Murphy:
Your "thoughts" should be about steps to take to stop this carnage. Your "prayers" should be for forgiveness if you do nothing - again.

— Chris Murphy (@ChrisMurphyCT) December 2, 2015
(On Wednesday evening, Murphy's communications director wrote in, twice, asking me to note that his "boss's tweet in particular was not in any way about the normal and thoughtful reaction of people to pray in times of tragedy in grief. It was directed at lawmakers whose only response to preventable attacks is to tweet without following up with action to stop it. He's made that point many times." The tweet itself has not been deleted or clarified.)
There are many assumptions packed into these attacks on prayer: that all religious people, and specifically Christians, are gun supporters, and vice versa. That people who care about gun control can't be religious, and if they are, they should keep quiet in the aftermath of yet another heart-wrenching act of violence. At one time in American history, liberals and conservatives shared a language of God, but that's clearly no longer the case; any invocation of faith is taken as implicit advocacy of right-wing political beliefs.
The most powerful evidence against this backlash toward prayer comes not from the Twitterverse, but from San Bernardino. "Pray for us," a woman texted her father from inside the Inland Regional Center, while she and her colleagues hid from the gunfire. Outside the building, evacuated workers bowed their heads and held hands. They prayed.
We want to hear what you think about this article. Submit a letter to the editor or write to letters@theatlantic.com.
Emma Green
is a staff writer at ​
The Atlantic
, where she covers politics, policy, and religion.