Posh Hotels And Pricey Airfare: Meet the Senate Candidate Driving Democrats Crazy
Kamala Harris has splurged on luxury cars, airline tickets, and first-class accommodations, raising questions about the California front-runner's spending habits.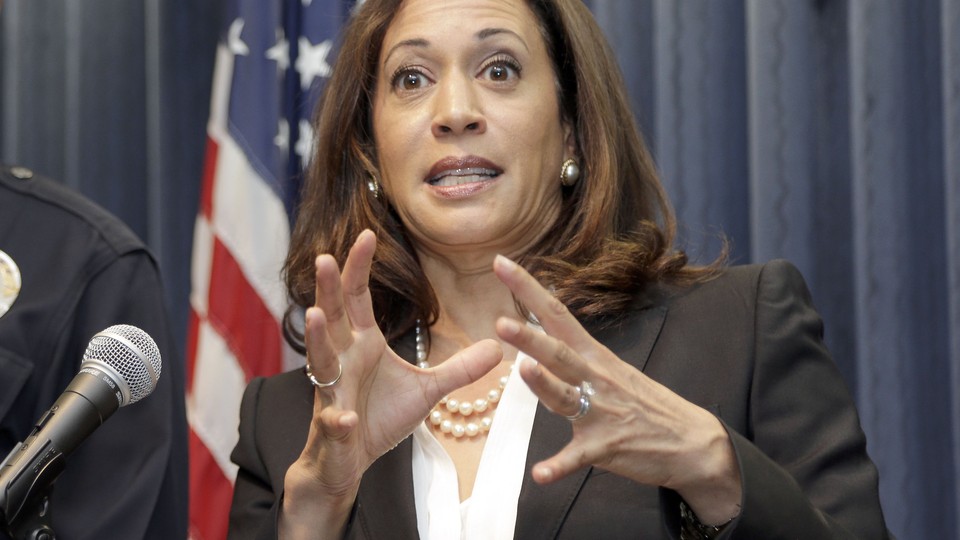 One stay. One hotel. $1,886.
That's how much Kamala Harris's campaign spent this March to put up the California Senate candidate at Washington's luxurious St. Regis hotel.
A review of the Harris campaign's Federal Election Commission reports reveals it was far from a one-time splurge: In June, the campaign spent $1,500 to house Harris for a night at Houston's posh Houstonian Hotel. In July, it was another night at the St. Regis, this time for $1,600. In Chicago, it was the Waldorf Astoria. In Boston, the Four Seasons. And on four occasions this year, Harris' campaign paid for rooms at the pricey W Hotel in Los Angeles.
The total price tag for these first-class accommodations? Almost $18,000.
Campaigns typically shell out big bucks on media buys, staff salaries and expensive fundraisers. But spending it on housing, particularly when far cheaper options are available, is atypical, campaign veterans say, and even Harris's fellow Democrats have taken notice. "There are Hampton Inns in every city," said one national Democratic strategist with knowledge of the campaign. "There are Holiday Inns in every city. You don't have to stay in the Four Seasons, or Hotel Fusion, or the Waldorf. It's unnecessary."
It's not as if the California attorney general had money to burn, either. She's already spent more than 40 percent of the $6 million she's raised since becoming a candidate in January, an alarming burn rate for a candidate who is also on her second campaign manager and third finance director. In her latest fundraising report, covering the period of July through September, the discrepancy between money coming in and money going out was especially acute: $1.8 million to $1.4 million.
Harris is one of the election cycle's most high-profile Senate candidates, an attorney general with close ties to President Obama and enough star power to nearly clear the field in California's first open-seat Senate race in more than 20 years. She's been endorsed by Democratic Sen. Elizabeth Warren and EMILY's List, and in California's top-two primary system, she faces her stiffest competition from Democratic Rep. Loretta Sanchez and only token Republican opposition.
But her high-priced expenses, staff turnover, and anemic fundraising have dimmed her aura of inevitability, and among her former and current allies, there's already a proliferation of finger-pointing over who, exactly, is to blame.
"Harris's frivolous spending on airfare, luxury cars, and hotels is highly unusual for a Senate candidate that has a relatively competitive race," said the national Democratic strategist. "And the campaign is in the financial mess that it's in because of its decision to do those things."
Harris campaign officials declined to offer a specific rationale for the some of the seemingly ostentatious purchases, saying instead in a statement that the expenses were necessary to raise money. "Those line items in the report reflect a mix of staff and candidate travel, fundraising and event expenditures for fundraising events across the country," said Nathan Click, campaign spokesman.
A source inside the campaign, however, confirms that the three most expensive stays—twice at the St. Regis and once at the Houstonian—were all for the attorney general herself.
And the campaign's splurges aren't limited to hotels. Since Harris announced she would run for Senate in January, the campaign has spent nearly $20,000 on luxury car services and purchased expensive airfare—with some trips costing nearly $2,500.
In July, per FEC reports, it doled out $3,900 to MVP Luxury Transport, a private car service in Martha's Vineyard that boasts on its website of letting customers avoid the "headache of crowded taxis, boat reservations, or costly car rentals." It also spent almost $9,000 on cars over the course of 12 payments to Potomac View Transportation, which provides its services in the Washington area.
Outlays for airline tickets were similarly pricey. The campaign spent more than $1,000 on airfare 13 times—another five times, it spent more than $2,000, according to FEC reports. On June 26, it paid American Airlines $2,471 on the same day it paid United Airlines, Inc. $2,155. On May 8, the campaign spent $2,457 on tickets from Virgin America.
Click declined to say whether Harris or other members of the campaign purchased first-class tickets, or whether the individual purchases were for multiple flights or multiple people at a time.
Asked about the hotel expenses, he also declined to say how many days or rooms were included in each expense—it's unclear, for example, if the St. Regis was booked for one night or a week, for one room or five. Without those details, it's unclear how much the campaign spent per night or per room.
Harris's $6 million haul would be a strong return for most candidates. By comparison, Michael Bennet, the incumbent Democratic senator from Colorado, has raised just $5.7 million this year.
But California is a much larger state than Colorado and whose technology and entertainment industries make it a hub of fundraising nationally—Harris not only has more opportunities to raise money, what money she will raise won't go nearly as far in a state that is prohibitively expensive to run TV ads in. A candidate with her star appeal was expected to raise much more cash, both in- and out-of-state.
The struggle has led to finger pointing between some campaign officials and Democrats in Washington watching the campaign. Already, the campaign has been forced to reduce staff as it readjusts its money-raising expectations
"Like every campaign, we're making adjustments in alignment with our strategy to win," Click said. "Kamala Harris has proven herself to be one of the strongest fund-raisers in the country this election cycle and our campaign is going to have the resources to win in June and November. We are making some additional reductions to put our campaign in the strongest position to win."
One source close to the campaign, who requested anonymity to speak candidly about its inner workings, said the demands of Harris's day job as attorney general have complicated efforts to raise money.
That led initial projections to fall well short, necessitating cuts in staffing.
"The fundraising goals were not realistic," the source said. "They built a scale of operation that was built on some real moon-shot projections of what she could raise."
Tensions came to a boil in November over the departure of campaign manager Rory Steele, who was replaced by senior Harris adviser Juan Rodriguez. Steele resigned, he and campaign officials confirm, though the nature of his resignation—whether it was forced or of his own choice—was unclear in subsequent media reports.
Friends of Steele's took umbrage at the way his departure was portrayed, and argued that any problems in the campaign weren't his fault.
"In recent years, Rory has been key to some of the toughest Senate races in the country and knows exactly what it takes to run a top-flight operation," said Justin Barasky, who was the DSCC communications director earlier this year before leaving to fill the same post with the pro-Hillary Clinton super PAC Priorities USA.
Democrats insist that the problem lies with Harris and some of her closest advisers. Especially galling to some of them—at a time of tight finances—have been the $75,000 in consulting fees paid to Harris's top strategists, Ace Smith and Sean Clegg, both of whom are veteran Democratic strategists in California who work for SCN strategies.
The candidate herself, they say, hasn't dedicated herself to the campaign in the way a major Senate candidate should.
"She clearly does not put in the time necessary to raise the money you need to raise when you're running for Senate in California," said the national Democratic strategist.
Steele, reached for an interview by National Journal, declined to elaborate further on his departure other than to confirm he had resigned and wish the campaign he left behind good luck.
"I'm proud of what we were able to accomplish over the past seven months, and I wish Attorney General Harris and the campaign nothing but the best moving forward," he said.