Photo Finish
A camera-happy congressman gets ready to leave the picture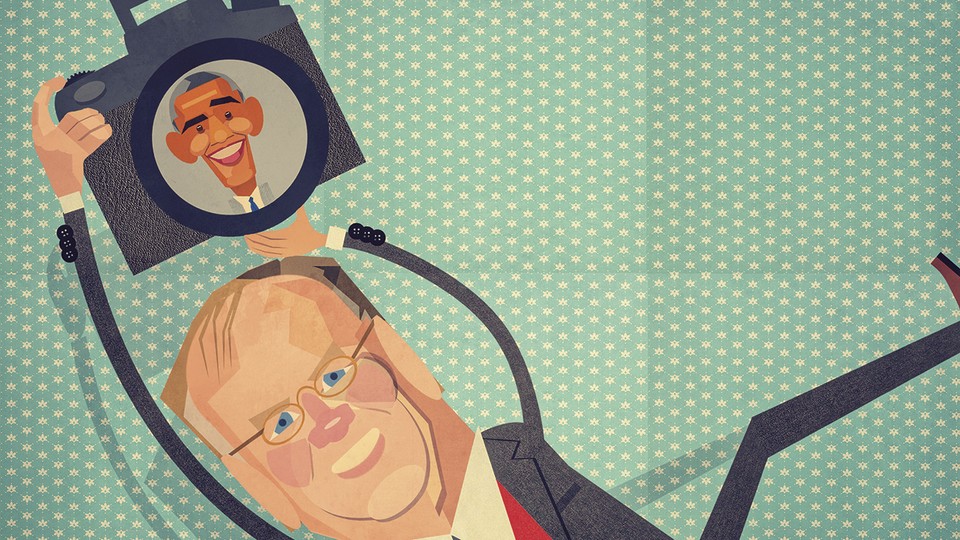 At President Obama's second inauguration, as members of Congress took their seats, one of their ranks crouched in the aisle, apart from the crowd. He had a camera with a long lens on it, and he was snapping away like a pro. "He looked like a sideline photographer. He was capturing everything," recalls Freddy Barnes, a then–congressional aide who was helping to direct lawmakers to their places.
The camera-wielding congressman was Sam Farr, a California Democrat who, since arriving on the Hill in 1993, has made an unabashed pursuit of documenting scenes both momentous and mundane. Farr's haul that day included a couple of lovely photos of Obama with Sasha and Malia—and a paparazzo-worthy shot of Beyoncé and Jay-Z.
Farr first picked up a camera in Medellin, Colombia, when he was a Peace Corps volunteer just out of college in 1964. Writing letters was difficult for Farr, who has dyslexia; he was looking for some way to share his experiences when he came across a second-hand Olympus in a camera store. Color film was more expensive to develop, so he started sending home black-and-whites. "I found that I could be expressive with a camera," he tells me.
Since then, Farr has taken thousands of pictures, of subjects ranging from his garden to Pope Francis. It is almost impossible to come into his orbit without stumbling into his viewfinder. I was not immune. During our interview, one minute he was showing me his camera, the next he was holding it about a foot from my nose and snapping away. (I haven't yet seen the results.) Farr's press secretary, Adam Russell, tells me that before he brought his girlfriend to the staff Christmas party to meet the congressman for the first time, he warned her that she'd probably find a camera in her face at some point in the night. When they arrived, Farr went right up to her and, with no introduction, started shooting photos. One of those pictures now hangs on their wall at home.
But Farr's targets sometimes don't know they've been photographed until he hand-delivers a print of the shot, often on the House floor. That's how Rep. Barbara Lee, who first met Farr when they were both serving in the California state legislature back in the 1990s, found out about his habit. "I didn't even know this about him until he started giving me photos, some of which I didn't know he took," Lee says. She now has a collection of Sam Farr originals that include pictures from their trips to Cuba as well as snaps of her five grandchildren. "He has a very good eye for putting people in context of what they're doing and where they are," she says.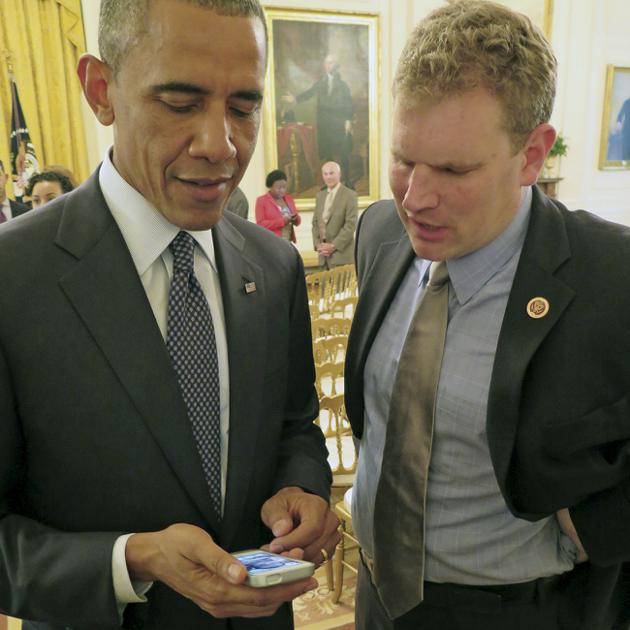 How do others on the Hill feel about Farr's self-appointed role as unofficial congressional photographer? Many say they genuinely appreciate it. Farr's staffers told me they enjoy coming into the office to find candids of themselves on their desks, and lawmakers I spoke to said they're grateful to Farr for capturing moments that are lighthearted, or simply genuine, when most of what is memorialized on film in politics is serious—or staged. "He gets shots you wouldn't ordinarily get. He gets the unposed shots. Those are nice to have," says Rep. John Yarmuth of Kentucky.
It's also a pleasant surprise to hear from a fellow member of Congress who isn't asking for anything, says Rep. Dan Maffei of New York. "You're so used to getting, 'Can you co-sponsor this?' or 'Come to this fundraiser' or something else involving fundraising, to actually get an envelope and see nice pictures—it's nice to have a little bit of a personal thing in Congress." (On the Hill, of course, the personal is never too far from the political; a Sam Farr candid of Maffei showing Obama a photo of his newborn daughter at a White House reception in the summer of 2014 was spun by Maffei's staff into a news story about two regular fathers bonding over their daughters. Farr got a photo credit.)
Farr no longer carries the old Olympus, but he isn't planning to join the iPhone crowd anytime soon. His current day-to-day camera is a digital Canon G7X (with a slightly broken lens) that fits in his coat pocket. His office is decorated with photos by Ansel Adams (a family friend and Farr's first-ever campaign chair, although Farr tells me he never had the courage to ask the legendary photog for pointers); a corner cabinet contains piles of Farr's pictures that have been printed and sorted, including a rubber-banded stack of shots of Sen. Tom Udall of New Mexico and his wife on a trip to Africa. On a table across the room is another set: photos of California's Big Sur highway prominently studded with telephone poles. Farr tells me he plans to show these to AT&T. ("It's supposed to be the most beautiful highway in the world, but there's these damn utilities," he grouses. "I'm gonna use these to poke them in the face and say, 'Hey, come on.' ")
When I ask Farr which of his photos is his favorite, he looks at me for a moment and then tells me a story. Years ago, he says, he met fashion photographer Bruce Weber in New York and asked him, "How many great photos can you take in a lifetime?" Weber paused before replying. "I was like, Wow, he's really thinking about this," Farr tells me. "And he finally says, 'You're really lucky if you get one great photograph.' " Since then, "I think I've been trying to take it," Farr says. "I just haven't taken that photo yet."
Another thing Farr hasn't taken yet: a photography class. Through all his years as a shutterbug, he has remained entirely self-taught, although that could soon change. "That's one thing I'm looking forward to in retirement," Farr tells me, just a week after announcing that he isn't running for reelection. "Getting some professional counseling."
"Professional counseling on photography or life in general?" his press secretary asks.
"On photography," Farr clarifies.
But first he has a New Year's resolution to keep. Before he retires in 2017, he tells me, he plans to sort through the stacks and boxes in his apartment and office to find the pictures he has taken on the Hill over the years. "I've got to find and distribute all these congressional photos," he says.